Singapore – Grissini has seen its fair of changes and we particularly like the 33-year-old, new head Chef Kenny with his expertly executed Italian cooking having spent two years immersed in the authentic culture in the city of Turin capital of Piedmont.
Chef Kenny showcases a revamped Degustation Menu at $128++ per person menu along with a new pairing team. We were also kept well pampered by the Perfect Pairing Team (L-R) Certified Sommelier, Mr Uzair Yaacob(ask him how he gets the wine out of the bottle without opening the cock) and the rest of the staff during our meal. We would recommend adding the wine pairing at an additional 70++ per person.
Amuse Bouche
We started dinner with a bit of a flavor surprise, the Prosciutto con tartufo e mascarpone was rich and creamy with the mascarpone cheese and the salty prosciutto made merry together. The Roelle pomodorino is actually a limited edition tomato that takes quite a bit of prep work. It is sweet and tangy with a good infusion of plum flavour.
Gambero Di Mazara
An interesting take on the Italian red prawn, green pea, caviar, squid ink cracker. The whole prawn head is cleaned and deep-fried till it can be consumed. We love the rich seafood flavour of the caviar that added to the deep prawn flavour. The squid ink cracker added a bit of crunch to the overall dish. Ruinart Blanc De Blanc Reims Champagne France NV (wine pairing option)
Risotto Con Foie Gras
A speciality of Northern Italy, this rich risotto dish with an added touch of luxe. Indulge in this al dente risotto that is cooked to a warm golden colour with golden capon consommé and sweet onion confit topped with a perfectly seared foie gras and 24k gold leaf. This was our top favourite dish of the night. Marchesi Di Barolo Roero DOCG Piedmont Italy RV(Wine pairing option)
Classic Tortelli Di Zucca
Tortelli is a very traditional pasta dish stuffed with butternut squash, parmigiano fonduta and sage. The butternut was sweet and creamy and paired well with the cheese sauce. The only thing that we would have liked to see was bigger Tortellis, sorry 3 bites of this delicious dish were just not enough.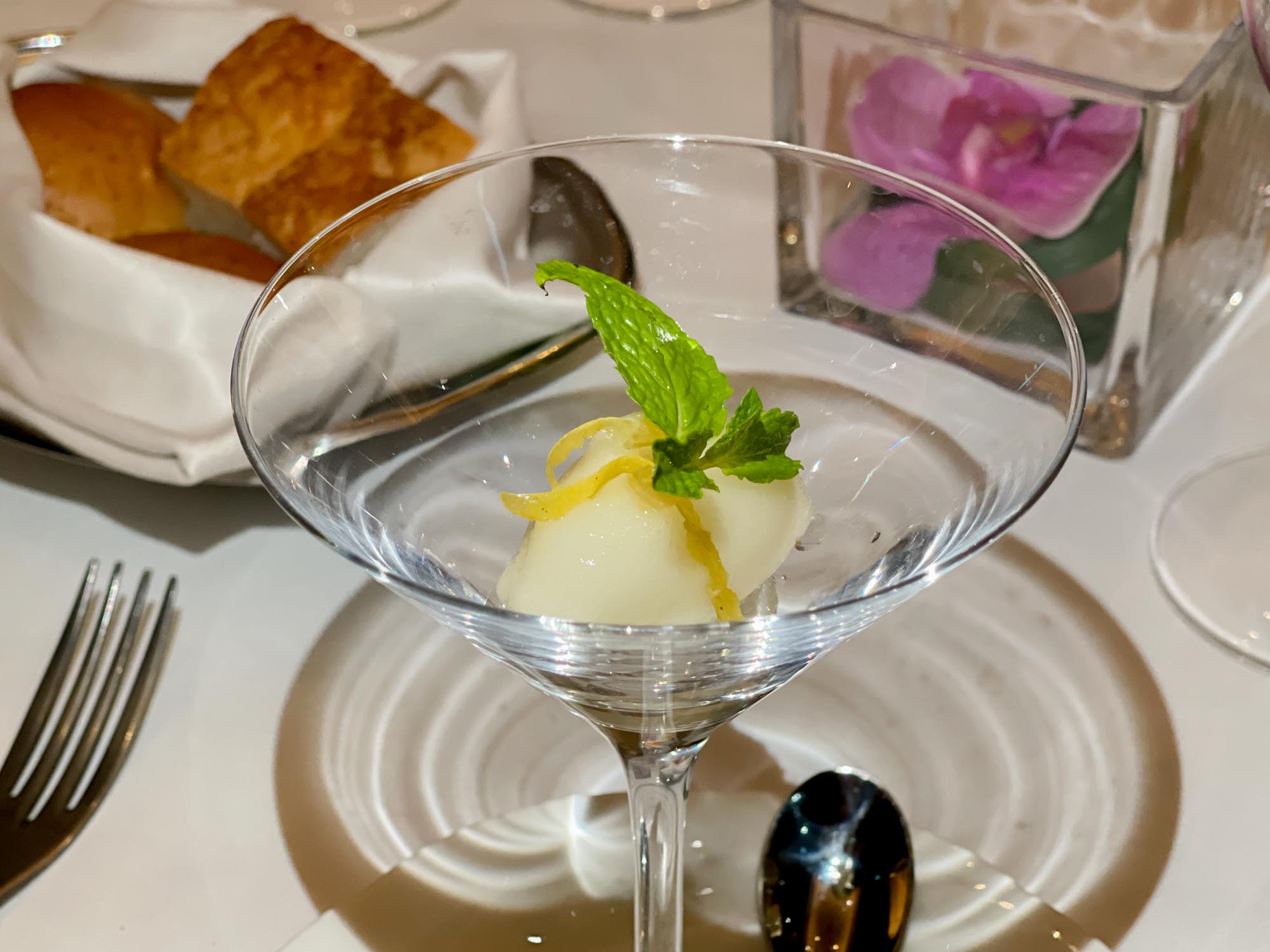 Branzino(option)
We love the clean flavour of the European seabass paired with Wild Mushroom, spinach and thyme jus. The freshest of the seabass complemented the Farina Amarone Classico Della Valpolicella DOCG Veneto Italy RV(wine pairing option) very well. The interesting part is the red wine pairing to a white meat. Our sommelier cleverly picked a red wine with notes that works well with both fish and beef.
A4 Wagyu(option)
A4 needs no introduction if you are a beef lover, paired with interesting purple artichoke, celeriac puree and veal one marrow jus. The tender piece of beef was so juicy and the nutty purple artichoke went really well with the beer. Farina Amarone Classico Della Valpolicella DOCG Veneto Italy RV(wine pairing option)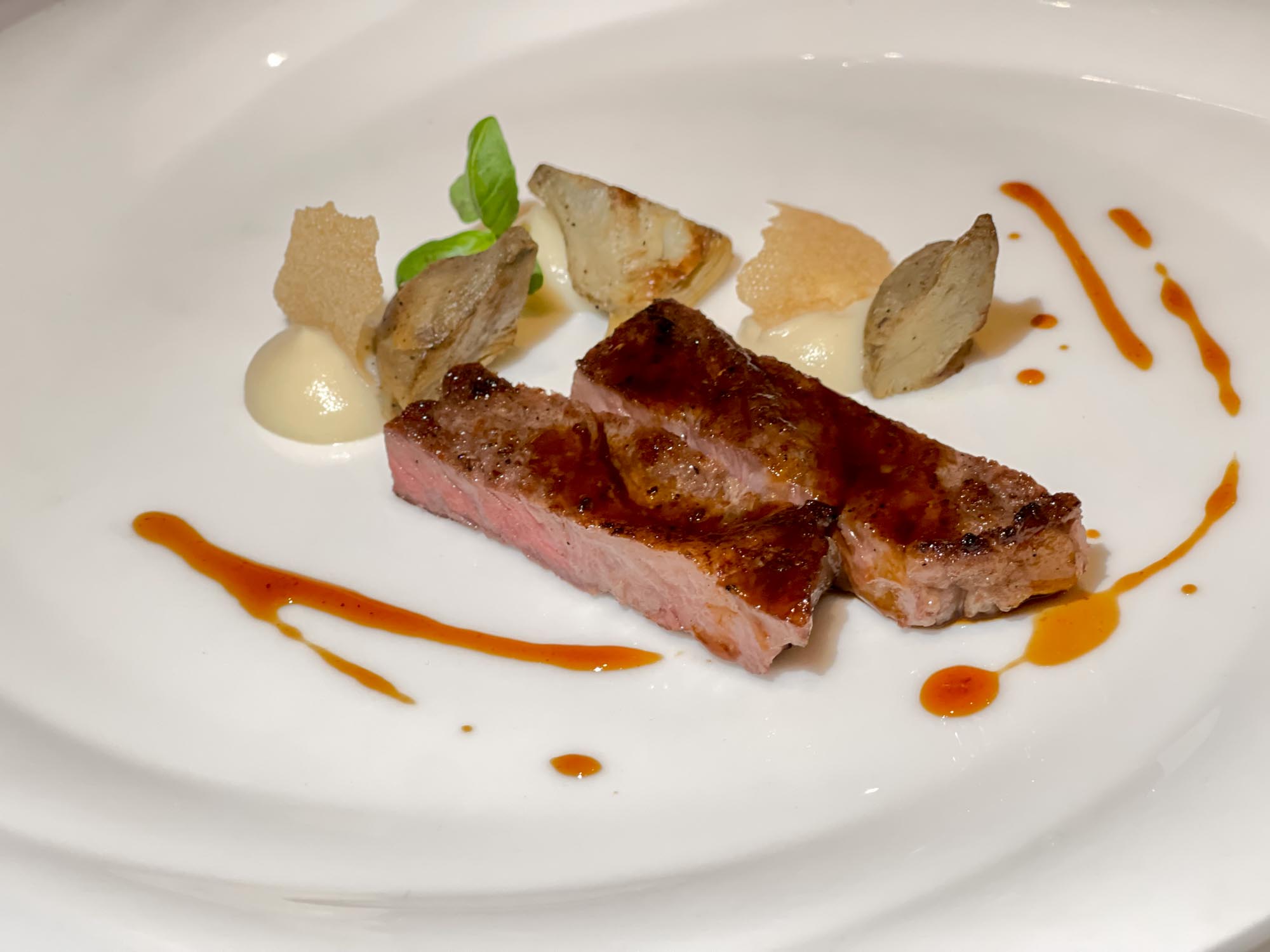 Fragole All'Aceto Balsamico
Strawberries, aged Balsamic, Lavender Gelato and Crumble Huber Riesling Eiswein Traisental Austria 2018 (wine pairing option)
IL Polpo(38++) – Not part of Degustation Menu
The grilled Octopus is certainly one of the most tender that we ever had and we highly recommend ordering this AntiPasti paired with tomato marmalade, squid ink and potato mousse with a Lingurian basil. Yes please eat the basil as well, each element brings a balanced flavor profile and we loved the smokiness of the dish.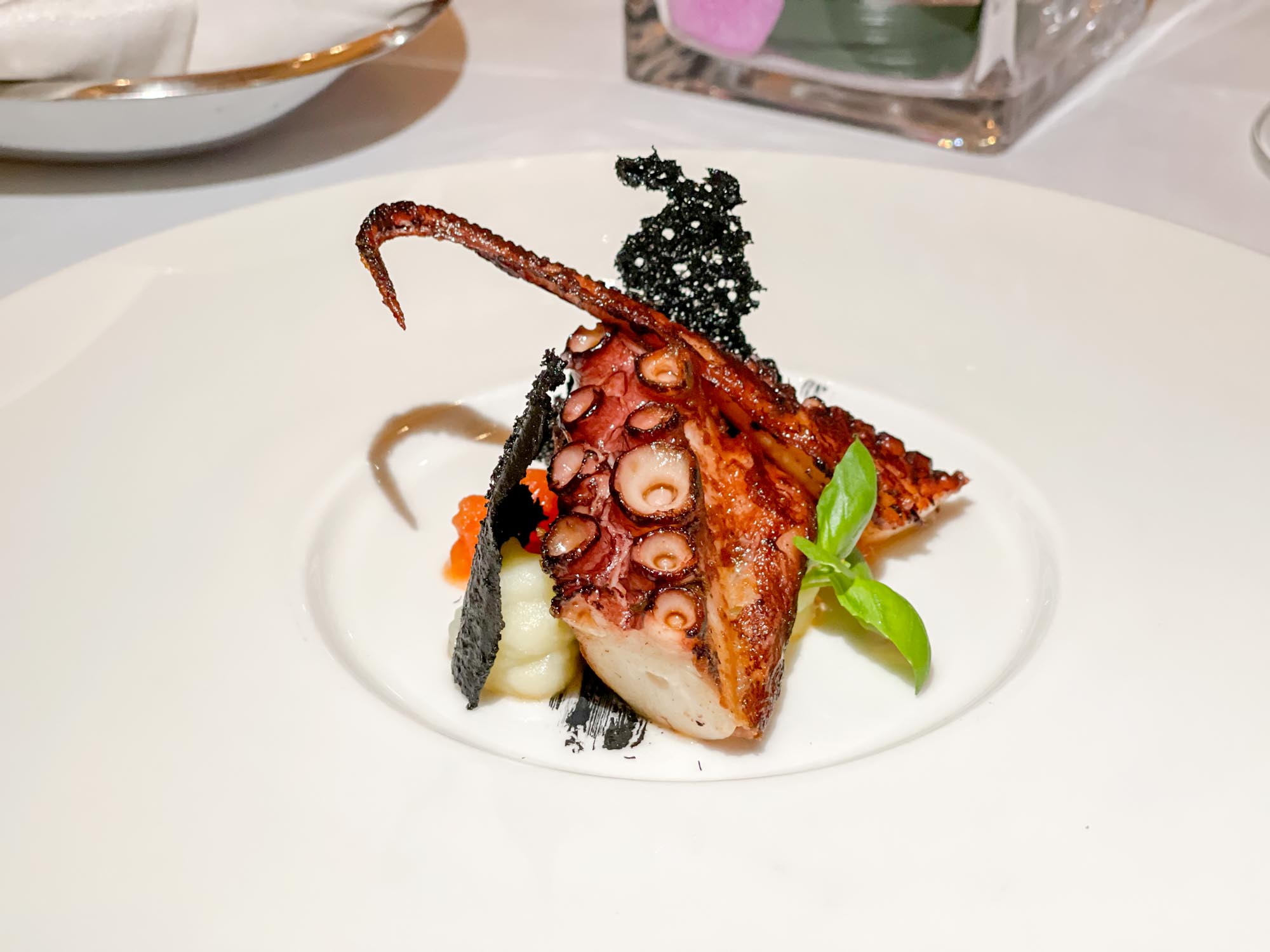 In closing
Did we like it? At first glance, each dish seemed rather petite in size; however, by the time we reached the mains, it was clear why the portions were that size. We were not overly stuff and were belly happy. Dining at Grissini has become more exquisite, the elevated dishes are traditional Italian flavours but with one step closer to food nirvana. Each element on the plate has been deliberated over and the combination of flavours made sense when it all came together. The complimentary wines are of great quality and bring additional layers of flavours to each dish.
GRISSINI
Grand Copthorne Waterfront Hotel,
392 Havelock Rd, Singapore 169663
Opening Hours
Lunch: 12pm to 2.30pm (last order at 2pm) Dinner: 6pm to 10pm (last order at 9.30pm)
Location: Lobby Level, Grand Copthorne Waterfront
Hotel Prices are subject to 10% service charge and 7% GST.
Reservation:
8168 1539
dining.gcw@millenniumhotels.com
This was an invited tasting, though all opinions expressed are our own.