Famous Treasure is an extension of The Famous Kitchen, a casual restaurant located at Sembawang. With an elegant and contemporary interior, the 150 capacity restaurant has four private rooms available for private events and celebrations.
We visited for a tasting of the Chinese New Year menu and started with the Prosperity Shun De Yu Sheng. This was an interesting take on Yu Sheng using ingredients such as raw onions, ginger, spring onions and garlic and herbs. For texture fried yam sticks are added and the dish is assembled with a dash of sesame oil, sesame seeds. The pungent salad was a good contrast with the tender and soft sashimi. A good alternative to the usual Yu Sheng.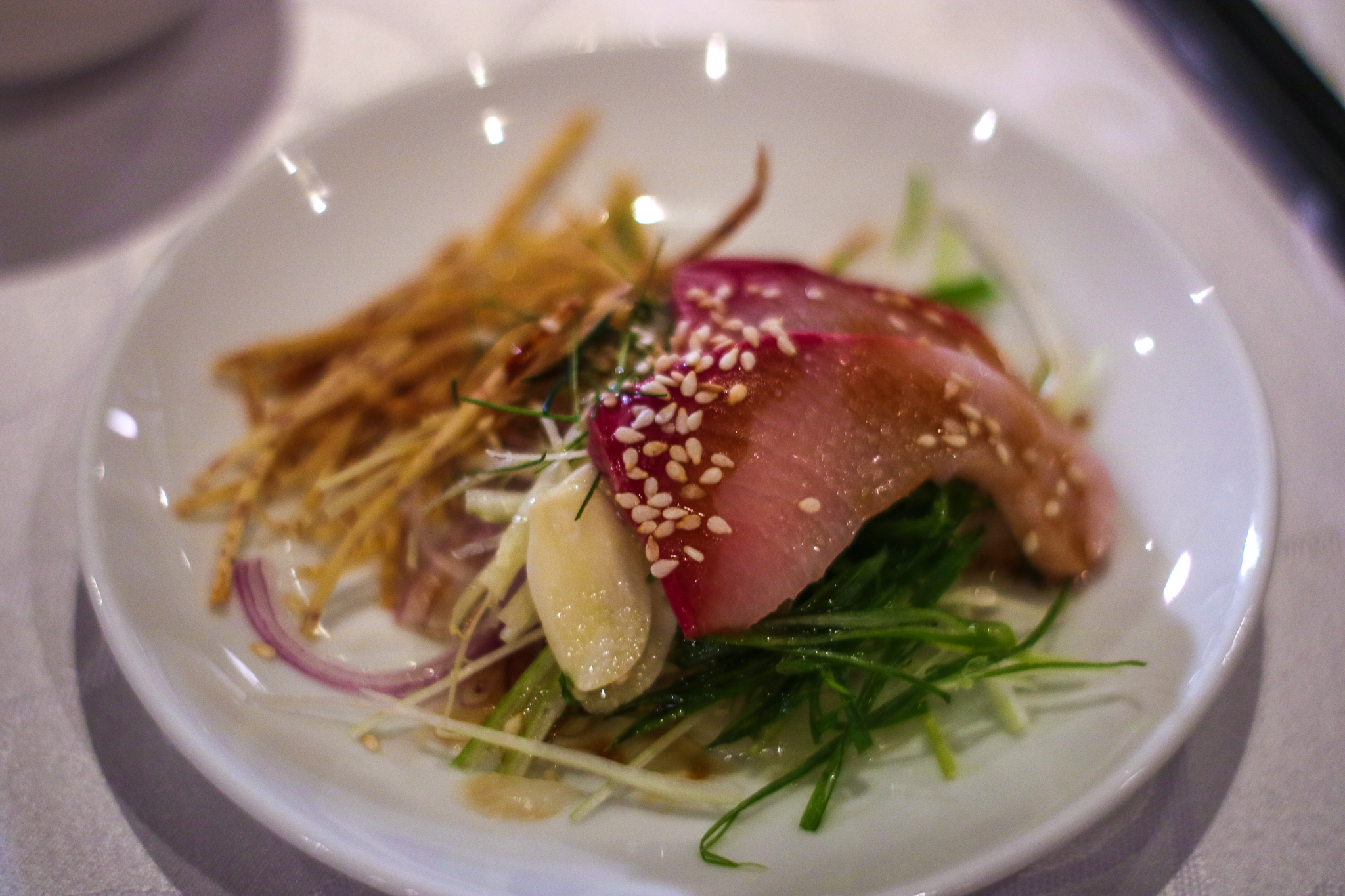 We continued with the Signature Roasted "Silver Hill" Irish Duck. The tender duck meat was juicy and was not gamy. The skin was crispy at certain spots and the fatty juices left us craving for more. Overall a very well executed dish of roasted duck.
The Chicken Soup with Morel Mushroom and Peach Gum is quite an exotic dish with the rare morel mushrooms. Interesting facts: morel mushrooms are more closely used in french cooking and is quite expensive. A quick search online shows that 50grams cost about 56 dollars! The Peach gum is the solidified resin from Chinese wild peach trees. In classical Chinese medical literature, its curative qualities include solving urinal infections, thirst-quenching and relieving stress plus it is rich in amino acids. We love the jelly-like texture from the peach gum and the earthiness from morel mushrooms.
The Steamed Marble Goby "Fisherman Style" was fresh with a firm texture. The experience of the chefs shines where the fish is correct just right without becoming overcooked.
Rendang is a familiar dish of meat in coconut milk and spices but a bite into the Wok-fried Prawn Ball with Traditional "Nanyang" Style gave us quite a pleasant surprise. The warming spices reminded us of a hearty rendang with a crispy outer shell.
You can't go wrong with the Signature Famous Treasure "Pen Cai" with premium ingredients such as abalone, fish maw, dried scallops, oysters and fresh prawns. Each ingredient was well cooked and the thick umami sauce brought the whole dish together. Best eaten with a bowl of rice as it can get a little salty on it's own.
We ended dinner on a sweet note with ala carte orders of the Pan-fried red bean pancake(SGD18++) and the Chilled mango puree with pomelo and sago(SGD8++). We felt that the red bean pancake was passable but was a tad oily. The Chilled mango was fresh and quite satisfying.
Chinese New Year set menu prices range from SGD388++ for 4 pax to SGD1498++ for 10pax. Click here for the full details Chinese New Year Menu
In Summary
Famous Treasure shines with interesting takes on Nanyang cuisine. Expect familiar signatures imbued with local influences and a bold showcase of nostalgic flavours. The chefs take great pride in their showcase of quality dishes.
Famous Treasure
13 Stamford Rd, #02-28
Capitol Piazza Singapore 178905.For reservations, please call +65 6881 6668/+65 9730 7548
Email: reservation@famoustreasure.com.sg
Opening Hours:
Open Daily Monday to Sunday
Lunch: 11.30am – 3.00pm (last order 2.30pm)
Dinner: 6.00pm – 10.30pm (last order 10.00pm)