updating blog ~!!
haiz…. this few days was soo bored.. very sianz.. haha.. i'm tired … i wanna go for a holiday be it just a day trip to malaysia or hmmm sentosa? =P OH YA~! i wanna go taiwan~!!!! i wanna go ~!!!!!!! grhz.. hunting for packages now.. but no money.. hmm really gotta save now le.. myabe going to pick up on dance course.. hmm $220 from hai die. still considering.. looking for cheaper ones. wanna go do work out during this 2 weeks.. gotta excercise abit.. target weight 69kg.. now 75kg.. hmm 6kg to lose.. haha.. starting from next week, gotta eat breakfast , 2 slices of bread, for lunch, (either eat or dun) vegetables and fruits. Dinner ( normal lor.. see wat my mum buy).. Jia you~! gotta hit my target.. hehe..
dunnoe wanna take part in the party work > singing competition anot.. gotta pay $30 lei.. haiz.. date line this coming wed.. gotta act fast.. recorded a demo for some song composer this few days.. after first round of recording, maybe gotta go for a second round of recording again.. hmm too bad i can't post it here due to copyrights from them.. hmm maybe next time u saw me or wat i play for u on my mp3 hahaha..
bought a new sunglasses yesterday those biker kind of glasses haha.. its big rite?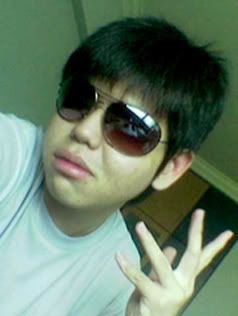 wanna go for singing hehe~~~~ cos k box got gao shou and gen wo zou ba to sing le wahahaha.. hmm when shall we go lei? =P
gotta go memorize my scripts le.. tuesday and thursday got shooting haha.. blog again tonite =) ciaoz~~~~~