The night run returns on 5 May 2018, with new elements and a different event venue – the F1 Pit Building and the Marina Bay area. Presented by The Walt Disney Company Southeast Asia and local race organiser Esprimo, this event is a popular themed run that STAR WARS fans and runners look forward to. With over 15,000 participants in the inaugural edition last year, it has since become a prominent event on the running calendar in Singapore and the region.
Along with the STAR WARS festival happening on May the 4th, STAR WARS RUN Singapore 2018 will bring a unique event themed around the iconic storyline and characters from the franchise. Fun activities at the Race Village include STAR WARS themed activities, interactions, food and beverages as well as an outdoor movie screening of STAR WARS movies.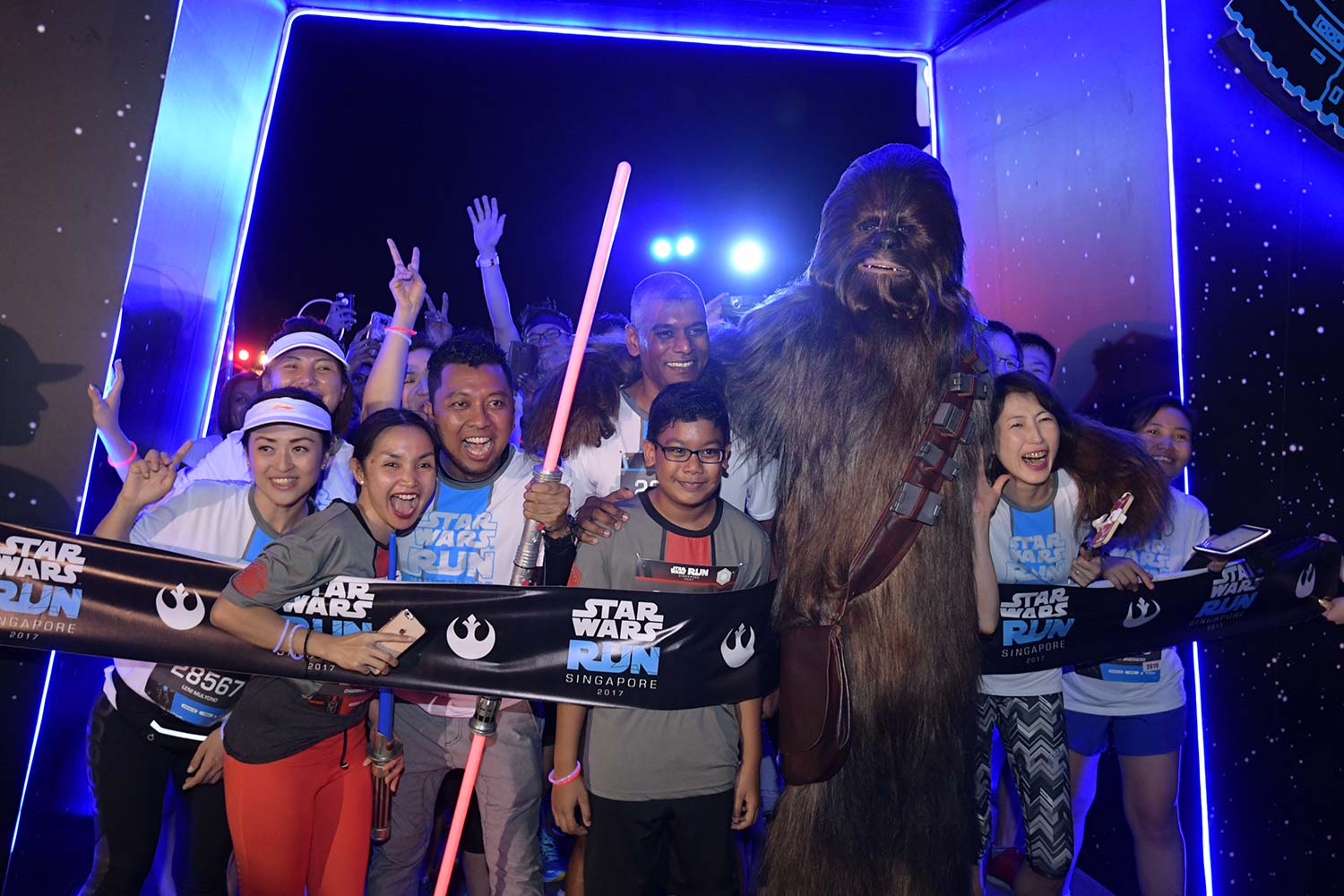 Participants will be able to pick either route – to join the Rebellion on the Light side, or follow Darth Vader's footsteps on the Dark side. Both routes will feature engagement zones that will bring the STAR WARS experience to life with music and light projections and fun photo opportunities.
New Flag-Off Format and Run Category for Kids
Increasing from two to three categories this year, STAR WARS RUN Singapore 2018 aims to cater to fans of all ages and fitness levels. On top of the competitive 10km and non-competitive 5.4km, the inaugural 540m Young Jedi Dash for younger children will be added to this second edition. Runners will also be part of a first-of-its-kind flag-off where the Light and Dark side participants for the non-competitive 5.4km will run in opposite directions.
Registration
Loyal Runners (those who registered for STAR WARS RUN Singapore 2017) and early sign-ups can enjoy a special registration price from now till 14 March 2018. Priority registration is also exclusively open to Loyal Runners for the first seven days, with limited slots available. Details of registration prices are as follow:
Priority Registration
Early Bird
Normal Period
6 Feb – 12 Feb
13 Feb – 14 Mar
15 Mar – 13 Apr
Category
Age Group
Loyal Runners
Public
Public
10km Competitive
13 years old and above
$70
$80
$85
5.4km Non-Competitive
4 years old and above
$65
$75
$80
540m Young Jedi Dash
4 – 9 years old with parent
$50
$60
$65
STAR WARS RUN Singapore 2018 participants can expect to bring home limited edition STAR WARS merchandise exclusive to this year's race pack. Finishers of the 10km & 5.4km category will also receive a commemorative medal unique to their category and finisher t-shirt.
For registration and more information on STAR WARS RUN Singapore 2018, please visit www.starwarsrun.sg