Rally the family troops! Nickelodeon Slime Cup is back in Singapore for the fourth time and bigger than ever! Presented by Singtel TV along with sponsor Pilot Pen and partner Polar Puffs & Cakes, the two-day free-entry event will be held at City Square Mall, the event's venue sponsor on Saturday, 16 July and Sunday, 17 July 2016.
Key new highlights at the Nickelodeon Slime Cup 2016 include:
First Day Exclusive only for Singtel customers across Mobile, TV and Broadband, so they get a head start on the sporting action with a weekend of rollicking family fun. Singtel customers are invited to the Nickelodeon Slime Cup 2016 Opening Ceremony on 16 July, Saturday, at noon, where Nickelodeon characters such as SpongeBob SquarePants and Marshall and Chase from PAW Patrol will make a special appearance.
Special appearance by Megan Lee, Louriza Tronco and Dale Whibley, stars from Nickelodeon's comedic, music-infused series Make It Pop will be at the event on both days to meet fans and take part in the games.
Nickelodeon's slimiest integrated sports festival, continues to promote active living through play for kids and their families through a series of engaging stage activities, meet-and-greet sessions with beloved characters and game booths which allow attendees to get up close and personal with the green slime that is Nickelodeon's badge of honour.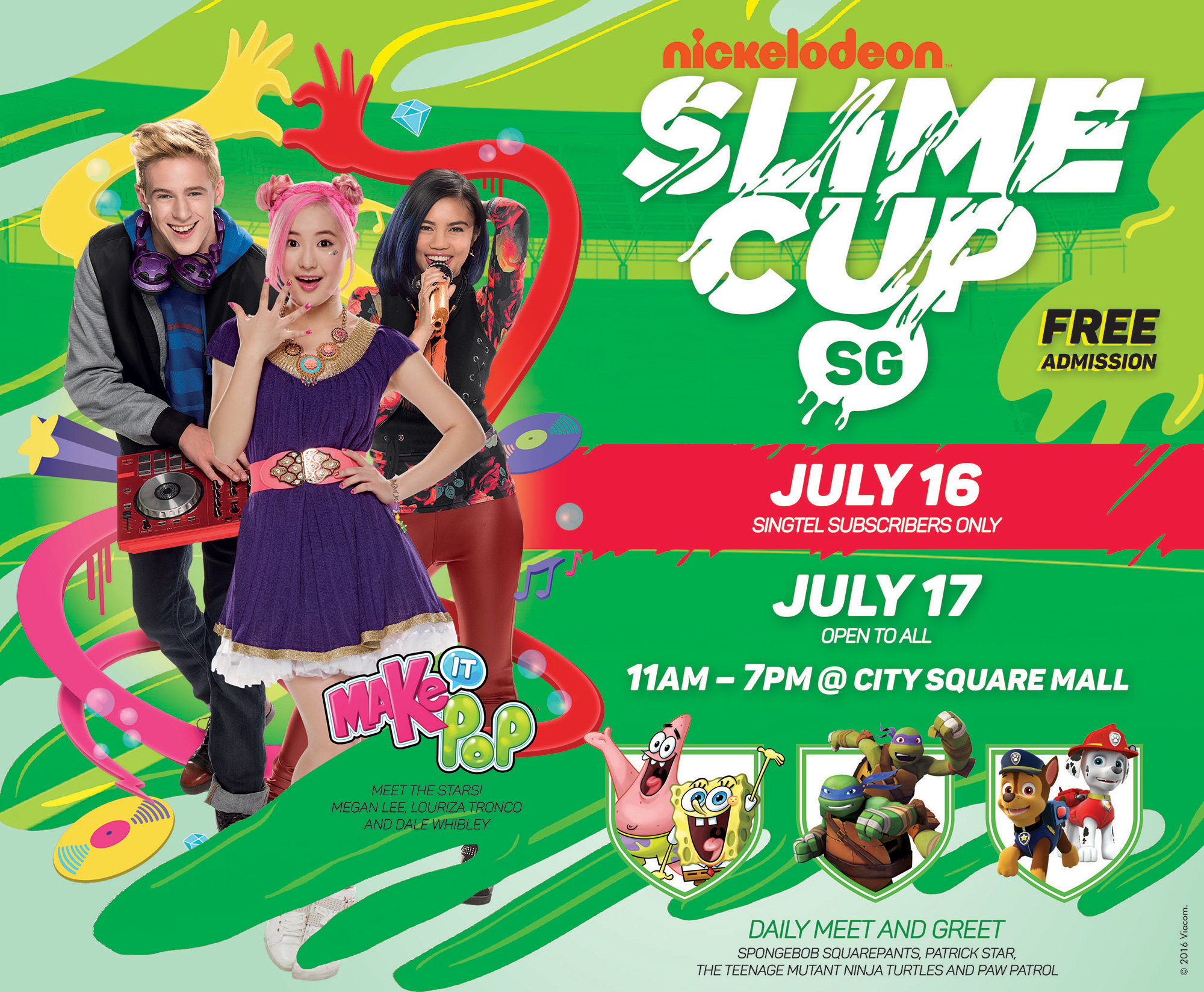 Nickelodeon Slime Cup 2016
16 July to 17 July 2016
City Square Mall
Free Admission
Access to the Nickelodeon Slime Cup 2016:
Saturday, 16 July, 11am – 7pm – Exclusively for Singtel subscribers
Sunday, 17 July, 11am – 7pm – Open to the public
For more details, visit the website at SLIMECUP.COM/SG.