Pan Pacific Singapore presents new afternoon tea delights from East to West at Atrium. Located on the ground level of the hotel, the bar and lounge features an eclectic collection of seating pods floating over azure waters and is the perfect place to enjoy a leisurely afternoon with exquisite tea treats served with coffee, tea or a glass of Champagne.
The Quintessential English Afternoon Tea
Revel in the elegance of an English Afternoon Tea, presented on a beautiful three-tier stand with patisserie specially created by Pastry Chef Eddy Yau.
Perched on the top tier is a selection of berry-infused dainty desserts including the adorable Strawberry Profiteroles and Blueberry Canalés. Add on the fun with Éclairon, an ingenious pairing of an éclair and macaron, with a tart and sweet layer of blackberry in between the crispy and smooth macaron shells.
For a classic English Afternoon Tea, finger sandwiches are not to be missed. Enjoy a gamut of seafood specials and luxurious finger sandwich topped with a generous layer of Avruga Caviar, cucumber and Swiss cheese. An English afternoon tea will not be complete without freshly baked Raisin and Classic Scones, served with clotted cream, butter or organic strawberry jam. Enjoy the sweet and savoury delights with the selection of gourmet coffee, tea or a glass of Laurent-Perrier Champagne.
Explore the rich melting pot of flavours influenced by the fusion of Chinese, Malay and Indonesian cuisines, passed down by the locally born descendants who lived around the Malay Archipelago, with the re-invented Peranakan Afternoon Tea.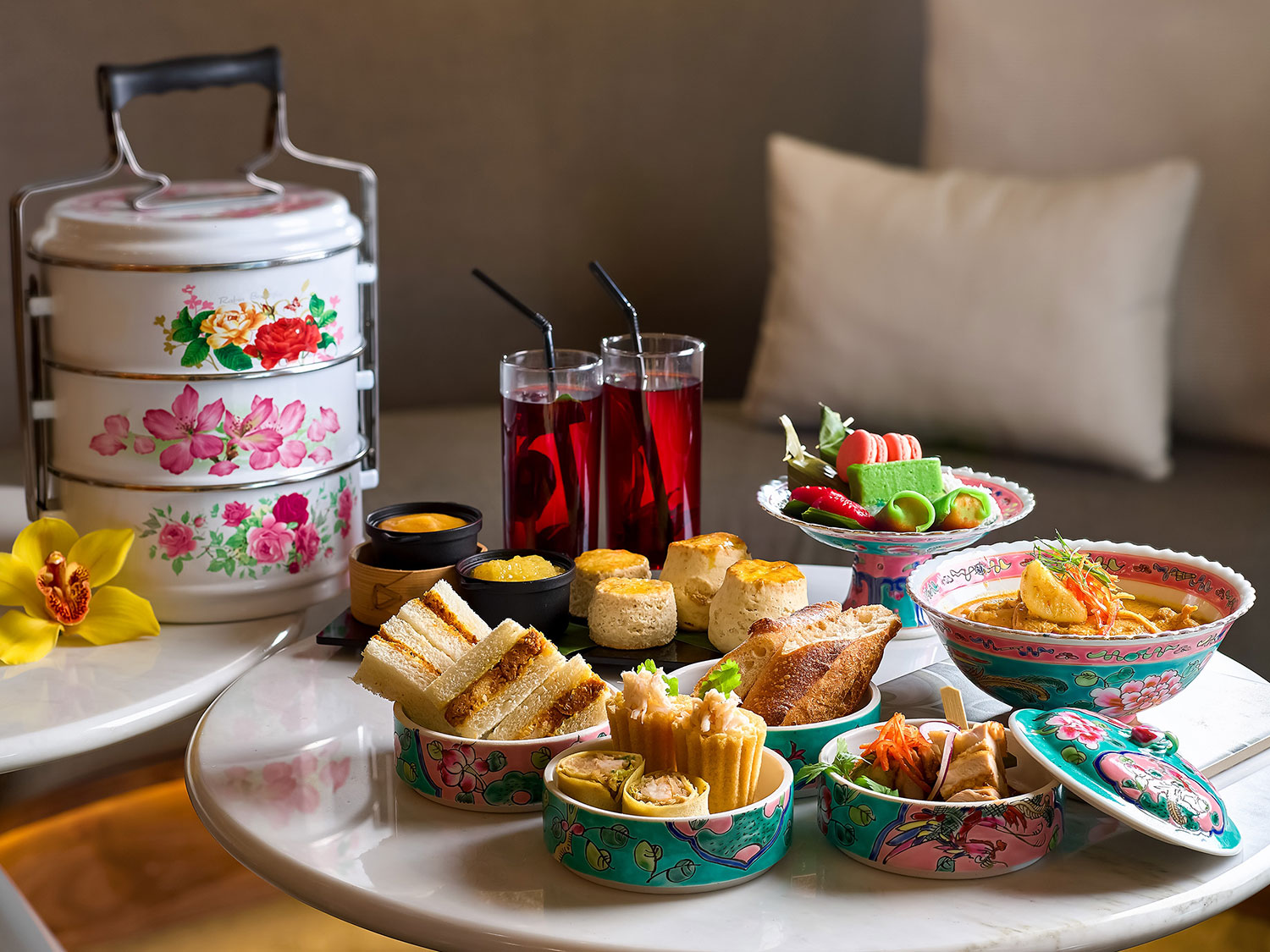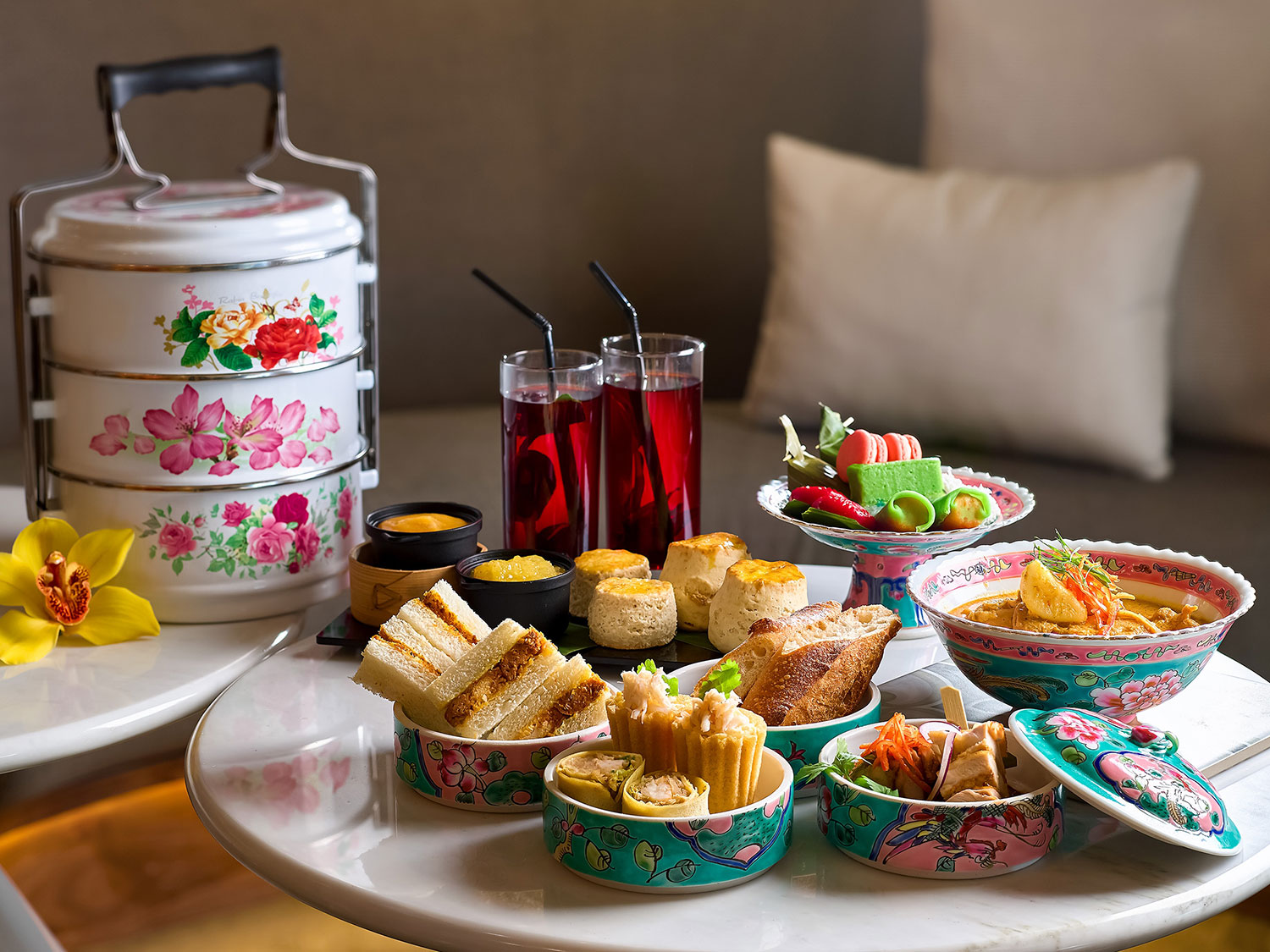 Presented in a three-tier tiffin carrier reminiscent of the lunchboxes used in Southeast Asia, discover local culinary gems including Crab Meat Kueh Pie Tee, crispy golden cups cradling chunks of juicy crab meat or the Ayam Panggang
Skewers.
As Nyonya cuisine is well-known for its use of spices and marinated meats, indulge in Peranakan Chef Nancy's fluffy soft bread rolls with aromatic fillings of Hae Bee Hiam, made of dried shrimps, lemon grass, dried red chili and onions ground together. The rich and scrumptious gravy from our perennial favourite, Nyonya Curry, pairs perfectly with our French baguette.
The Peranakan Afternoon Tea also comes with an assortment of kuehs (bite-sized desserts) to complete the oriental experience. For an East meets West experience, savour Chef Eddy's Bandung Macaron, made with a recipe that incorporates rose flavoured evaporated milk.
The Peranakan afternoon tea is served with heritage Coconut and Classic Scones, best enjoyed with homemade spreads that embody local flavours – Hainanese Kaya (sweet coconut jam) or pineapple jam and finished with our homemade Ice Rosella Tea.
2:30pm to 5:30pm daily
Priced per adult:
SGD38 per person (including gourmet coffee and tea),
SGD58 per person (including gourmet coffee, tea and a glass of Laurent-Perrier Champagne),
SGD68 per person (including gourmet coffee, tea and a glass of Laurent-Perrier Rosé Champagne)
Atrium and Pacific Marketplace, Level 1,
Pan Pacific Singapore,
7 Raffles Boulevard,
Singapore 039595
All prices are subject to 10% service charge and 7% GST, unless otherwise stated.
For dining reservations and enquiries, please speak with us at +65 6826 8240 or email celebrate.sin@panpacific.com.