1st stop… …
was on off today but din slept till late as i woke up rather early. ard 7.. bath and ate our breakfast before setting off..  yawnz.. was rather sleepy then haha..
we intend to take a taxi to the first location.. but we waited for like more than 25mins at the taxi stand.. from 9+ till 10.. finally our cab came.. went whampo's 大伯公temple.. it cost us $10 bucks for the trips.. and one funny thing is that the ERP was on at that time.. hmmm.. singapore government has been increasing the prices of ERP and no. of gates recently.. and that's really bad….
after the 1st stop, we walked over to the newly renovated whampoa's market for lunch.. we ordered a plate of 云吞noodles, 6 zui kueh and 2 猪肠粉 to share.. after lunch, we walked over to the other end of whampoa's street, 观音temple..
we walked again from whampoa to toa payoh 双林寺temple..  woo.. being walking ALOT~!! after praying, we walked over toa payoh centra.. walked ard there before heading to amk.. we took bus 88 from toa payoh to ang mo kio as my mum's helping her colleague to buy the chilies ingredients for cooking curry fish and chicken.. cabbed home from there..
after placing down our stuff, we walked over to the last stop of today's temple visit which is the one at sengkang.. walked over from the temple to rivervale plaza and had our dinner there.. got back home ard 8+ and that marks the end of the day for me.. wooo.. was kinda tiring but feeling great.. =D
now feeling so sleepy, but still can't sleep…. needa work on the vids for tomolo.. haiz…
Yawns.. i'm tired..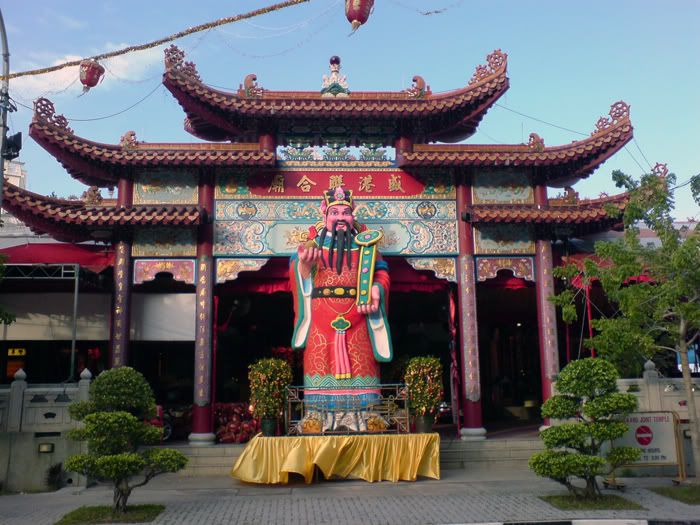 the last stop… …