The year has flown by in a flash and here we are once again in December and with Christmas and New year upon us, I hope you have made plans in advance, fret not if you haven't planned anything. Sofitel Sentosa is offering varies options for that perfect year-end celebrations.
THE CLIFF
Experience intimate gatherings with your loved ones
Intimate and comfortable is how we would describe the interior of The Cliff the soft warm lighting puts the place in a relaxed and romantic mood for private conversations and sweet nothings between you and a loved one. The outdoor seating benefits from cool breezes and a tropical island view, both are great options for drinks or a full meal.
The menu here hinges on refined flavours of new-Italian cuisine, which we felt were experimental.  Taper those expectations especially when of what you might know to be of Italian fare veers more towards big, hearty, and rich flavours. This can clearly be seen from the Assaggi(Something like a sampler of food)-  Spiced walnut & Ricotta Crostini which was a marriage of very textural elements Marinated Radicchio which married well with the Ricotta, Rosemary and finally that much-needed sweetness from the Honey brought it all together. The perfect way to start dinner!
Antipasti
We dare say that the Endive & Persimmon Salad could be one of the best salads we every had. The Gorgonzola Dolce, Pomegranate, Toasted Pumpkin Seeds and Sherry Vinaigrette had all the symphony of a top tied dish. We also found smokey charred bacon bits that elevated to the dish in terms of the taste profile.
Primi (First dishes)
Diners have a choice between the Tortellini En Brodo – Pork and Veal Tortellini in Clear Meat Broth or the Beetroot & Goat Cheese Ravioli. The meat broth was hearty and rich during the first mouthfuls but soon reviewed its true colours of being an overly salty broth. Perhaps it was to compensate for Tortellini which was, on the other hand, a tad bland. The meat inside was tender but overall the dish was lacking and the layer of oil on top of the soup became overwhelming.
The Beetroot & Goat Cheese Ravioli faired better, plus points to the chef for making the beetroot sauce not too earthy however we felt that it did not help elevate the dish. The cheese was good but people who are sensitive to the gamy flavours of the goat(like Darren) found the pungent taste a tad strong.
Secondi
Once again you get to choose your mains, Brasato Al Barolo – which was the Braised Beef Short Rib, Polenta and Horseradish Gremolata. The Beef was extremely tender and had dept of favours that permeates all the way through. The shortcoming here is the salt levels, that might need slight adjustments.
The Caramelised kabocha squash risotto – Pine Nuts, Parmiggiano-Reggiano and Aceto Balsamico is a delicious risotto dish that was creamy and had good cheese flavour thanks to the Parmiggiano-Reggiano which is also sometimes termed the 'king of cheeses'. The caramelised squash was overly sweet for our liking and was bordering on being a desert in a risotto. The dish would have benefitted from another vegetable with a more neutral taste.
Dolce
I am usually a sucker for sweets but we found the Dark Chocolate Ricotta Yule Log, lacking in the dark chocolate department and we had hoped to experience more depth in the bitterness to provide contrast to the sweetness. The Candied Chestnut Cream was alright but we can't help but feel a lack of connection with the overall dessert. Xmas is all about connections but the Amarito Cherries were the anti-social child in the picture, It was rather unfortunate that they tasted more like intense cough syrup.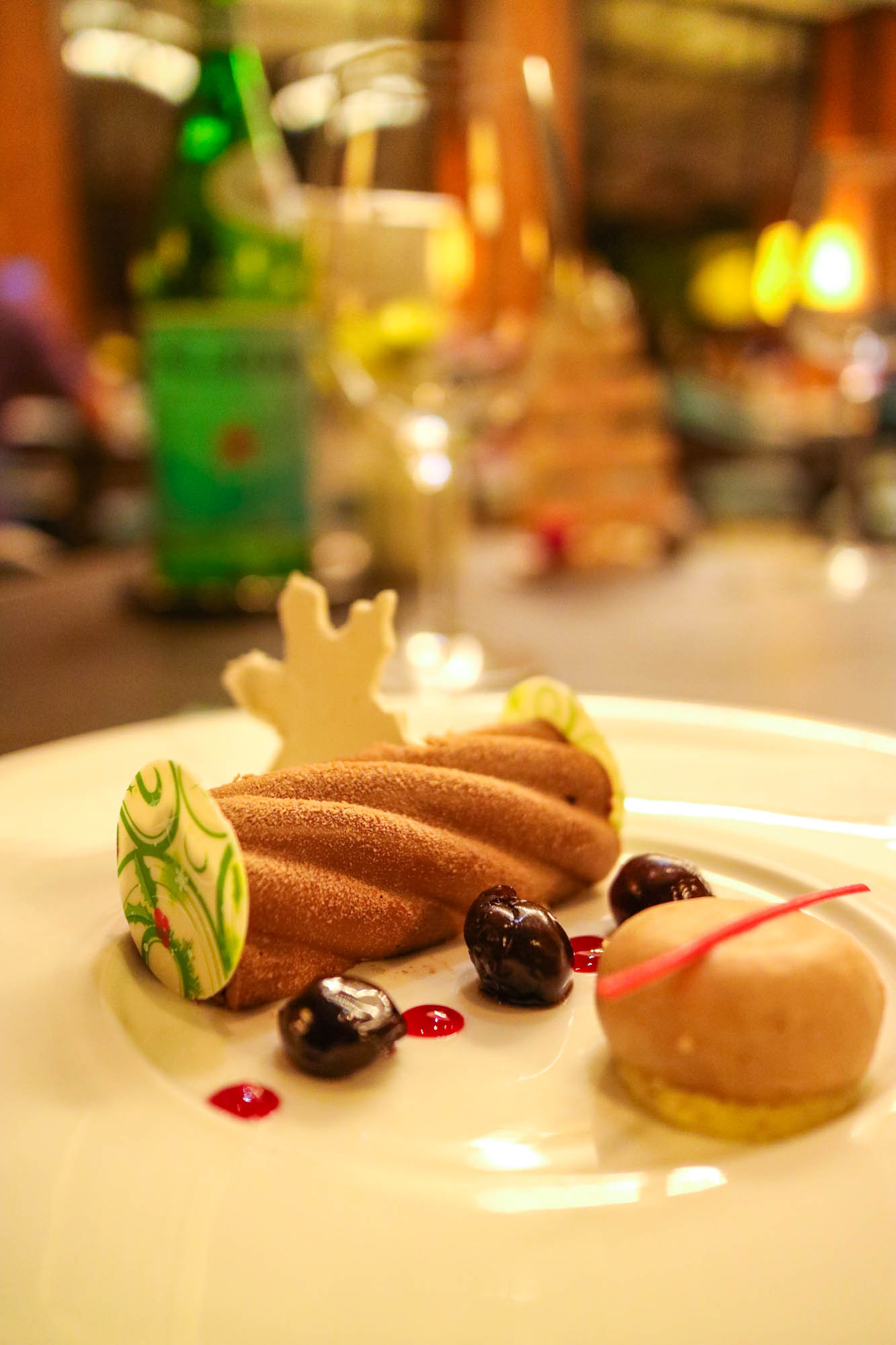 In Closing
We liked this dalliance with salt at The Cliff. It's bold, daring, and quite possibly demandingly foolhardy. The flavours are certainly big, bold and demand attention which I am sure will garner its share of fans. Dinner is certainly a time to unwind and take things slow, we would recommend taking the wine pairing or at least ordering a cocktail, as fillers between this three-hour dinner session.
DAILY FESTIVE LUNCH & DINNER SETS
Period

Price

Add-ons

Daily Lunch 

$48++/diner

Top up for Wine Pairing – $98++/diner

Early Bird Discount!

Book before 10 December

Enjoy $248++/two diners with wine pairing

Daily Dinner

$78++/diner

Top up for Wine Pairing – $98++/diner

Early Bird Discount!

Book before 10 December

Enjoy $298++/two diners with wine pairing

CHRISTMAS EVE, 24 DECEMBER  |  6PM TO 10PM

Dinner – $158++/diner

Top up for Wine Pairing – $138++/diner
SOFITEL TAKEAWAY TREATS
Takeaway the season's best treats to your family
Tis' the season to get together with family and friends for a selection of Takeaway Treats featuring the traditional Christmas must-haves  – turkeys and log cakes. Indulge in unconventional favourites like the Festive High Tea and Cocktails!
KWEE ZEEN
Celebrations perfect for family and friends
For the reminding weekends of December, we would really recommend that awesome Sunday Brunch at Kwee Zeen. Bid farewell to 2020 with an extravagant Epicurean spread delight and entice on New Year's Eve Brunch. Feast on an extensive assortment of delicacies including Foie Gras Terrine, decadent Lobster Thermidor, tender Beef Wellington and Crispy Pork Belly. Enjoy the live station selection served right to your table with Angus Beef Tomahawk, Salt-Crusted Sea Bass and Pan-Seared Foie Gras.
For enquiries, please contact (65) 6708 8310 or email H9474-fb6@sofitel.com
2 Bukit Manis Rd, Sentosa, 099891
https://www.sofitel-singapore-sentosa.com/