Woohoo!! the mid autumn festival is just round the corner. I supposed most of you had already eaten at least one piece on mooncake right? and you must've already bought or placed your mooncakes order le right? But anyway, i just wanna share this with all my readers out there!
Last sat, had a mini mooncakes party with my relatives and we each bought different kinds of mooncakes to share and try! last year i brought the D24 durian mooncakes from home's favourite and im loving it sooo much! but this year, decided to try something new instead.
SO…. i would like to thank omy.sg and swensen for the complimentary ice cream mooncakes!! actually wanted to get the sticky chewy chocolate and durian ice cream mooncakes but they're already out of stock when i went to collect mine.
But i still managed to get the 4 new flavours from them!
Yam, Salted Caramel Cheesecake, Coffee Raisins & Mixed Berries!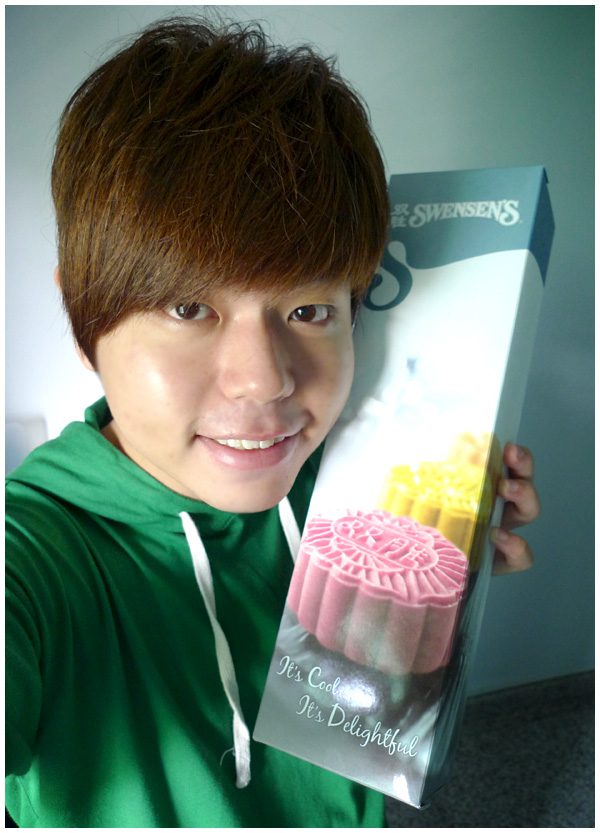 Mixed Berries and Coffee Raisins
Salted Caramel Cheesecake & Yam
The ice cream is really very very NICE~!!! loved it~ there's even mini berries bits in the mixed berries ice cream mooncake! but for my personal preferences, i think the snow skin is a little thick.. but overall it's still taste GREAT! 😀
Other than ice cream mooncakes, we have these
Konnyaku Mooncakes from Crystal Jade!
with flavours like aloe vera, chrysanthemum honey, green tea and Osmanthus & Plum !
good for those whom doesn't like those sweet lian rong paste…
Next, we have another kind of mini mooncakes from the
Konnyaku Mooncakes from Crystal Jade!
Cute little rabbits snow skin mooncakes which taste like mocchi! loved it! 😀
4 different flavors : Cranberry Cream Cheese, Orange Walnut Chocolate, Mixed Fruits & Nuts  and Macha Red Bean!
and now… the traditional kind of mooncakes…
They do have mini mooncakes as well! which i find it much more easier to eat and finish as they are in a mouthful size. 😉
These mini mooncakes from
Dragon Phoenix Restaurant
comes in 6 pieces in a box…
Loved the metal tin boxes from
Bengawan Solo

…

it's recyclable as u can still use the tin box after u've finished eating the mooncakes.
We bought the traditional durian mooncakes with lotus seed. Quite nice as its not very sweet and the aroma of the durian is just nice !  BUT, i still prefer having those with durian meat in it ;P
How can we missed out on mooncakes with salted egg in it!! it's always one of the must have for me!!!
This mooncakes was bought by my aunty at chinatown, Xin Mei Li.. doubt u pple have heard of it as nowadays, pple tend to buy the mooncakes from hotel or restaurants… but this kind of 老字号 is still well loved among the more elderly pple…

one of my relative bought the mooncakes from
the raffles hotel.
I love the graphics on the box.. NICE!
Overall the taste was ok for me.. cos i really can't tell much different with the other same kind of mooncakes with lian rong paste in it. Heard that it's not tat cheap too. guess its the branding la.. looked more presentable as a gift… you know, pple reaction would be like : WOW~~ raffles hotel mooncakes.. must be very high class one hahaha~
and….
that's about all!
after waiting for me to snap all these mooncakes pics with those settings, (see i very yong xin one OK~) we can finally start our mooncakes party !
another few more rounds and exercises for me after this mooncakes party… aw.. felt so fat at that moment when we finish all the mooncakes! haha~