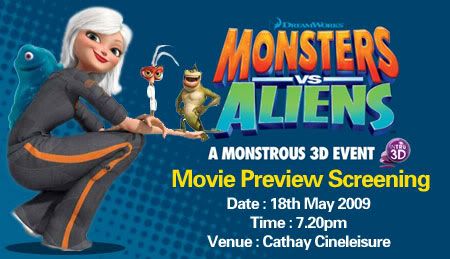 Rating :


Thanks to omy and UIP, was given this opportunity to catch this fabulous animation from dreamworks, Monsters VS Aliens!
This is my first time watching a 3D animation movie and i'm absolutely impressed with the technology nowadays. Everything seems so real!
Just before we enter the cinema, we're all issued a pair of 3D glasses. The last time when i wore a 3D glasses was like so many years ago, probably during one of my visit to the science center in sec sch days. =D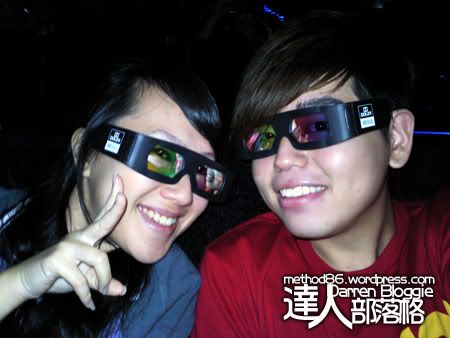 In the first scene of Aliens vs. Monsters the setting is in space where a radioactive meteor plummeted toward Earth and hit onto Susan, preparing to marry the weatherman of her dreams.. the meteor, known as quantonium dissolved into her body and she grew enormous suddenly, which makes her been labeled as a monsters… … Alright i shall stop here for the story synopsis as it'll be great for you to catch the movie on 28th may~!
The colors were vibrant and the the 3D was spectacular!
I think this is one of the best dreamworks animation right after Kungfu Panda!
Some wallpaper for download as well =)

And if you can't wait till 28th may, here's a sneak preview with pics, trailer and director's first look!
Credit to : SandroSashz
[youtube=http://www.youtube.com/watch?v=4dOKboEwz6s] [clearspring_widget title="Monsters VS Aliens" wid="4977bfba0b0aee0e" pid="4a0bea8f03838b39″ width="300″ height="250″ domain="widgets.clearspring.com"]