Thye Moh Chan, the longstanding local Teochew confectionery, presents a selection of thoughtfully-crafted pastries, cakes, goodies, and hampers for the upcoming Chinese New Year festivities.
With more than 70 years of history in delivering the finest Teochew pastries that are handcrafted to perfection, the brand's stellar line-up of festive goodies includes the new and exclusive Golden Bangle, a delightful pastry that features a specially concocted pairing of Thye Moh Chan's signature mung bean filling with the must-have Chinese New Year treat, bak kwa. Smooth mung bean paste is studded with glistening diced barbecued pork for just the right amount of bite, sweetness, and savouriness in a filling that is encased in crisp golden brown layers of pastry to form a flavourful and splendid treat.
Available in a box of eight pieces, the Golden Bangle pastries are embellished with Chinese characters that form a couplet of well-wishes for a smooth-sailing year as one desires, making every box an auspicious gift or a meaningful treat to be shared at gatherings this festive season.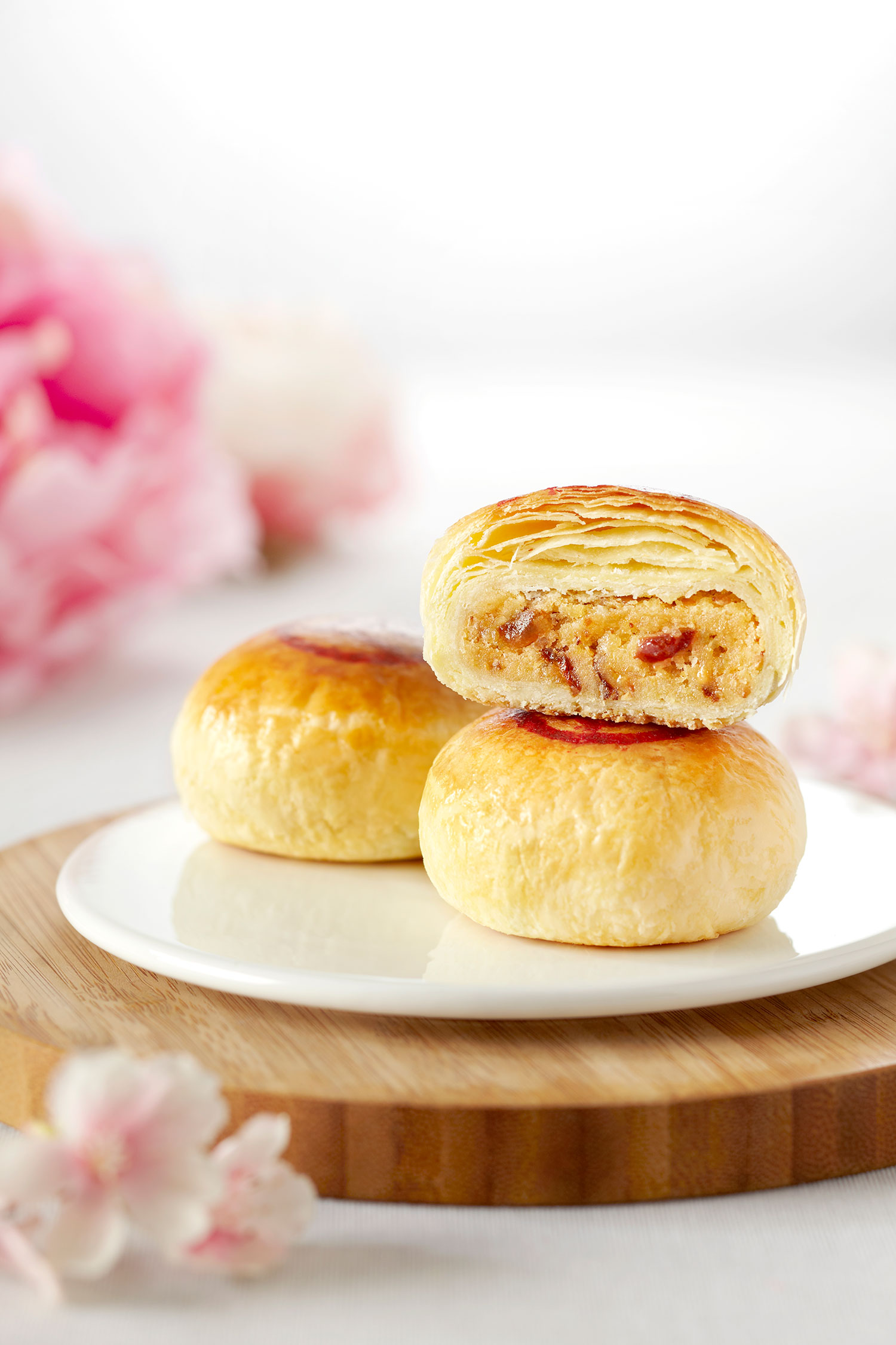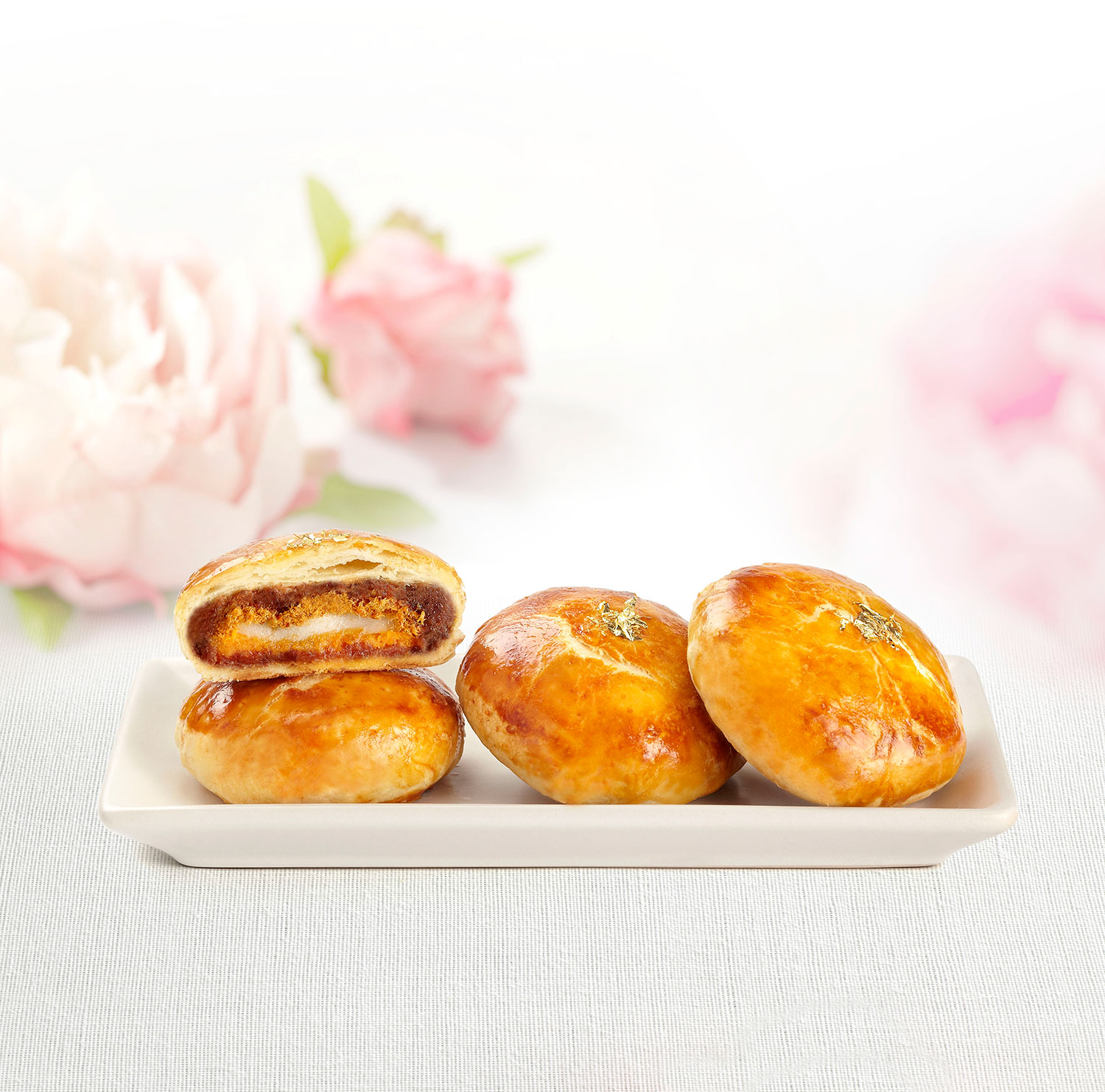 Besides its signature flaky-skinned pastries, Thye Moh Chan offers a variety of delectable seasonal creations such as the Auspicious Fish, a delicate and refreshing jelly featuring osmanthus flowers, dried longans and wolfberries, shaped as a pair of koi as the Chinese pronunciation of fish, yu, alludes to abundance. Not forgetting the quintessential Pineapple Pastry, Thye Moh Chan's rendition of the fruity and buttery treat features a touch of fragrant Gula Melaka in the filling. Also not to be missed are specially created items such as the Brown Sugar Cake, Gui Yuan Cupcake, and Fortune Yam Cake, which also make delightful everyday snacks during this celebratory period.
The Golden Joy, another of the brand's recent creations, encapsulates multiple blessings in a delicious pastry and is also available as a timely gift. Each of the four ingredients of Golden Joy – Red Bean (甜甜蜜
蜜), Mochi (百'粘'好合), Spicy Floss (热情如火), and Salted Egg Yolk (金玉满堂), symbolises an auspicious and positive phrase in the Chinese language. With its well-balanced flavours and textures, Golden Joy appeals to all palates.
The brand has also designed a selection of hampers that offers a range of its festive must-haves, such as
egg rolls, candy, cookies and assorted crisps, thoughtfully packaged for gifting or simply for one's
enjoyment.
STORE PROMOTIONS
Free Ang Pow Clutch: 16 January to 2 March 2018
Receive a free* ang pow clutch in red or pink with a minimum spend of $88.
Sure-Win Lucky Draw: 16 January to 2 March 2018
Participate in a sure-win lucky draw* with a minimum spend of $28.
Prizes include Thye Moh Chan products, vouchers and merchandise.
*One redemption per customer per receipt, while stocks last.
Thye Moh Chan's Chinese New Year selection is available for purchase at the brand's two outlets, located in Chinatown Point and Paragon, from now to 2 March 2018. Hampers are available for pre-order in-store.