"Taking things up a notch this year, shoppers can also engage with animated characters in an augmented reality hunt when they visit and stand a chance to win attractive prizes." – Gwen Au, Vice President for Marketing Communications, Mapletree Commercial Property Management.
Get ready for a whirlwind adventure this Mid-Autumn at VivoCity as we take you into Wonderland where a dazzling spectacle of lanterns awaits at the Sky Park! Inspired by the tales of Alice in Wonderland, VivoCity's rooftop Sky Park will be illuminated with large-scale, colourful handcrafted lanterns measuring up to 10 metre tall, lighting up against the night sky to create a perfect backdrop for a memorable Mid-Autumn reunion for family and friends.
The experience takes shoppers through 5 whimsical zones loosely based on Alice's Adventures in Wonderland – starting from a journey down the rabbit hole, a rendezvous at the Mad Hatter's tea party, a close-up encounter with the Queen's card soldiers and finally meeting the Red Queen herself at a towering castle made of lanterns!
Down the Rabbit Hole
Step through a larger-than-life storybook to enter the curious world of VivoCity's Wonderland, and join the White Rabbit down the rabbit hole to experience a whirl of glittering lights and mind-bending illusions!
A Mad Tea Party
Grab a seat on the Hatter's best chairs at the Mad Tea Party and be amazed by a lantern teacup stack piling precariously into the air. There's also a 5 metre long illuminated table decked out with a spread of colourful desserts and tableware too.
Tunnel of Soldiers
March down the 40m long tunnel of roses illuminated by sparkling lights and guarded by the Queen's trusty soldiers. While taking your Instagram-worthy shots here, do be careful with the Queen's precious roses as we hear she is not one to be trifled with.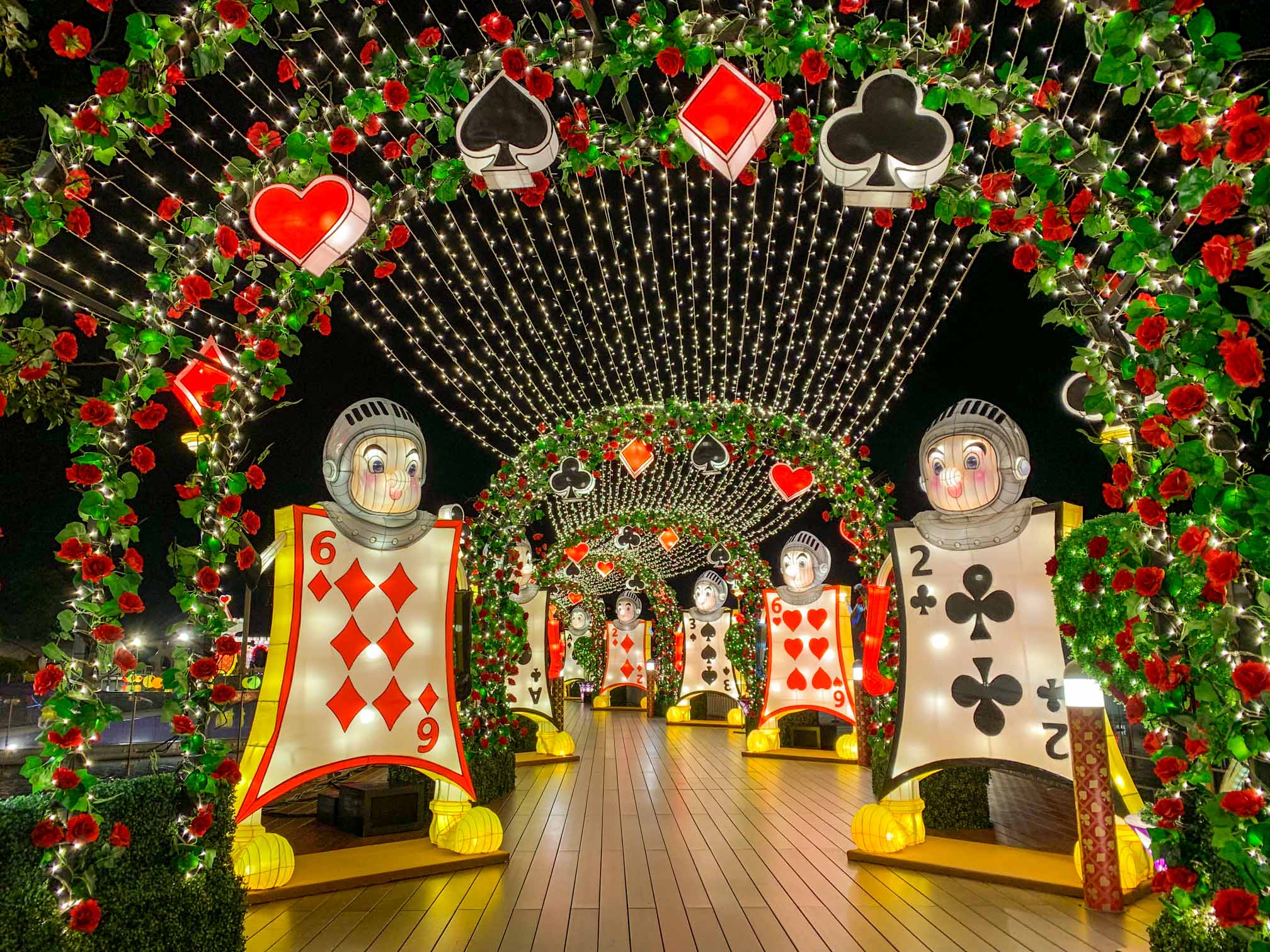 Pool of Cards
Enjoy a moonlit view of the card soldiers taking over our waterscape as they put up brightly coloured, glowing lanterns in the water to humour the Queen.
The Queen's Castle
Complete your journey to Wonderland and seek an audience with the Red Queen in her majestic castle. Made completely out of handcrafted lanterns, this 10m tall whimsical castle is adorned in the Queen's favourite colours inviting all to step in as she welcomes her guests in full regal splendour.
"These intricately designed pieces were painstakingly created by a group of more than 50 artisans over a period of 30 days. More than 6,500 electric lamps and 5,500m of fairy lights were used to illuminate these large scale luminaires in order to bring-to-life VivoCity's Wonderland," says Gwen Au.
Don't forget to hashtag #VivoWonderland and tag @vivocitysingapore when you share your photos with your friends and family!
JOIN IN A RABBIT'S QUEST – AN AUGMENTED REALITY (AR) HUNT
Coming soon | Sky Park, Level 3
Join in the quest to spot as many characters as possible while in VivoCity's Wonderland and stand to win attractive shopping vouchers! Simply visit "VivoCity's Curious Adventures in Wonderland" light-up event at the Sky Park and scan the QR codes located around the event to start playing!
Step 1: Scan QR code to activate game on Facebook
Step 2: Catch all the characters you can in 60s
Step 3: Capture & post your score on FB with @VivoCity.SG #VivoAR
10 lucky players per week from each of the following categories will win prizes in our lucky draw:
– Players scoring above 8,000 points can win $80 Mapletree vouchers each
– Players scoring between 4,000 to 8,000 points can win $50 FairPrice Xtra vouchers each

VivoCity's Curious Adventures in Wonderland
23 Aug to 22 Sep 2019
10:00 am to 10:00 pm (Light up from 7:00 pm to 10:00 pm)
Sky Park, Level 3
VivoCity