Christmas is all about gathering with your friends and loved ones over a hearty meal and some of the dishes we see on the table tends to be high-fat, high-calorie food. So is it possible to still be a part of the Christmas celebration without having to forgo your healthy goals? The answer is YES! The key to eating healthy this Christmas is bring your own snacks and dishes so that you don't get caught unaware and end up munching on the unhealthy options.
Amazin Graze healthy snacks are all handmade fresh every week in small batches, using the best natural and raw ingredients that have high nutritional values which will be a good option for you to eat and stay healthy this Christmas! Here's 5 combination to make your healthy snacks more Christmasy~
Gingerbread Crumb Granola
S$10.5
Indulge in the comforting familiarity of gingerbread – with an added zing. This crunchy granola is infused with warm Christmas spices and flecked with earthy nuts and candied ginger pieces for a zing of flavour.
Fragrant, spicy ginger is a prominent flavour in many Asian cuisines, and is also consumed in many forms worldwide. A popular remedy for digestive issues such as nausea, indigestion, and loss of appetite, ginger is now also becoming increasingly known for its other benefits of fighting inflammation and pain (especially in the joints).

Frosted Cinnamon Nut Mix
S$5.9
The sweet smell of cinnamon enhances the natural earthy flavours in this nut mix, bringing to mind the joys of Christmas baking. Rustic pecans, earthy almonds, and crunchy pepitas come together beautifully, candied to perfection in a warm cinnamon glaze.
Cinnamon gives a warm, versatile flavour that enhances both savoury and sweet dishes alike. It is packed with antioxidants that help to fight oxidative damage in the body, and is known for its ability to moderate blood sugar levels and improve the body's sensitivity to insulin!

Chocolate Fudge Orange Bites
S$6.5
Indulgently chewy dark chocolate bites infused with refreshing orange zest. Packed with toasted quinoa & oats, sweet tart cranberries, and crunchy pecans, almonds, and chia seeds! The perfect way to bring Christmas into your on-the-go snacking!
Rich, chocolatey, and bitter, dark cocoa is packed with antioxidants that fight oxidative damage in the body, and is good for your heart as it helps to moderate blood pressure as well as cholesterol levels.

Candied Fruitcake Granola
S$10.5
Rich, fruity, and fragrant – all the flavours you could look for in a slice of Christmas fruitcake, in a healthy granola! Walnuts, pecans, and a multitude of candied dried fruit come together in this remake of a traditional favourite. Now everyone can have fruitcake for breakfast, minus the guilt!
Dried fruits are low in sodium and rich in potassium and fiber, which makes them excellent for keeping your blood pressure at a healthy level. Pairing dried fruits with the protein and healthy fats in nuts and oats (like in this granola!) can slow the digestion and release of their natural sugars into the bloodstream, keeping blood sugar levels stable and healthy!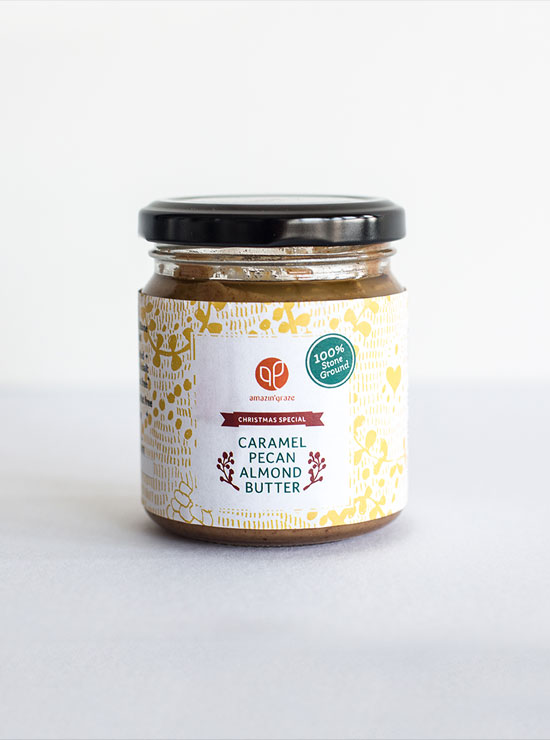 Caramel Pecan Almond Butter
S$15.0
Smooth, creamy nut butter made from stone-ground whole pecans & almonds, swirled with caramelized maple and a hint of coconut! An easy way to add decadence and flavour to any recipe! Use as a Christmassy spread, dip, or topping for your favourite desserts!
Pecans are incredibly fragrant, buttery nuts that are packed with heart-healthy unsaturated fats and Vitamin E, an antioxidant. They are also a very good source of manganese, a mineral that plays an important role in bone health.

You can also share these healthy and nutrious snacks with your loved ones from the Christmas Gift set available on Amazin' Graze too!
CHRISTMAS GIVEAWAY ON DARRENBLOGGIE'S FACEBOOK PAGE!
We are giving away 1 MINI GIFT BOX: DELISH, which consists of a pack of Candied Fruitcake Granola, Gingerbread Crumb Granola, Frosted Cinnamon Nut Mix and Chocolate Fudge Orange Bites to 1 lucky winner on Darren Bloggie Facebook Page! Refer below for more information.