Located at Faber Peak is the modern and romantic Spuds & Aprons. Sitting 100m above sea level, this is a unique restaurant that offers breath-taking panoramic views of the Harbourfront and Sentosa.
This Oktoberfest, One Faber Group brings two new features to the festival to delight with a live outdoor grill station and the first self-serve beer machine at Faber Peak. I paid a visit to try out the grill offerings and here are some of the highlights.
The sumptuous buffet includes an outdoor live grill menu featuring hearty items such as Trio Bratwurst with Onion Sauce, Chicken with Cajun Spice and Char-grilled Seasonal Vegetables. Besides grilled items, there is a selection of cold appetizers, hot dishes and a carving station serving Oktoberfest staples.
The Beef Brisket with BBQ Sauce was tender and juicy without being gamy. The home made BBQ sauce was balanced and provided another layer of flavor without taking away the natural meaty taste of the brisket.
The star of the night went to the Crispy Pork Knuckle with Gravy and Roasted Pork Belly. Both the dishes had crispy skin that was flavored perfectly. When paired with Dijon Mustard, it was an explosion of flavors with a good balance of fat to meat ration. Those on a Keto Diet will surely be pleased.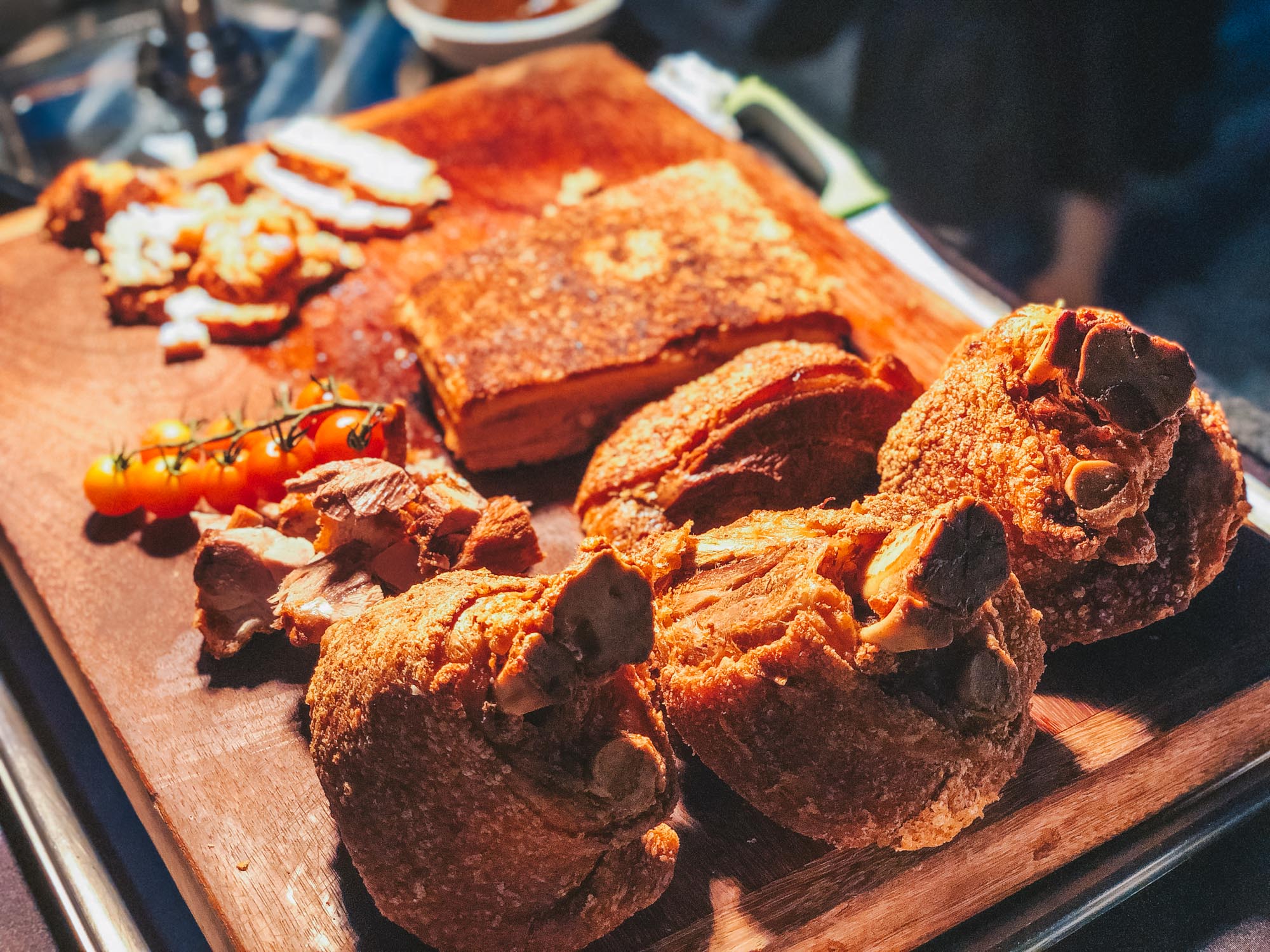 The Salt Baked Whole Salmon was cooked to perfection and very neutral in taste. A great choice for fish lovers.
Deserts
The desert offers were limited but the quality was excellent. The Crunchy Nut Feuilletine Cake and Passionfruit pudding were on point in the flavor profile without being overly sweet. The coffee taste was prominent and the mascarpone cheese was rich.
Tiger Draught Self-Serve Machine
This was an interesting offering featuring an automated service allows diners to tap their own glass of fresh beer. This is available online at $72 nett as a top-up or onsite at $72+ for 3 litres of Tiger Beer. Diners will be able to pour their desired amount of draft in a glass. No one likes to drink room temperature beer right? An added bonus for diners selecting the self-serve "e-tap" experience is the waiver of service charge in the price.
Tickets are now sale only at www.onefabergroup.com/oktoberfest. Early bird price of $58++ lasts till 9 Sep; thereafter it will be priced at $65++. This price includes a drink and a one-way Singapore Cable Car ride to Faber Peak Singapore! Check out the fantastic views on my way up.
Oktoberfest at Faber Peak
21 & 22 September 2018
7:00 pm – 10:00 pm
Spuds & Aprons
Faber Peak Singapore, Level 2,
109 Mount Faber Road, Singapore 099203
https://www.onefabergroup.com/oktoberfest
This was an invited tasting, though all opinions expressed are our own.