International Burger Day is a day dedicated to the burger in all it shapes, sizes and flavours, and it falls on 28 May. This year, Impossible Foods, creators of the award-winning and delicious meat made from plants, is marking the occasion with a curation of some of the most delicious and unique Impossible Burgers around town. The company is also offering promotions Monday, 25 May until Monday, 1 June. To top off the festivities, every dish is available to order directly to doorsteps, so you can enjoy a plant-based feast from the comfort of home during the final stretch of Singapore's Circuit Breaker.
While enjoying delicious burgers from some of the Little Red Dot's local restaurant favourites, foodies can appreciate their lowered carbon footprint, because the Impossible Burger is made from plants and (113g serving size) uses 96% less land, 87% less water and 89% less greenhouse gasses compared to ground beef from a cow. For conscious consumers, this means that they're saving 7 square meters of land, 3 kg of CO2, and 84 litres of water for each Impossible burger consumed.
Pairing the environmental benefits of Impossible's plant-based meat with its meaty deliciousness, and you've got all the ingredients for a winning International Burger Day.
Here, we list some of the most mouthwatering Impossible burgers around town.
Brewerkz
Delicious combo includes Impossible Burger, Salad and Side
For a taste of the States, enjoy the Impossible Burger and Beer Combo from Brewerkz, priced at $28: An Impossible patty topped with mustard sauce, dill pickles, onion relish, tomatoes and lettuce, side salad, fries and can of Brewerkz Beer, with the option to upgrade fries to onion rings or Korean fried cauliflower for just $2. Singapore's longest-running craft brewery experience specialises in classic American style comfort food, including handcrafted gourmet burgers, and award-winning handcrafted beers.
Wok In Burger, by Keng Eng Kee Seafood
Enjoy a set meal of Impossible Wanton Burger, onion rings a drink
If you're craving for local flavours, the Impossible Wanton Burger from Wok In Burger is the burger
for you, and the $18.80 price gets you a set meal including a drink and onion rings.
A wok tossed Impossible patty is mixed with diced carrots and chestnuts, marinated with sesame oil, and paired with crispy wonton skins, crunchy vegetables, chilli mayo, all sandwiched between grilled buttered charcoal buns.
Wok in Burger is the Michelin- recognised zi-char restaurant Keng Eng Kee's first foray into fusion cuisine.
Omakase Burger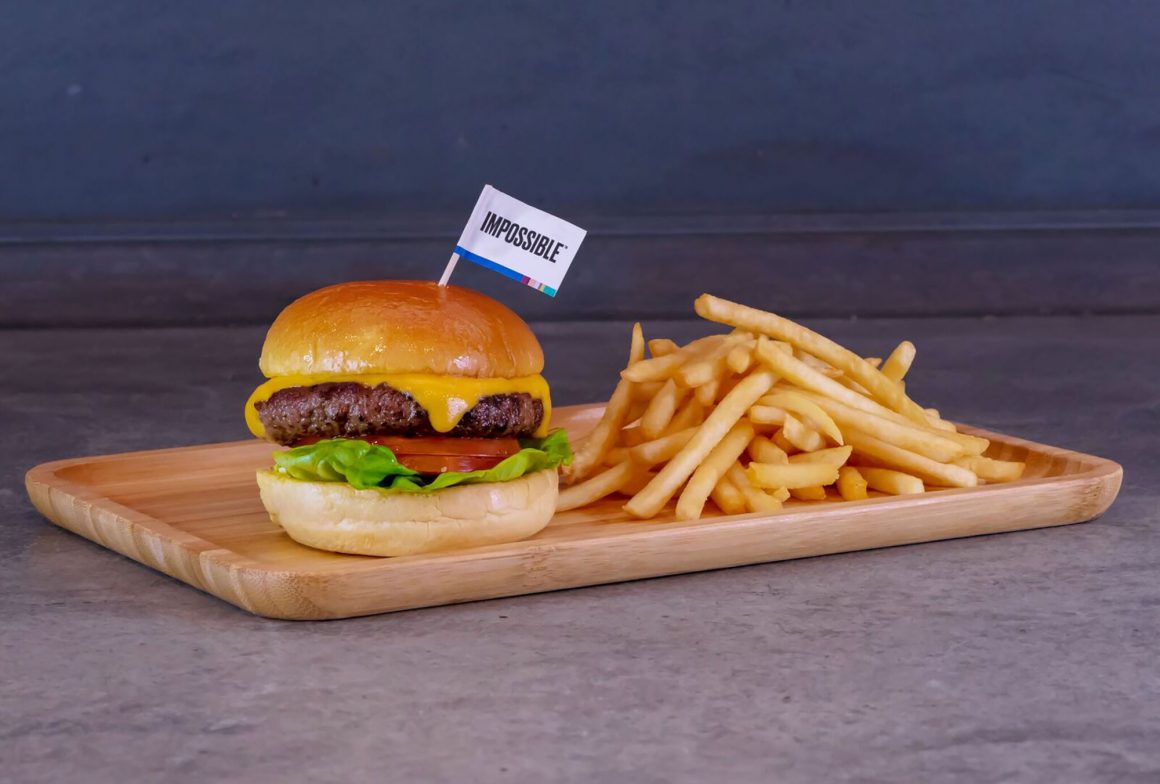 For those looking to get a little messy, the Omakase X ImpossibleTM Burger is the one: n Impossible patty is combined with a blend of handpicked plant-based ingredients for an #umami boost, the $19.90 price tag also includes a free soft drink. Home of Singapore's best-known authentic American smashed burgers, Omakase Burger are famous for being so juicy they had to design special wrappers to hold all the juices in.
The Coffee Academics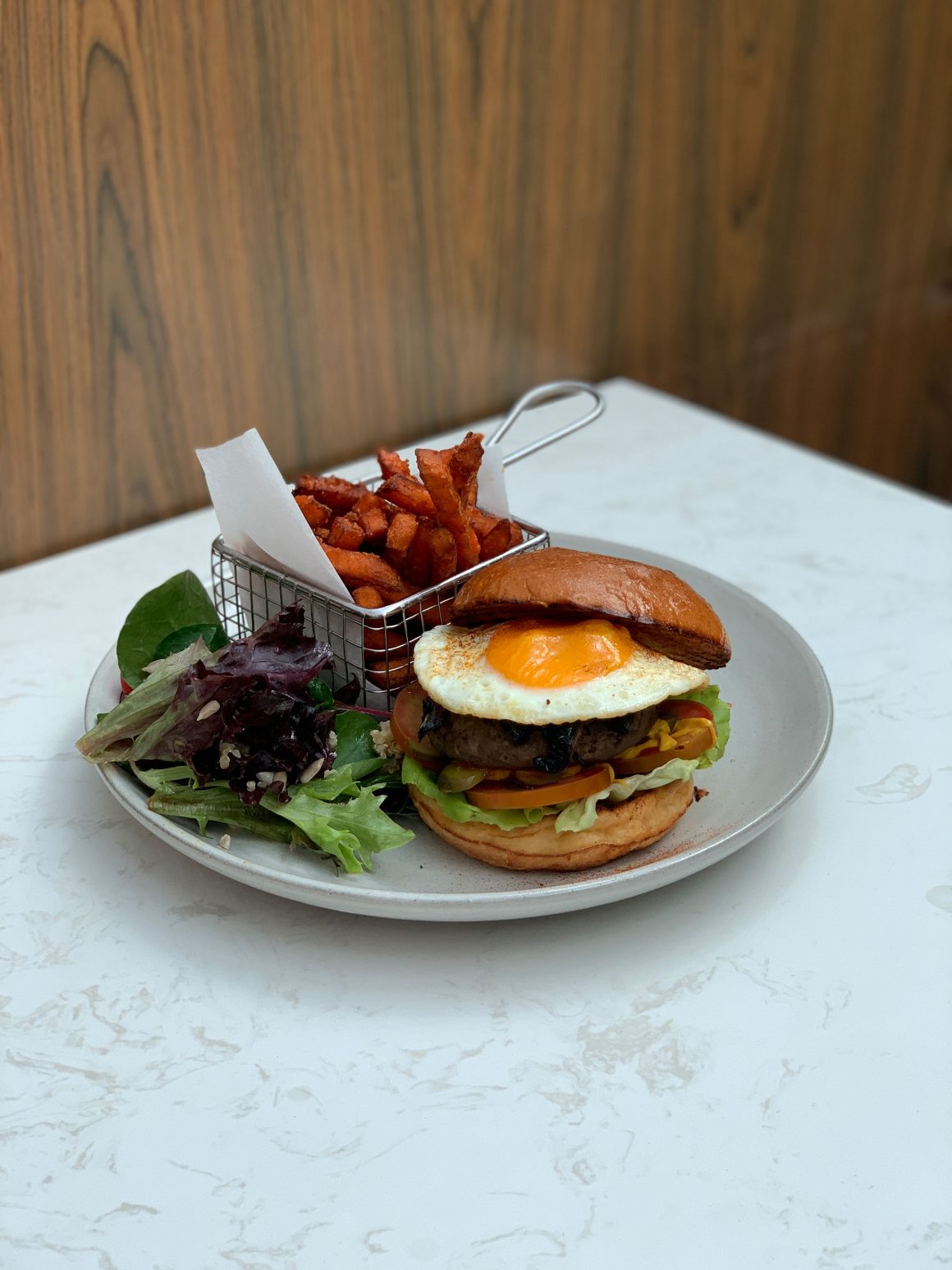 Burger purists will appreciate the Impossible Burger from The Coffee Academics, named by BuzzFeed as one of the "Top 25 coffee shops around the world you have to see before you die".
Savour a Impossible patty topped with portobello mushroom, jalapeños, gherkins, tomato, lettuce, a sunny-side up egg, homemade smoked ketchup, mayonnaise and yellow mustard. Served on a fluffy brioche bun with a side of sweet potato fries and seasonal greens, the $28 price tag will also get you a caffeine fix in the form of a free hot or iced black coffee.
Rubato
An italian feast awaits with two unique burgers from Rubato, one of Singapore's finest produce-driven Italian restaurants recognized by Tatler as one of "Singapore's Best Restaurants". The Heaven On Earth Burger features a home-made artisanal bun, Impossible patty, crispy low-fat premium bacon, clotted cream cheese, dollop of Greek yoghurt, wild honey and fresh imported arugula, while vegetarians can enjoy the same Heaven on Earth sans bacon and wild honey, and with the addition of avocado, crunchy butter lettuce and fresh sprouts.
Fries and boba fans rejoice, as the $29 price also includes comes with hand-cut gourmet truffle fries (worth $12), and a DreamsInACup Tiramisu Bubble Tea on the house. An organic mellow smooth boba, flavoured with gula melaka and a splash of hokkaido milk, means you can get that sweet sugar fix while washing down your burger.
All Impossible burgers will be available for takeaway from participating restaurant
outlets.