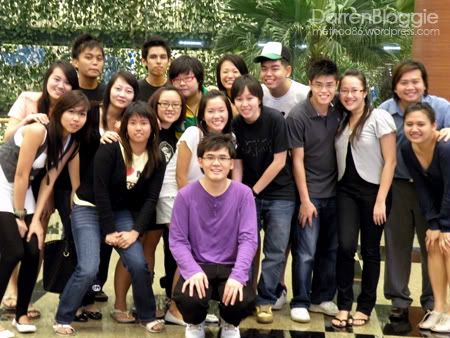 Went to camp as usual on thursday…
Lunch out with my S4 and raymond and was surprised that he actually drove us to a much further destination for lunch.. this time round, he drove us to Thomson Rd for this very famous Yong Tau Foo stall.. yea… although i'm "excuse" from eating Beans related food, but i still gave it a try.. (eating only the dumpling soup, those fried food, brinjal and vege… overall i would say, it taste great, especially with the special sauce.. yummy…
After lunch, went back to office and continue with the leftover work and went back home as usual at 6pm. reached back home, bath and zw came to fetch me to the airport together with yeying aka marc aka yy as he's flying off to australia.. we went to his aunty house first to collect some of their luggages before we proceed to the airport.
went to the mac donald's there to look for pw, dia, rac and jac as they're already there busy with the making of the scrapbook for yy's departure gift. hehe.. it's so fun and interesting lor.. hahaha..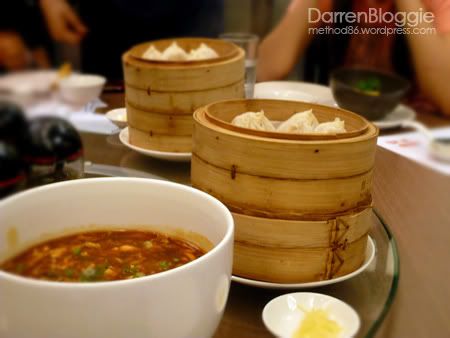 went for dinner at crystal jade ( requested by yy) with pw, rac, jac, dia, zw, yy's frenz and berlinda joined in at a later timing…  OOO… yummy food.. i ordred the 炸醬麵 and it taste great.. we also ordered other food like 小籠包 and 八寳茶 etc…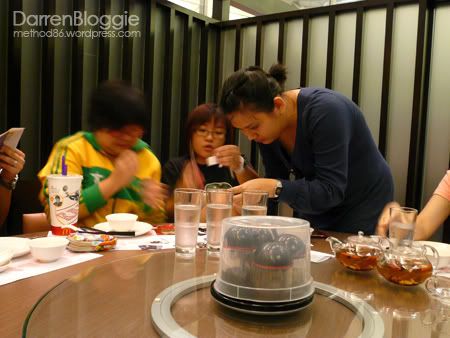 after dinner, yy went to collect and checked in his luggage with his relatives, while the rest of us double up our speed to complete the book. finally wai meng, jamie and ro arrive.. get everyone to sign on the book before we pass it to him.. hehe.. and here's how the book looks like.. taken everypage down for you guyz to see lo as it's just so UNIQUE la..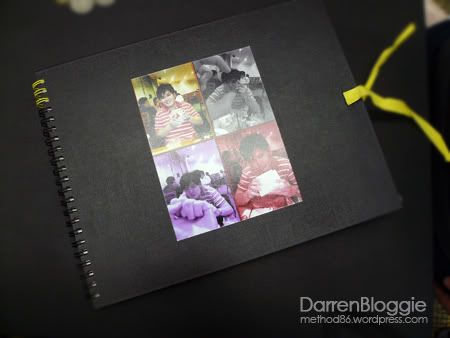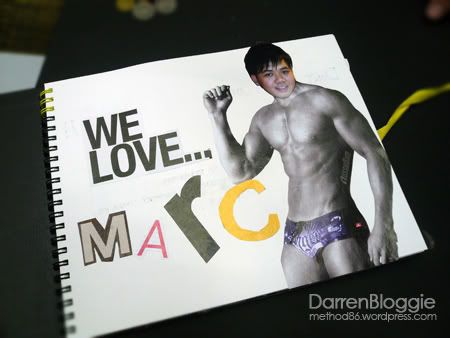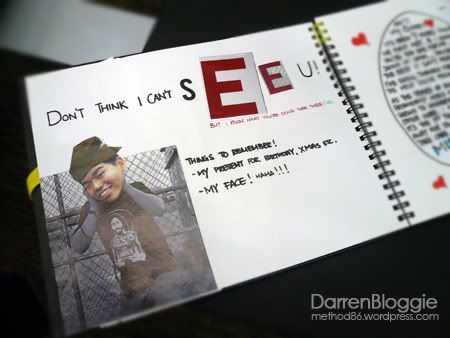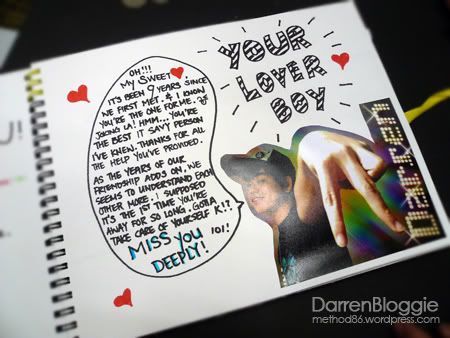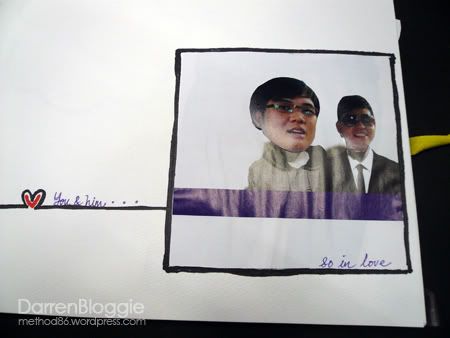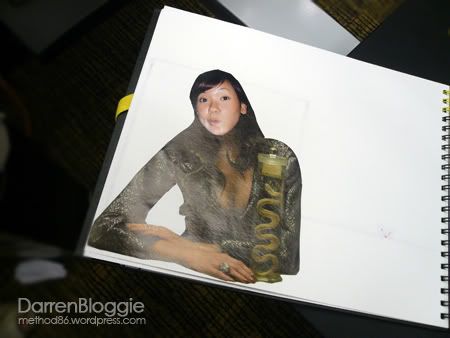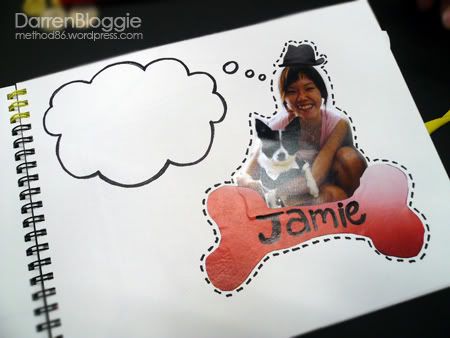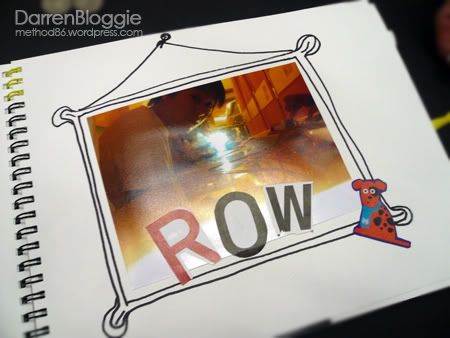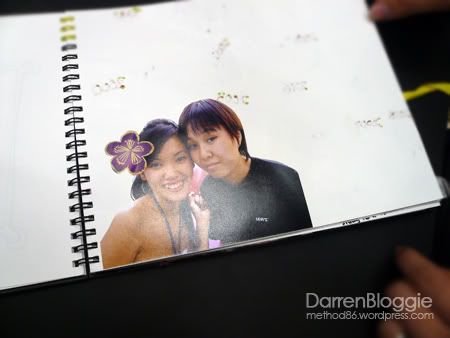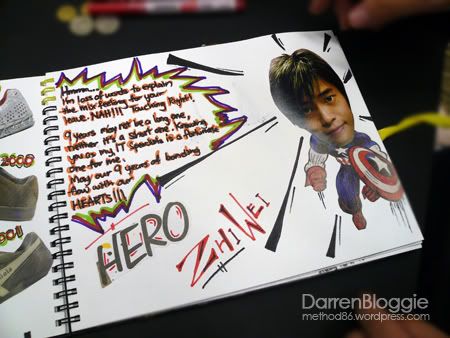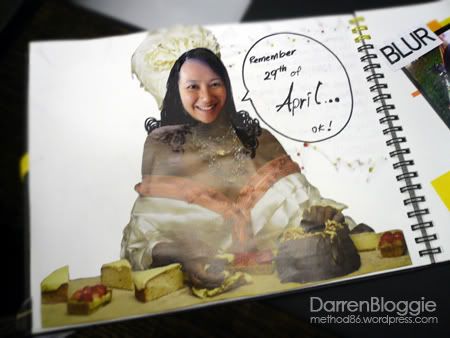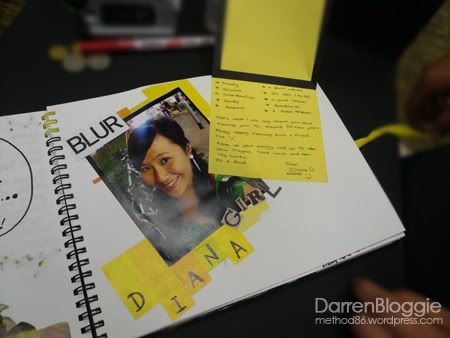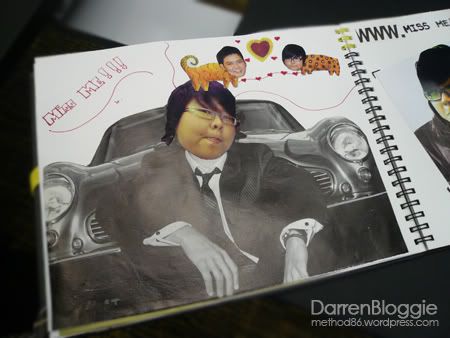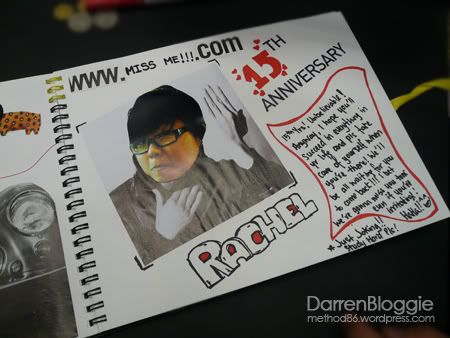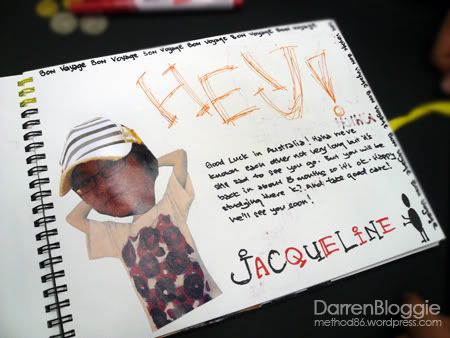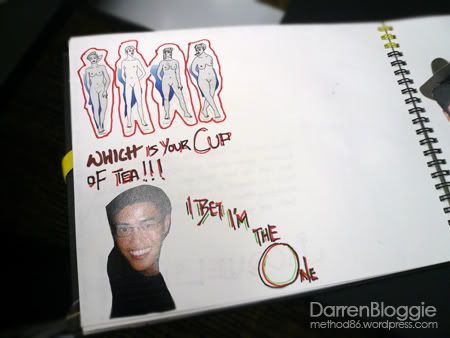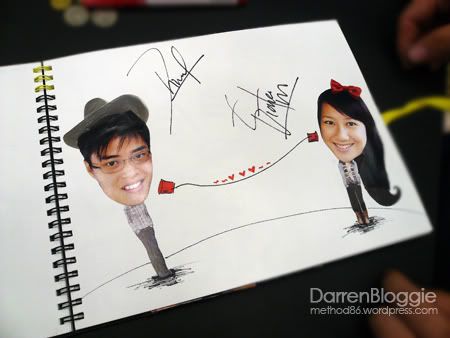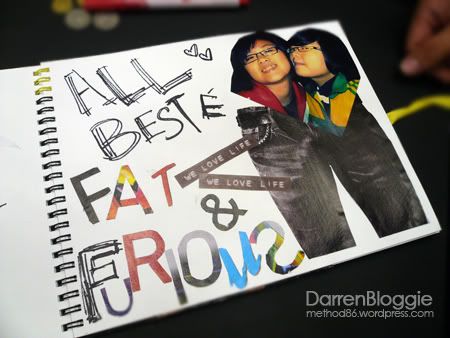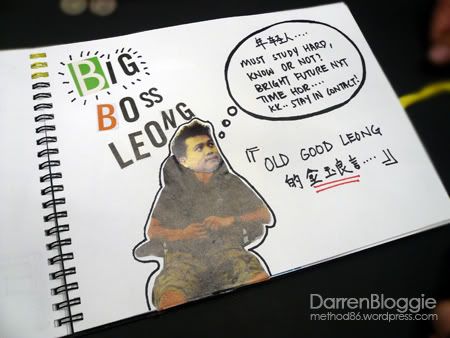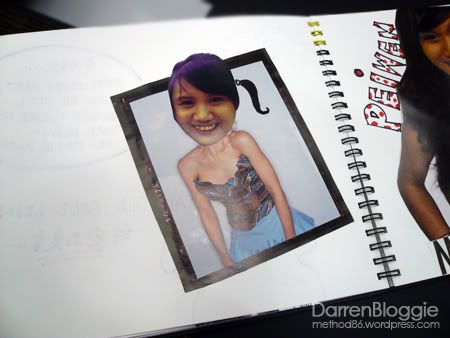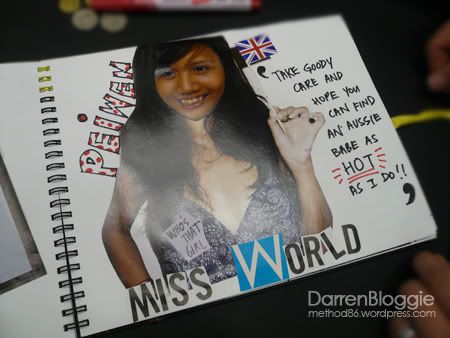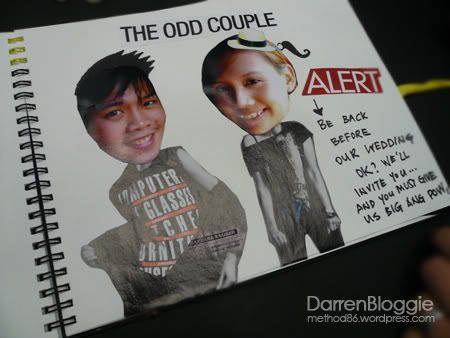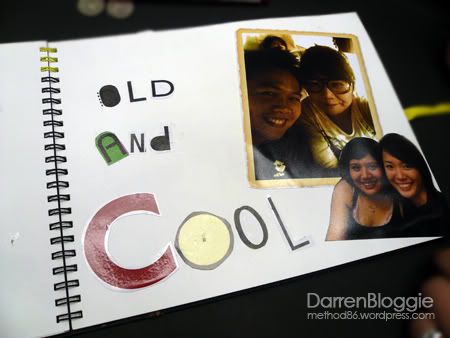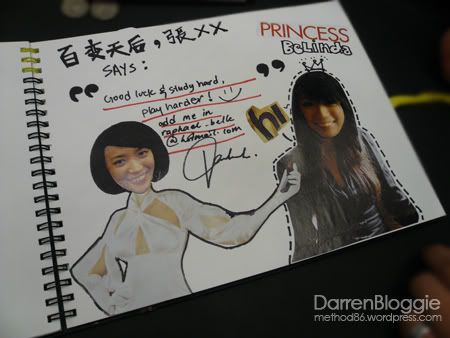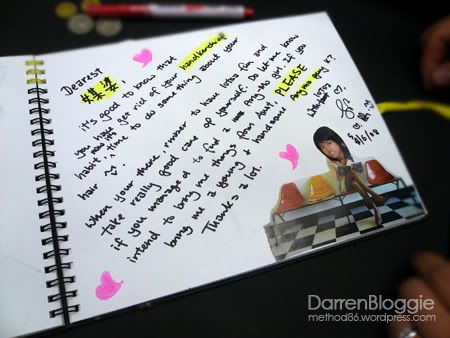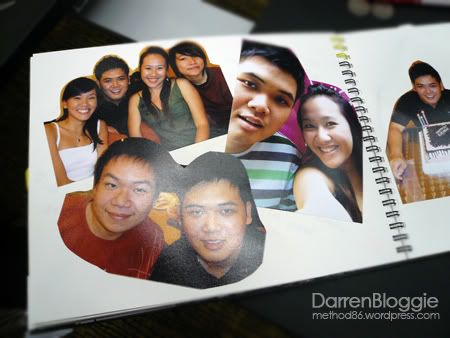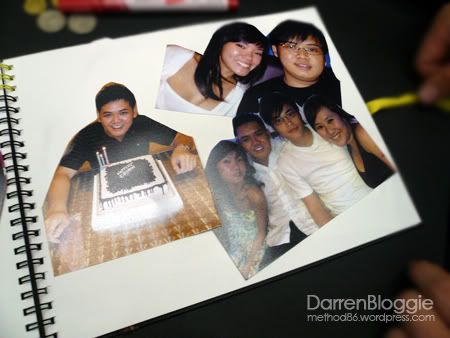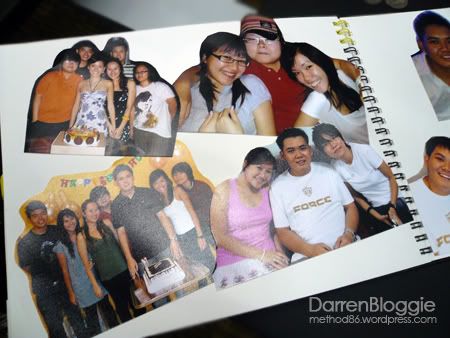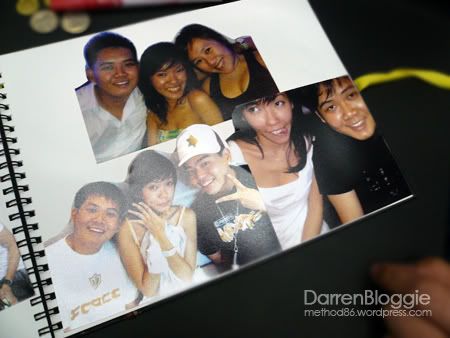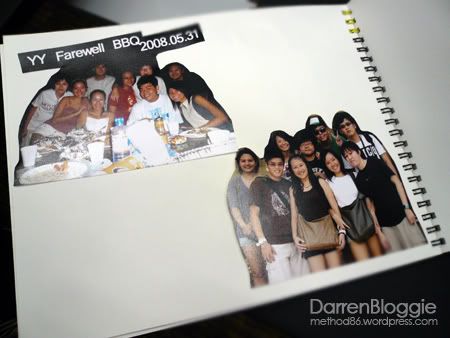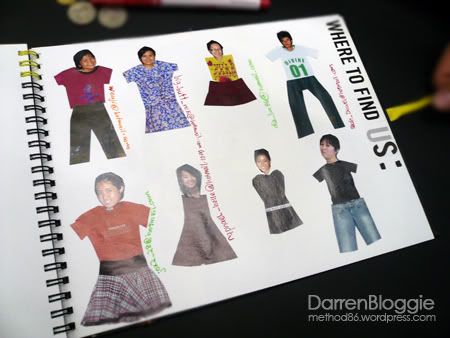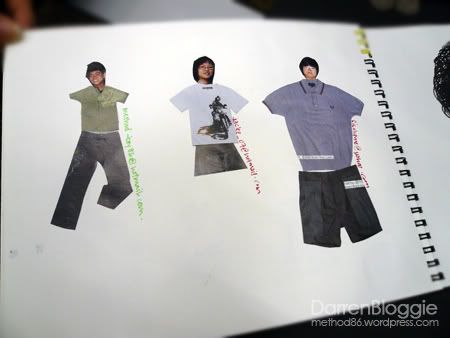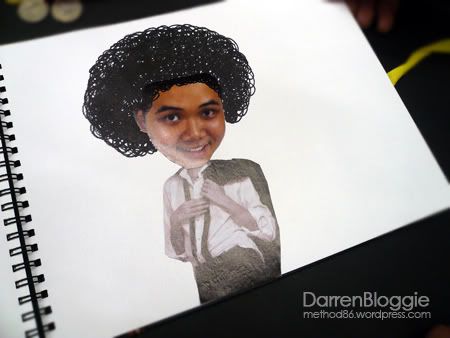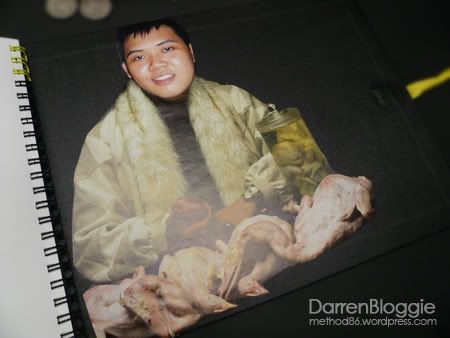 Photo taking session~!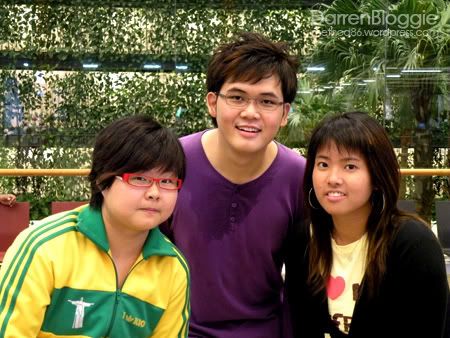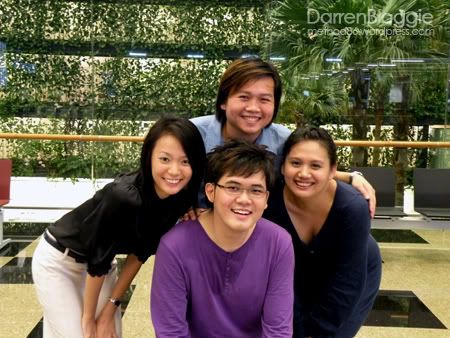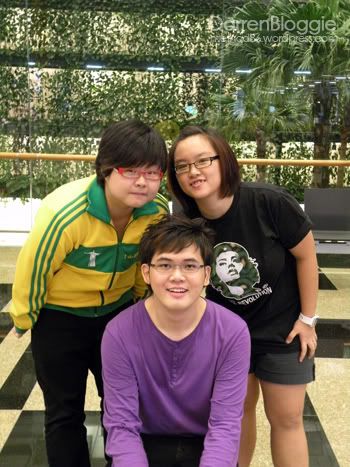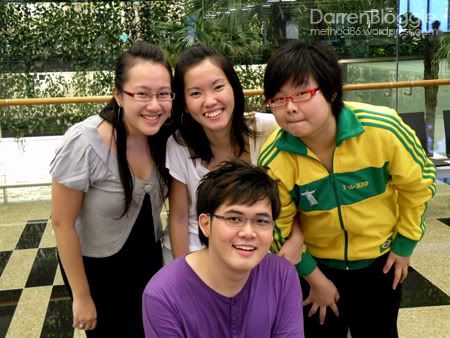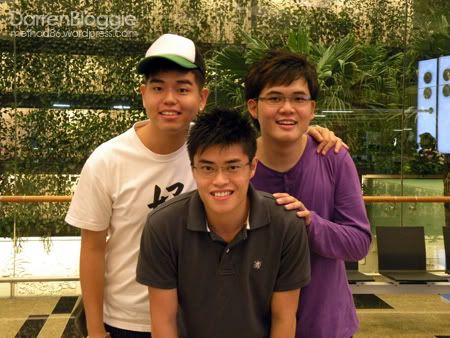 and some candid shots~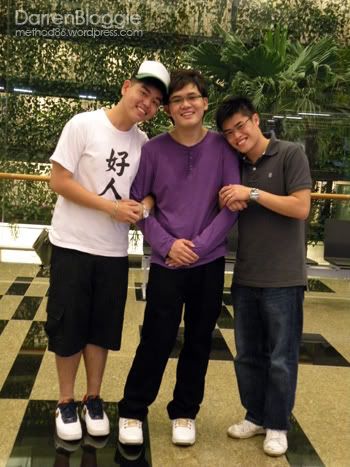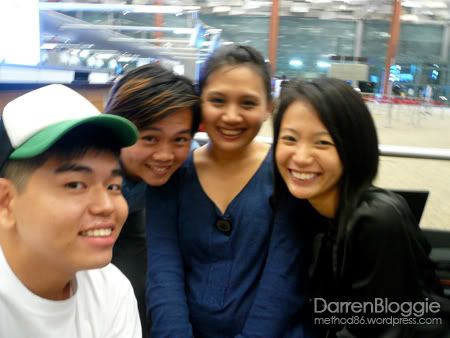 haiz.. so 不捨得to send him off.. we gotta miss him~ can't wait to see him soon in feb 09.. i'm not sure if you'll come to my blog, but if you happen to, just wanna remind you to take care and miss us as well too LOL~!
and btw, didn't notice that there are qutie a number of reader on my blog.. hmm. i hope you guyz can tag or leave a comment when you come so i'll know who's here hehe and that will add on to my motivation of bloggin too 哈哈哈~
alright, today on leave, together with raymond and Ck.. so we meet up in the late morning for lunch and movie.. We went over to Liang court as our 1st destination.. wooo, looks like i've not been there before. haha.. it's kinda in a renovation upgrading process going on, therefore there're a few shops empty.. and i supposed it will be conjested with lots of japanese related shops and restaurant.. as i can see a few japanese restuarant available over there, Kinokuniya bookstore and a Japan Mei-Ya supermarket.. woo~ so, our lunch will definitely be some japanese cusine haha.. and here's what we have~ Japanese CurryRice..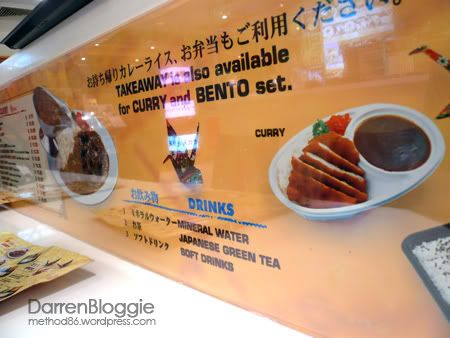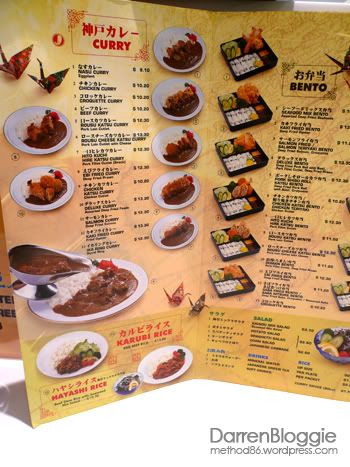 I ordered the Pork Loin Meat Curry Rice.. $12.30.. not bad.. quite nice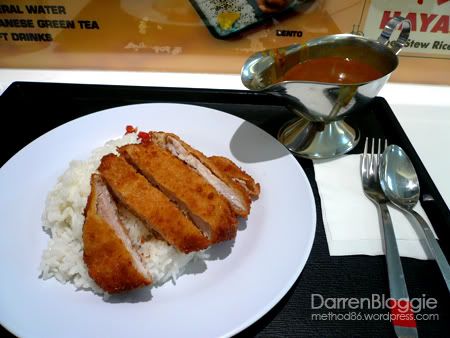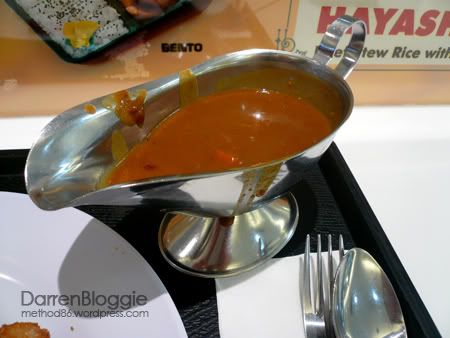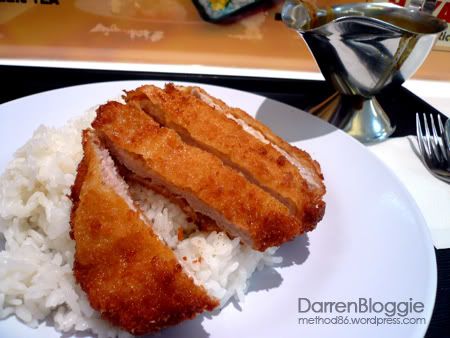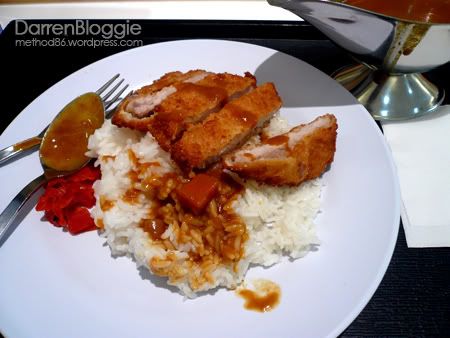 After lunch, we had Haato ice-cream for dessert, Cookies and Cream~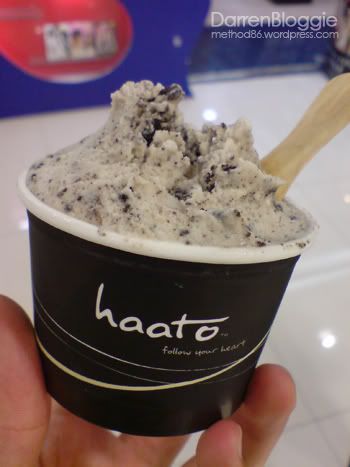 Walked ard in the Mei-Ya supermarket.. Lots of yummy snack and tibits.. haha. but they're quite pricey.. Walked all the way from Liang Court to Cathay at Dhobby ghaut.. wooo~ bought our tickets and went for a drink at ya kun as it's 30 mins to our show..
Barley drink…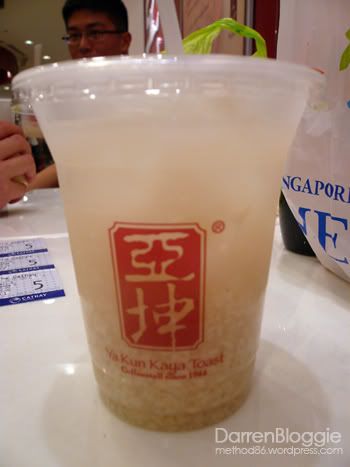 Went into the cinema at 2.15pm, 5 mins before the show start…. and we're watching KungFu Panda!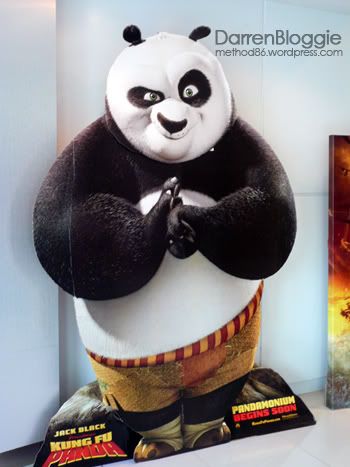 It's a nice and funny show.. i simply love the characters, the plot and the story~haha.. was laughing all the way throughout the show… hmmm thinkin if to catch the chinese duet version.. i supposed it'll be another new kind of feelings for the show.. haha.. singapore actually imported in the chinese version, 潘瑋柏as the panda and 侯佩硶as the tigress.. wooo.. anyone wanna go watch this? haha.. a rating of 4.5 / 5 given by me!
and finally i'm done with the updates.. was updating halfway and i went to watch a movie, 老師嫁老大 with my parents at home.. a so so movie i would say.. a rating of 3 / 5 i would give..
Yawnz~~~~ damm sleepy right now.. gotta go zzz le..
good night ~