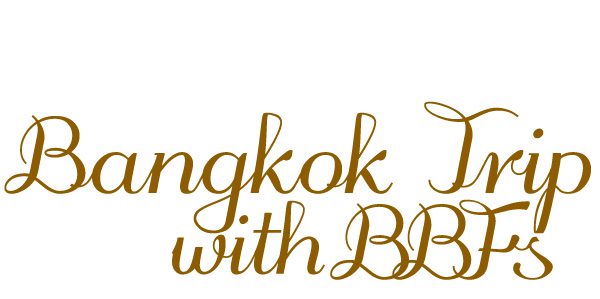 the long awaited post is finally here.. it was supposed to be ready like a few days ago but due to a few nights of OT and me falling sick, i'm giving priority to my work and rest, therefore unable to get this post up on time. but it's better to be late than never right? Quality post need time to be ready one ok! haha 😀
31st December 2009 | Thursday | 5.15am
Woke up real early on thursday morning. took a cab from home to pick rachel and jac from pasir ris before heading over to the airport. 🙂 We're early as zhiwei and the rest are not there yet. We checked in our luggage when zhi wei, diana and marc arrived. But, some unhappy incident happened at the counter whereby we needa pay extra more for our baggage as we've exceeded our initial baggage allowance. But, we managed to chill and cool down rather fast as we didn't want to damper our holiday mood 😀
Initially we wanted to grab a bite after checking in, but looks like we've wasted too much time on the baggage, and we're left with less than 15 mins before the gate closed! so… we needa rushed over to the gate !!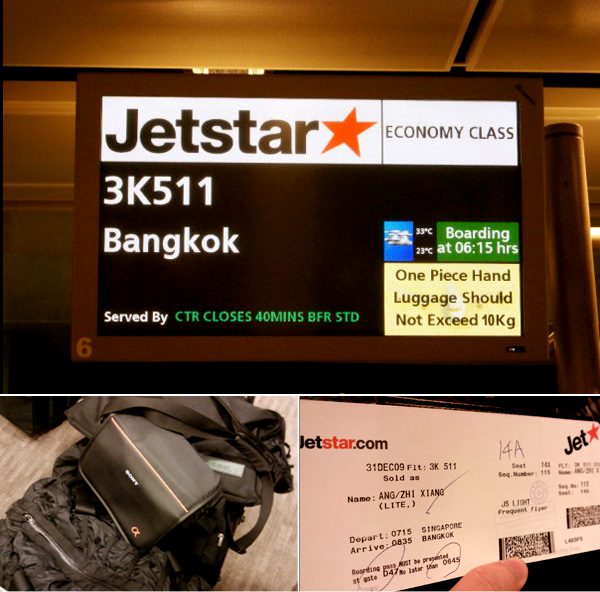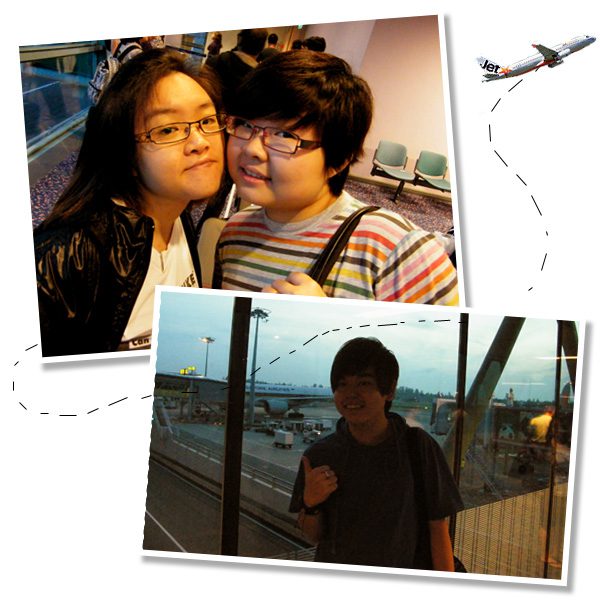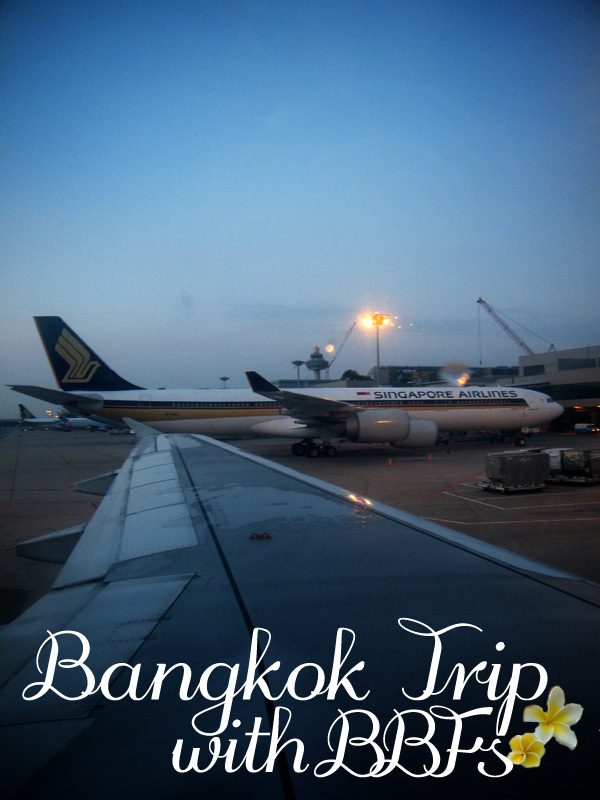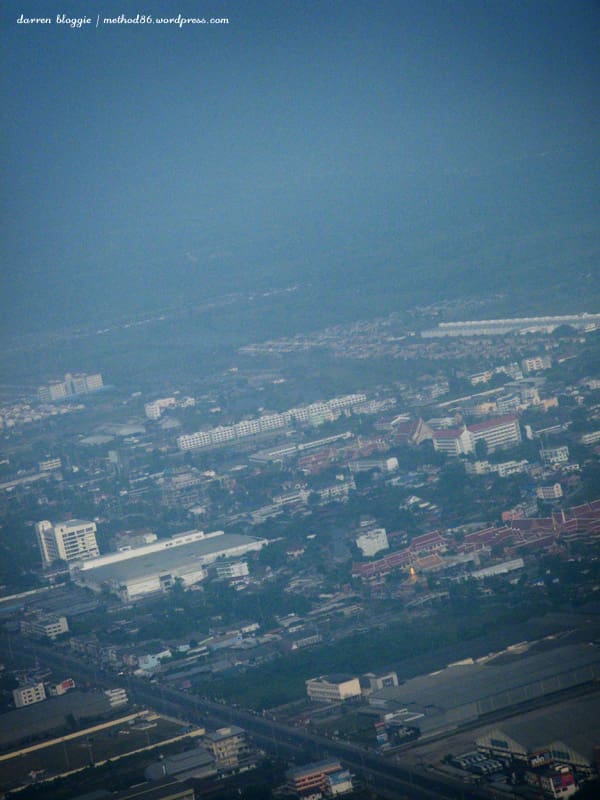 the flight from singapore to bangkok last for about 2 hours and luckily i have my ipod touch with me, whereby i completed watching xin guang da dao on it 🙂 Weather was great when we touched down at the airport.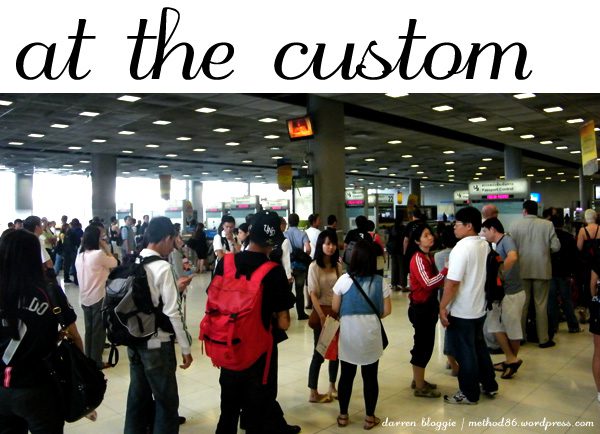 we took a cab from the airport to our hotel and it cost us ard 400 baht… and here's our hotel, Citin Pratunam. Very spacious room, good service and within walking distance to platinum fashion wholesale mall 😀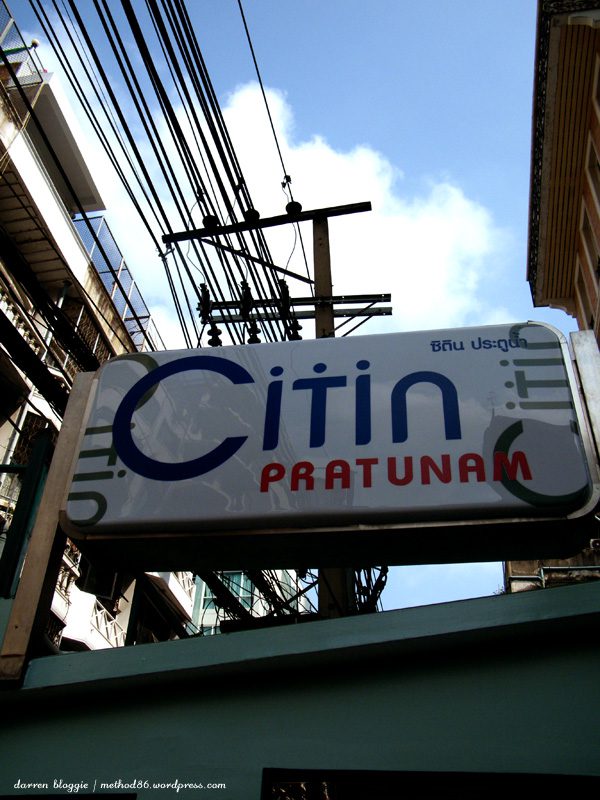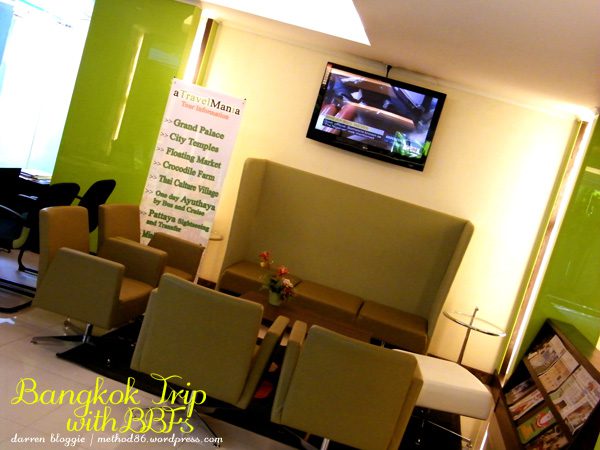 Free internet ready computers at the lobby.. (that's where i do my twittering at :D)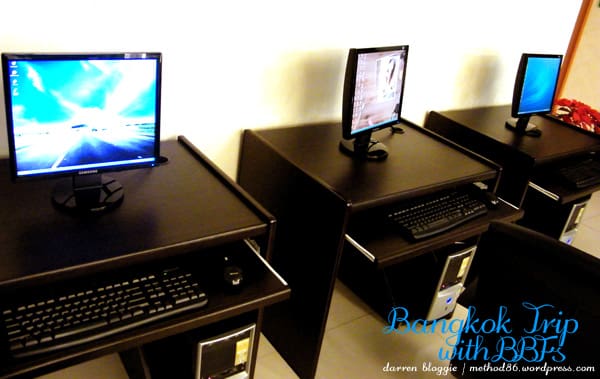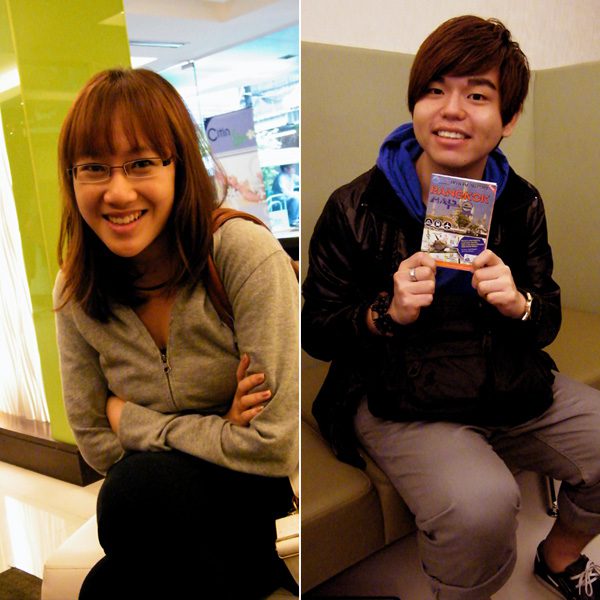 after leaving our luggage at the hotel, as the room will be ready for check in in the afternoon.. we went hunting for food, having our breakfast as we've missed our breakfast at the airport …
the yummy cheesy hotdog from 7-11.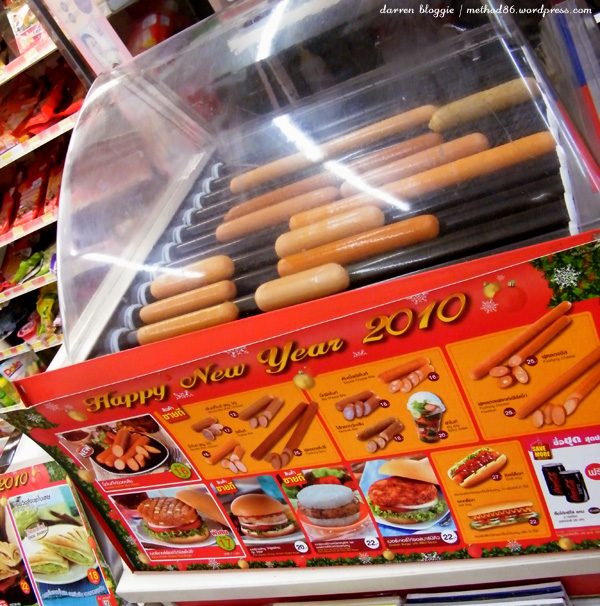 and their new year special, PIGLET BUN! haha.. (i think they did this specially for rachel :D)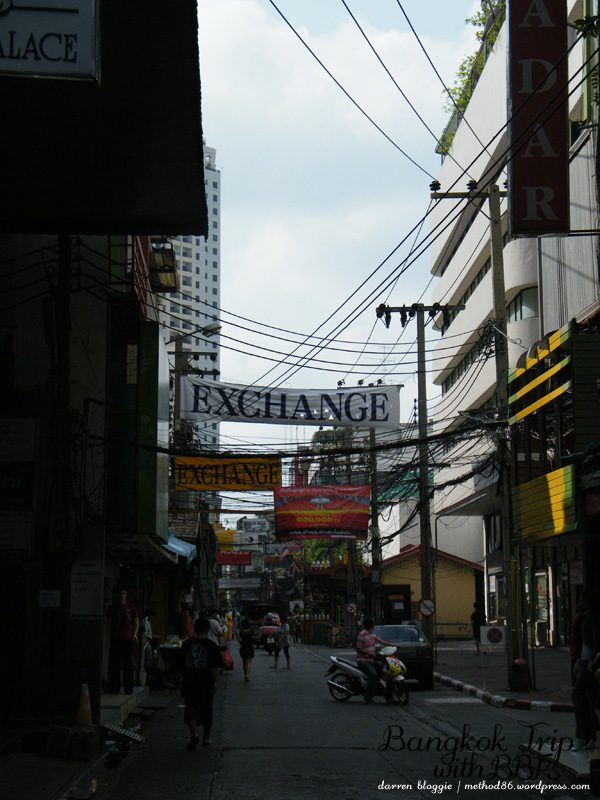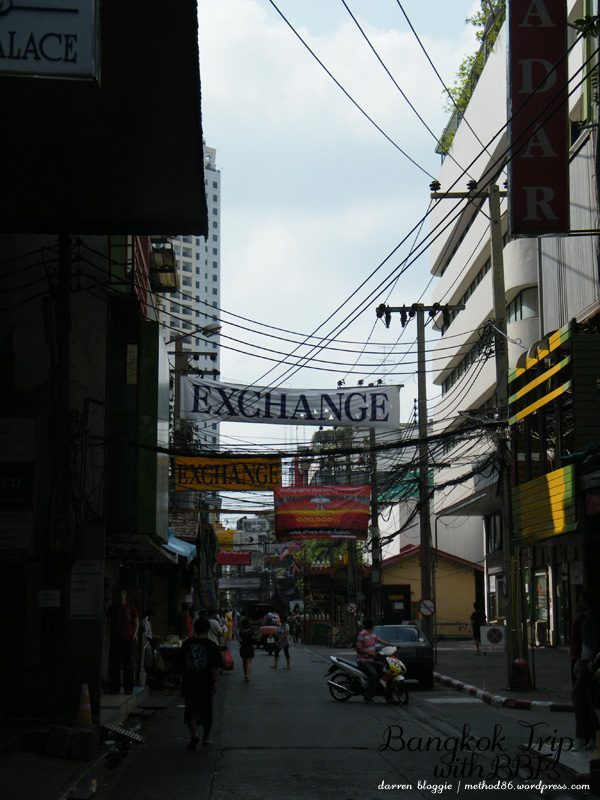 before settle down for breakfast, we went to exchange our SGD to TBH (thai baht)..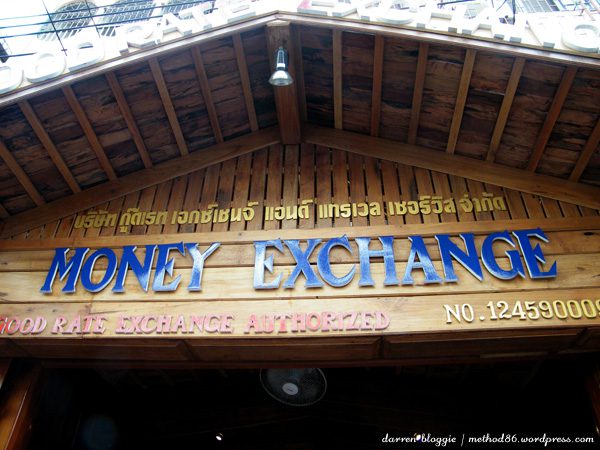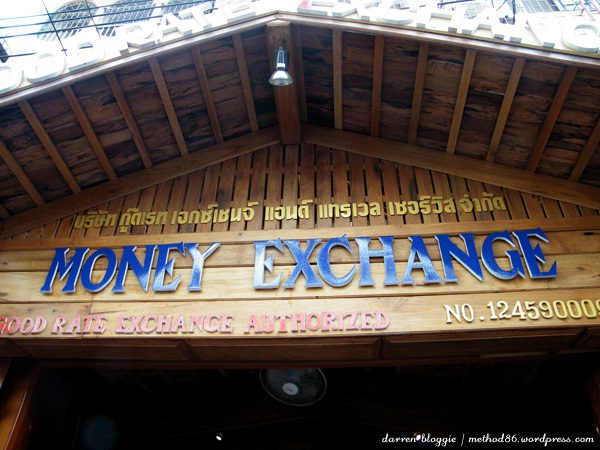 me with my fav BLUE cab 😀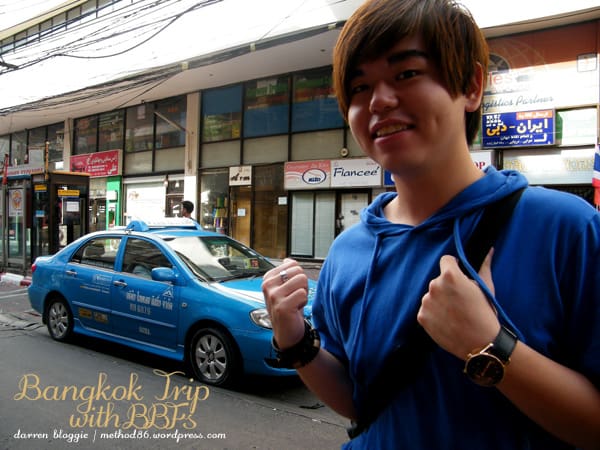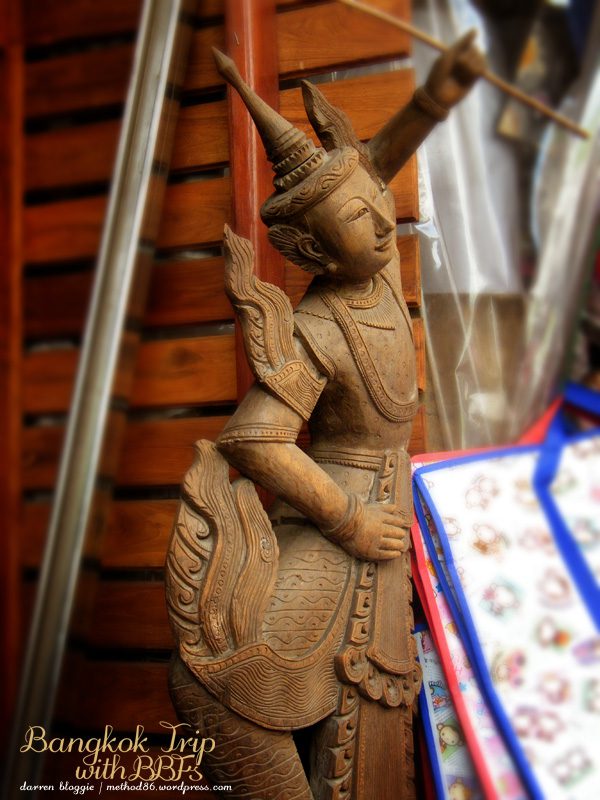 this whole pot of mixed pork attracted us in and we decided to have our first meal in bangkok over there 😀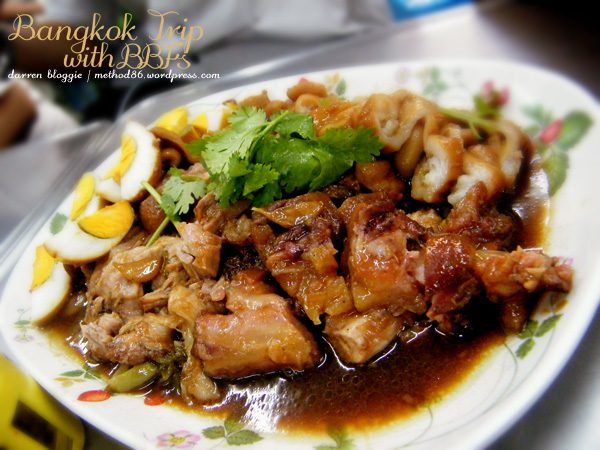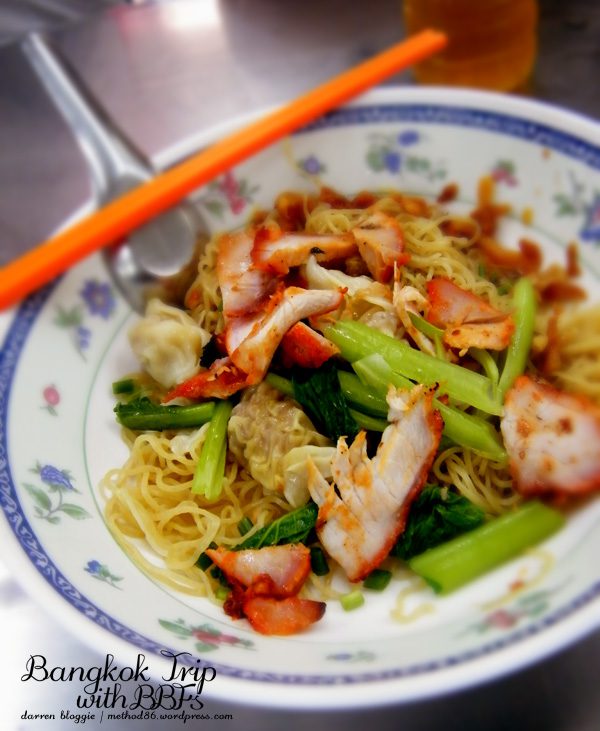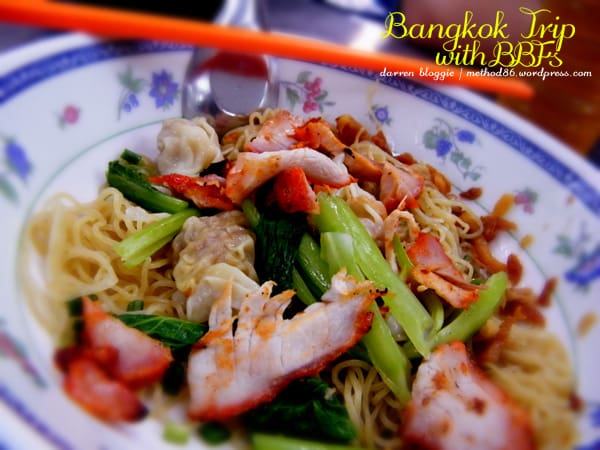 very cheap meal for us.. approx $5 each :D.
After breakfast, we walked over for our first shopping spree for the day! WOOLALA~~~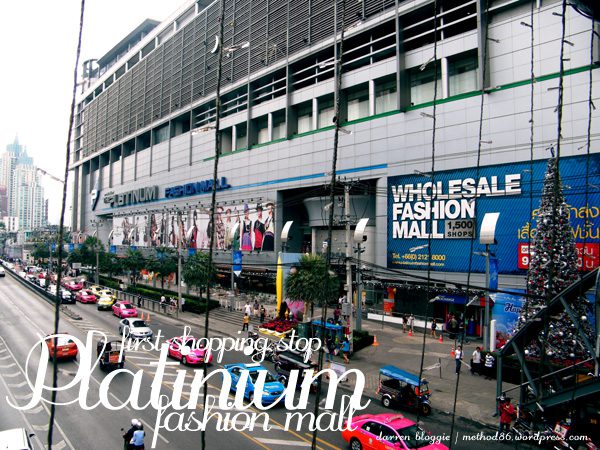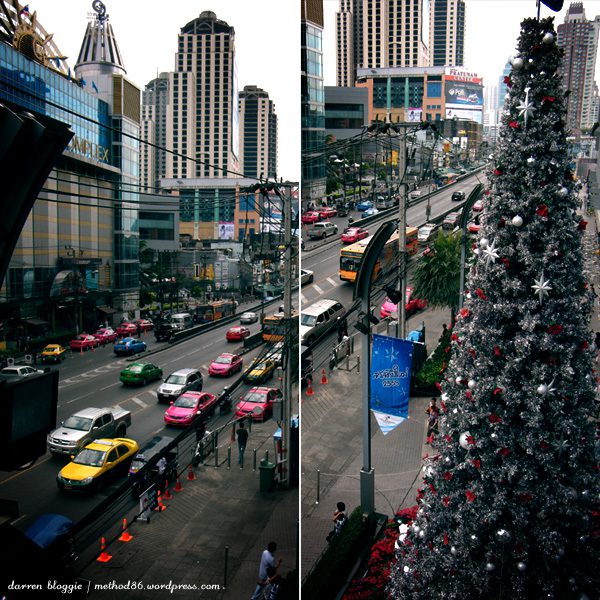 There are tons of stuff in this superb shopping mall, ranging from bags to accessories, t-shirts to jeans and many many more.. not forgetting a food mall at the highest level.. WOO!! shopping was great! 😀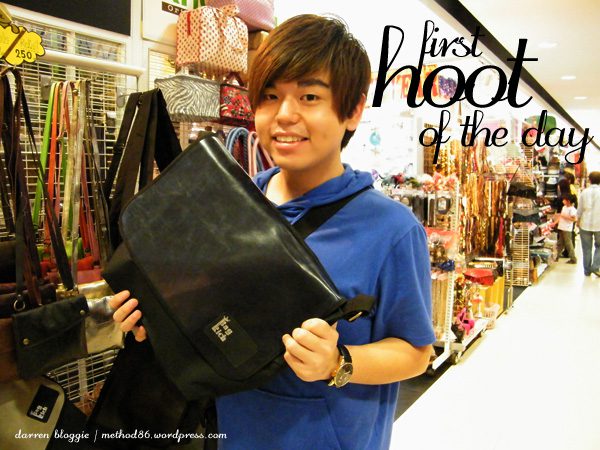 We shopped till late afternoon before heading back to our hotel to check into our room…
some street food we bought on our way back to the hotel.. 😀
Yummy Pork Balls!!!
grilled sotong…
mini prawns
Fried Drumsticks
and the famous fried rice with egg!! NICE~~!! (i'm missing the food over there when i'm posting these pics la~~~)
Views from our room…
We rest for awhile in the hotel before preparing ourselves for the countdown party at night 😀 !
We went MBK as it's still early and at the same time to have dinner over there as well. The top level at MBK is filled with lots of IT gadgets shops, handphone, laptops, camera and many many more.. the most popular ones would be the cheap handphone covers, pouch and screen protectors!! it's really really cheap! where all of us went to "ZHING" our handphone! hahaha.. Bought a pouch and screen protector there..
Dinner at this ramen stall which is relatively cheap 😀 !
Food was overall good for me and most importantly, its cheap and it's filling 😀
After dinner, we went over to ZEED for our countdown party as we've never went clubbing before ! hahaha.. we meet up with farid and his friends over there…
and.. drunk…
and i shall not elaborate much on what happened.. as i really have no idea what actually happended!!! the only thing i'm aware was that we had lots of fun at the club, we drank, we countdown and welcomed 2010, i was urgently wanting to pee and i was lying in bed when i woke up.. only my bbfs knew what actually happened… hahaha…
*for those whom wanna watch the videos… pm me or ask from me.. i'm not going to post it over here on the blog… *sooo embarrasing!!!*
1st January 2010 | Friday | 10am
Woke up in the morning by mr marc… rushing me to go bath as we'll be heading out for the day soon.. therefore, i dragged myself out of bed, having a slight headache.. went to bath and when i'm done, mr marc told me that he mistook the time as bkk time is an hour slower than ours.. so actually, the time is only 8plus BKK time!! tsk~! wake me up from my sleep.. hahahaha…
We managed to try out the Piglet bun 😀 which taste kinda nice ;D
and we went to the MK restaurant for brunch as it was highly recommended by my boss 😀
and lychee ice from the ice monster after that…
resting at the side of the street with pork balls and orange juice 😀
and we went over to the infamous si mian fou to pray 😀
we shopped ard central world and settled down for dinner at KFC 😀
the chicken is dammmmmmm spicy la!!! HOT~~~!!!! and we round up with dairy queen ice cream for dessert 😀
and we bought a swensen ice cream cake from central world back to the hotel to celebrate zhi wei's birthday ! 😀 busy preparing the candles.. a total of 24 candles for him 😀 wahahahahaha~~
[youtube http://www.youtube.com/watch?v=Z3IxYLO10fE]
and me after 2 cans of beer.. hahahahaha
2nd January 2010 | Saturday | 10am
Woke up ard 9am in the morning as we're going to the chatuchak weekend market!! our most anticipated destination for the trip hahahaha 😀
we went for breakfast at the food mall in platinum mall.. 😀 the card whereby u top up money in it and use for spending.. the remaining will be refunded to you when u leave….
Done with our brunch, we took a cab to the infamous chatuchak weekend market!!! Squeezing a total of 5 of us in the cab 😀
not much pic from chatuchak as i'm simply too busy shopping le.. haha.. lots of stuff to buy!! and all of them are very cheap!!! bought back lots of stuff over there… (you will get to see the items i bought at the later part of the post ;D)
We spent ard 5 to 6 hours over there before heading back to the hotel to wash up and meet farid and his frenz for dinner 🙂 and my first experience on a tuk tuk !! was damm cool la~~ haha 😀 *hair damm messy la..*
[youtube http://www.youtube.com/watch?v=Jq-n2jLUrXs]
Dinner at this kinda expensive restaurant…but thanks to zhi wei for the treat 😀
After dinner, we went back to MBK to do some groceries shopping from boots and the super market.. the stuff over there are so much cheaper than those in singapore…!
and not forgetting to get some food back for supper 😀
and presenting you my hoot for the past few days.. (note.. not all stuff are for myself kk.. some are for friends, relatives and parents 😀 )
arranging these out nicely and packing them back toook me quite some time.. and i only managed to get sleep at 2am… while the rest are asleep at most prob 12am.. hahahaha….
3rd January 2010 | Sunday | 10am
our meeting time remains the same. we went for breakfast at the wanton noodle stall, as we wanna eat the wanton noodle and mixed pork again before we come back to singapore 😀 After breakfast, we went down to the chinatown.
the very tasty carrot cake.. 😀
the extremely big packet of pepsi…
we went to this stall and bought alot of tu chan back home 😀
one of the must have delicacies in Chinatown, Shark FINS!!! it's damm cheap la~~~
After dinner, we went back to our hotel and gathered in the room for our last party in bangkok… aww.. missing the time spent there la…
4th January 2010 | Monday | 9am
Our last day in bangkok, therefore we woke up slightly earlier to have breakfast. We initially wanted to have A&W for breakfast but it's not opened yet.. so we decided to have MacDonald instead as they have the PORK Burger over there!!! 😀
the Chicken Ham Pie was GREAT~!
come with 1 small bag and back with 2 BIG BAG! hahahahahaha~~
it was a extremely awesome trip with my BBFs :D. we had lots of laughter and fun throughout the trip… lots of unforgettable memories too ! haha.. Shopping in bangkok was great too! we spent alot and we bought back alot of stuff as well.. afterall, all i wanna say is this …
FIN WITH
LOVE