Singapore Blog Awards (ASUS Best Tech Blog)
Yoohoo! as promised, if you can recall from my post yesterday, i'll be introducing you guys this notebook from ASUS right? and here it is!
I've been using this laptop since i got it on tuesday after attending the briefing from the ASUS team. Was really impressed with it through the presentation given by them and i couldn't wait to get hold of it!
look at how sleek it it! 😀
ok i know you guys would prefer to more realistic pictures than those nicely shot images right? SEE i can read your mind! haha~ here you go~
so you must be curious why i'm introducing you this notebook for your multimedia entertainment purposes right? that's because…
SonicMaster Technology
This technology is co-developed by world famous Bang & Olufesen ICEpower which bings living audio to notebook PCs! The superior speaker construction and resonance chambers creates a impactful enjoyment for you. It's like listening LIVE in a concert! There's even different mode for you to choose from! Really loved it! Say bye bye to soft volume and noise distortion !
ASUS Video Magic Technology
Multimedia becomes complete with Video Magic image enhancement, boosting content to full, 72 frame 1080p HD and optimizing colors for vivid effect. GPU processing speeds up computing for better multimedia multitasking, plus every panel comes backed with our 100% zero-bright-dot guarantee.
USB3.0, 10X faster!
Now included is USB 3.0 for up to ten times the speed of USB 2.0, so all your files and content can be handled and backed up expediently. Say goodbye to long frustrating waits, as even a 25GB Blu-ray movie takes a mere 70 seconds to process.
*USB3.0 speeds quoted are component specification. Actual speeds may vary by configuration and devices used.
Dedicated GeForce Added!
The newly-introduced NVIDIA® GeForce® GT 540M discrete graphics processing unit makes a world of difference when it comes to smooth visuals. It drives performance, enabling detailed gaming with the newest titles on PC, plus it helps accelerate high definition video playback. By taking the strain off the CPU and providing considerable graphics processing muscle, this Fermi-based, DirectX 11 GPU upgrades your experience beyond the norm for a portable PC.
So don't you think you will be having a great time enjoying your favourite music, movies, drama, concert etc with this powerfully packed notebook?!
The USB3.0 port which is 10 times faster, meaning transfering you data, images, music will be completed in split seconds! 😀
Oh! and there is this really cool function from the note book! Imagine you just needa on your notebook to check some emails, twitter, facebook etc but as you know, you will need to go through the process of waiting your notebook to start up, everything to load etc before you can really proceed with what you wanna do right? Now with this note book, there is this Express button whereby it will only take 5.7 seconds to startup your notebook and you are able to start surfing the net, check your mail, facebooking, twittering, viewing images and lots more! Isn't that great! SUPER convenient right?!
That's where the sound will come out from! By the look of it, you can tell how power full its gonna be right? can't tell? then go try it out yourself! 😉
with that powerful sound system, it definitely have to pair up with a CLEAR and SHARP display to fulfill the complete multimedia entertainment experience right?! SEE! 15.6 inch WIDE HD READY display! WOOHOO! ~~~
All new 2nd Generation Intel Core Processor for all new computing experience and with NVIDIA Optimus Technology that switches intelligently between integrated and the dedicated GPU to deliver just the right amount of power – resulting in better performance and battery life
You can actually zoom in, move and swipe across your documents and images by doing it on the large mouse pad of the notebook. Something like how you do it on your touchscreen phone. 🙂
Oh and look at the keyboard area… there's this number pad area on the right side of the notebook, exactly similar to those keyboard you used for your desktop. I LIKE! ;D
So.. after knowing all these cool and awesome features of this notebook, i'm sure the next concern you have is the price right?!
It's selling at $1898 at the current PC SHOW 2011 ! ;D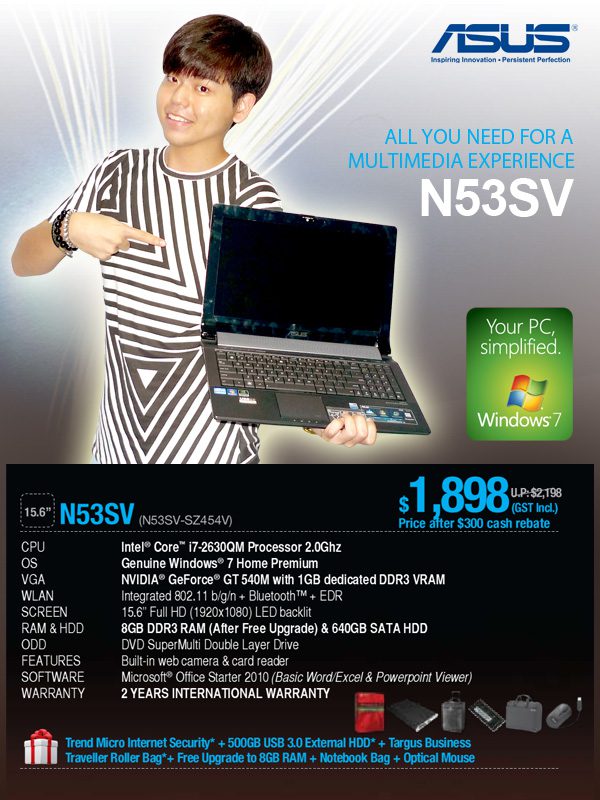 So why wait?! Head down to the PC Show today and have a hands on experience!
Grab this offer now at the PC SHOW 2011 with a $300 cash rebate and wonderful freebies! ;D
PC Show 2011
9th to 12th June 2011 ( 12pm to 9pm daily )
Suntec City Convention Centre
Booth at Level 4 & 6
Here's some specs of this notebook.
| | |
| --- | --- |
| | Intel Core I7-2630QM Processor (2.0GHz turbo up to 2.9GHz) |
| | Genuine Windows 7 Home Premium |
| | NVIDIA GeForce GT540 with 1GB dedicated DDR3 VRAM |
| | Built in 802.11b/g/n + Bluetooth 2.0 + EDR |
| | 15.6" HD (1920 x 1080) LED Backlit |
| | 8GB DDR3 RAM & 640GB Hi-Speed SATA HDD |
| | DVD SuperMulti Double Layer |
For the full specifications, you can visit ASUS official website here
DO Like ASUS Singapore Facebook Page for more updated news!
This blog enty is powered by ASUS N53SV laptop…
==================================================================
Loved reading what you read over here? Do show your support for me in this year Singapore Blog Awards 2011!
Cast your vote for me for these categories!
Thanks! For more information with regards to the Singapore Blog Awards 2011, you can visit http://sgblogawards.omy.sg/