Singapore – Herald the Yuletide season with loved ones replete with copious dining, wining and good tidings from 25 November through the month of December at Oakwood Premier AMTD Singapore. From gourmet takeaways, merry dining experiences, to jolly holiday escapes, revel in cherished moments awash in festive splendour to round up year-end celebrations.
Gourmet Take-Home 'Yuletide Feast'
Immerse in the season of feasting at intimate home celebrations with a bevy of pleasurable gastronomic wonders, primed to showcase the season's best with SE7ENTH's sophisticated take-home Yuletide Feast (SGD $155+). Curated by Executive Chef Gary Lim, the impressive bundle,good for 3 – 4 persons, unravels a dazzling slew of succulent festive specialties, headlined by alluring centrepieces such as a beautifully handcrafted Oven-baked Pancetta-wrapped Turkey Leg with Mushroom Duxelles and Crouton Stuffing with Port Reduction Sauce and an equally enticing Pineapple-glazed Honey Ham with Cranberry Sauce, basted every five minutes during a two-hour bake time to achieve the perfect amount of moist and sweetness. Further, savour a feast of trimmings featuring a thanksgiving classic of Sweet Potato and Marshmallow Gratin, Butter-glazed Brussels Sprouts with Raspberries and winter vegetables of Herb-roasted Carrot and Celeriac.
Liven up the sumptuous collection with a petite and vegan Bûche de Noël, comprising airy layers of banana mousse and sponge cake atop a bed of hazelnut feuilletine, sheathed beneath Valrhona Equatoriale Noire 55% chocolate-infused crémeux.
Every order of Yuletide Feast includes a complimentary 750ml bottle of house wine. The Yuletide Feast* is available for pre-order from 1 November 2021, for takeaway and delivery from 25 November to 31 December 2021. An advance order of at least three days is required.
To order, shop online at bit.ly/SE7ENTH, call +65-6812 6050 or email SE7ENTH.premier-singapore@oakwood.com.
*Dine-in at SE7ENTH is also available with an advance order of 3 days.
Merry Dining at SE7ENTH
Topping off our a la carte menu with a gourmet touch of festivity is the arrival of Bacon-Chicken Roulade (SGD $28++), available from 25 November through 31 December 2021 at contemporary dining restaurant SE7ENTH.
Wrapped with decadent strips of bacon and slow-roasted to a bundle of rich layered flavours, the tender chicken thigh encasing creamy turkey mousse, is delicately drizzled with turkey jus and served with sublime festive trimmings such as butter-glazed Brussels sprouts with raspberries, and sweet potato and marshmallow gratin.
The season is made all the jollier when you bottoms up with an hour-flow of house wines available at just SGD $28++ per person, or take your pick between our delightful handcrafted holiday tipples.
Imbibers can sip on fruity Berry Merry Gin (SGD $15++), with SoulSister Spirits Gin, raspberry syrup and tonic, or a balanced Jolly Punch (SGD $18++), with Hennessey VSOP, vanilla syrup, Cointreau and tonic.
For dining reservations, please call +65-6812 6050, email SE7ENTH.premier-singapore@oakwood.com or visit Oakwood.com/se7enth.
A Jolly Family Getaway
Indulge in magical moments with those that you hold dear with an elevated and mesmerising stay in our elegantly furnished apartments complete with spectacular privileges for the family, including the luxurious evening ritual of turndown service serving calming nightcaps of traditional mulled wine and creamy hot chocolate for a restful slumber.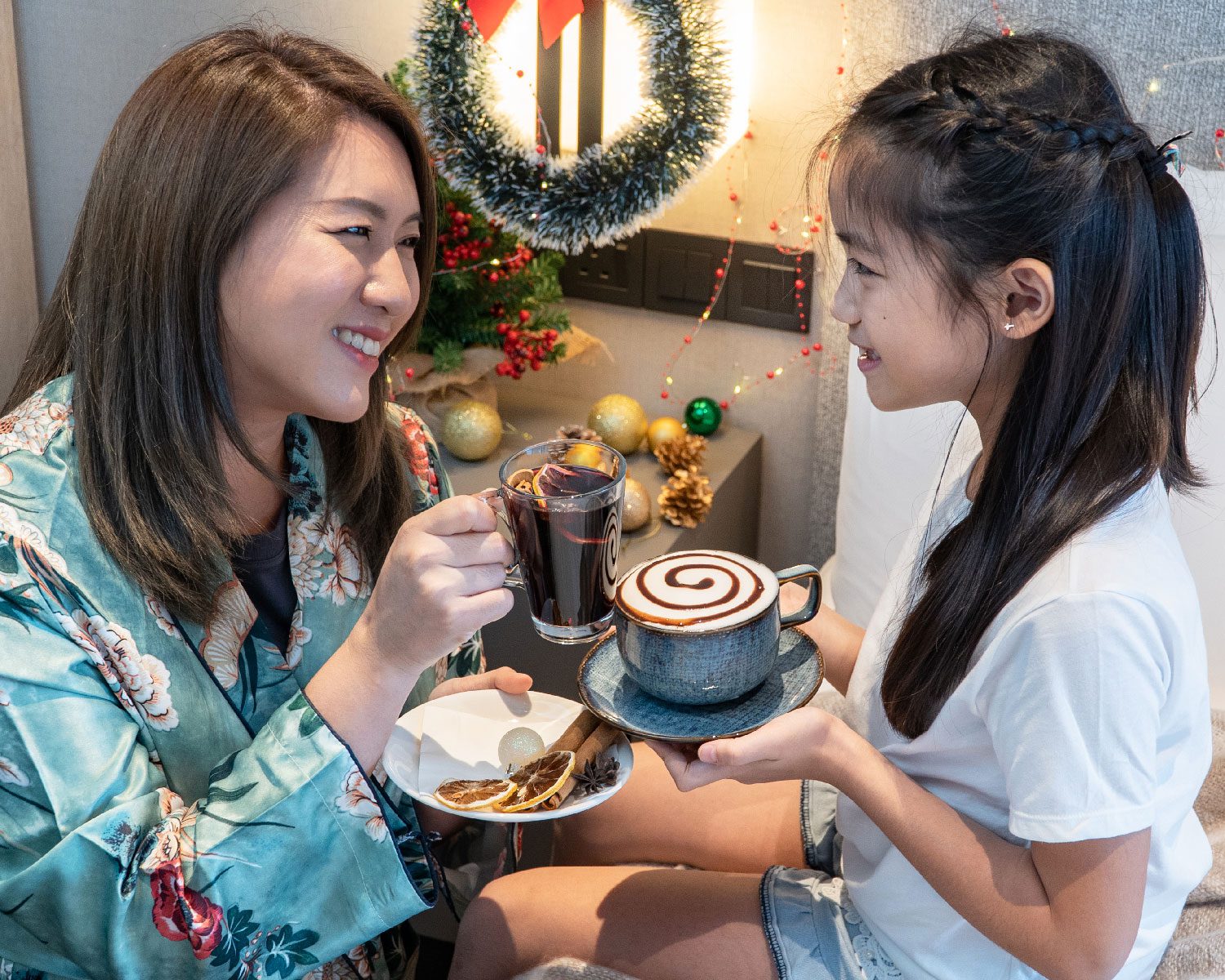 Available from SGD $345++, A Jolly Family Getaway package, perfect for a family of four, features:
A night's stay in your preferred apartment category
Daily breakfast at SE7ENTH
Exclusive festive evening turndown amenity
In-room gourmet 'Yuletide Feast' experience
A Jolly Family Getaway is available for reservation from 3 November 2021, for stays from 1 to 31 December 2021.
For stay reservations or more information, please visit Oakwood.com/Premier-Singapore, call +65-6812 6000 or email reservations.premier-singapore@oakwood.com.