Hi guyz~, i'm back from KL and i would say its a FANTASTIC one.. and i'm truely extremely satisfied with the trip.. cos i bought alot of stuff. and i suppose we still missed out alot more to buy hahha.. alright as u can see, a new layout of my bloggie.. hope u guyz like it.. hehe.. now shall post up stuff on our trip to KL. =)



Thursday 11th May 2005
Wakes up from bed at 4.30am and proceed with my washing up. Had 2 slices of bread for breakfast as i'm thinking if they'll be goin for breakfast at the golden mile market. left home at around 5.50 and took 159 to ang mo kio mrt staion to meet diana, zhi wei and marc as his dad is driving us to golden mile. reached amk at 6.30 and waited for a while before yy dad's car arrive.
Reached golden mile at around 7+ and check in time was 8am. so we waited at the Transtar counter.. while waiting we filled in the White card and we found out that diana's passport photo look kind of like a kid. so we asked if she brought her ic along and sad to say she din. so to play safe we asked her dad pass her the ic and while waiting for her dad to arrive we kept teasing her of she gotta go back home alone while the 3 of us go enjoy lo.. haa.. can tell she was kinda of stress la. haha.. around 8.15am, her dad arrive and after collecting her ic, we load up luggage into the coach and boarded the coach.
It was a double decker Coach, Transtar Premium. its luxurious lo. haa seats are comfortable and everyone on board have their own LCD monitor for entertainment purposes. Tested out the function once we sat on out seat.. the massage was great and controls are user-friendly. here's where we're seated on the bus …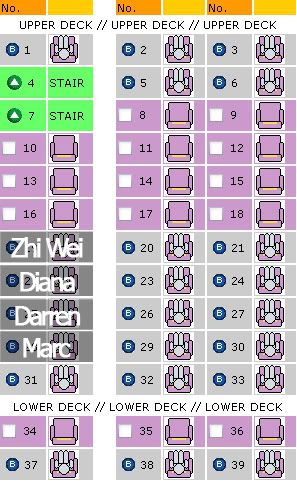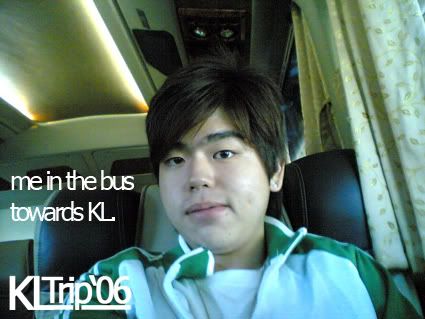 Reached the custom around 9+ and after we passed through the malaysia custom, breakfast was served with a choice of Mee Goreng or Nasi Lemak.. the 3 of them got nasi lemak and i got mee goreng. so exchange with the person next to me as his girlfriend wanted mee goreng. Not bad. test quite ok.. everyone was given a bottle of mineral water too.

the moment the coach passes throught the malaysia custom. the LCD monitor can be on and there's a total of up to 8 channel where u can watch from movies to music videos to comedy etc.
i've watched the Zhong Yi Zui Ai Xian with the Ru Hua doing massaging for artist and movies like KungFu and Lin Jun Jie Yin Yue Ai Qing Gu Shi.. after around 2 hours later, hot tea and coffee was served.. then followed by a few 10mins toliet breaks.

At Last we reached KL Pasakrayat Bus Terminal at around 2.45pm. which was rather fast as its less than 5 hours. Took a cab to our hotel at the price of 10RM. and this is our hotel that we'll be staying for our KL trip.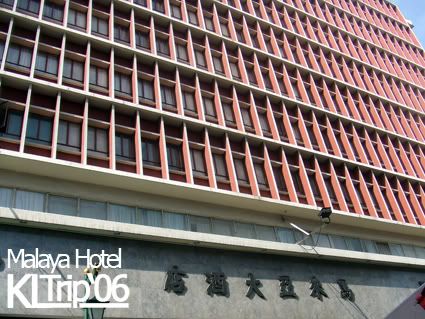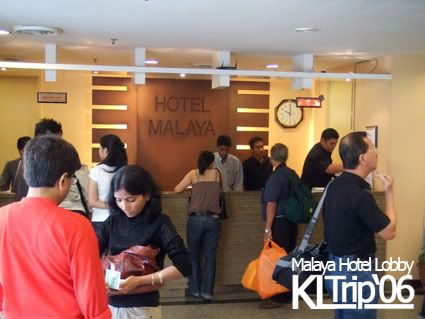 We checked in immediatley and put down our bags, without resting for awhile, we're ready to start our Shopping trip haha.. As we're leaving just along the Chinatown street, we started from there. Its one whole area which sells lots of stuffs from Lv bags to addidas stuff and many many more.. we shop on a few areas and Zhi Wei bought a LV wallet then we proceeded to Sungei Wang Plaza by a cab which cost 5RM. when we reached there, marc bought his LV wallet there too as he's tempted after seeing zhi wei bought his. then we walked around in sungei wang plaza. there's alot of shops inside and its something like Far East combine with the edge and heeren.. lots of youngster there.

had our lunch at the food cout there.. very unique from singapore. there Mixed vege stall provides a WIDE vareity of food and this is how it goes. u get ur palte of rice, then u go and choose and scoope your own food. i had rice with vege, fried meat, toufu and sweet and sour pork plus a cup of Longan Red Date drink and it total up to 6Rm which is less than 3 bucks in singapore.. isn't that cheap? LOL….. the fried meat was great that marc bought a packet along with him to eat while shopping hahaha.. walked into this shop which sells lots of clothings. so marc and zhi wei starts to pick their clothes.. while i'm tryin to look for one that looks good… found one which is S size so can't wear.. then later on manage to pick one XL size de.. haha quite big sia.. its a baby milo tees. and its cost me for 30RM only.. cheap~! then went to a shop which sells lots of stuff towards Hip Hop fashion.. saw one of the tees and its very nice as its veru BLING.. but too bad the size are tooooo big.. so i picked another one which is XL, the smaller size for that shop as u noe hip hoppers wear beggy tees and pants. paid 59.90Rm for this tees and its one of the most ex tees i bought there le.. the cap also very nice tempted to buy but i try to control cos 1st day only.. if i spent all then the next 2days no money le.. then proceed to Lot 10 and nothing much there.. only a departmental store and those boutique shops only.. so we headed back to sungei wang Giant and bought tibits and shampoo, shower cream and went back to chinatown to continue our shopping from there while waiting for cab, diana's slippers snip and she can't continue walking.. in the cab, we tried to fix the slipper and luckily we managed to continue with our shopping.. bought a nike watch for 16Rm, a Rolex watch for my dad for 30RM and a pair of Nike Shoes for 60Rm only. haha..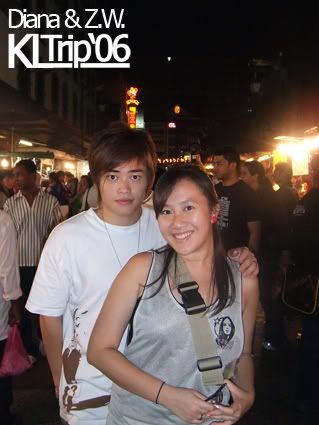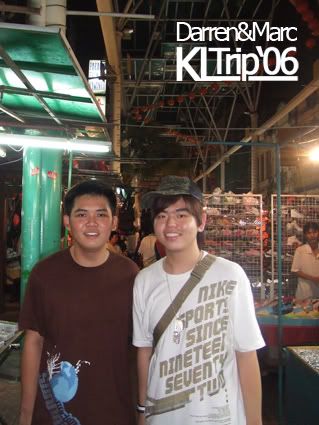 Had our dinner at one of those stalls.. we orderd sweet and sour pork, sambal kangkong, fried noodle and minced meat toufu + 4 cans of coke which added up to 50+ RM which is around 25 sin dollars.. its Cheap LOR!~~ and after dinner we went to get superglue for her slippers and zw and marc each bought a sweet corn back to the hotel to eat

After bathing, marc passed me the other half of the corn as he can't finish it and then we went to bed and zzzzzzzzzzzzzz……

Friday, 12th May 2006, Vesak Day
Waked up at 8am and bath then went over to diana n zw room before heading for breakfast at the hotel cafe. Something happened early in the morning.. guess wat? marc wann RAPPED ME LOR.. WTH~~~ got evidence de ok.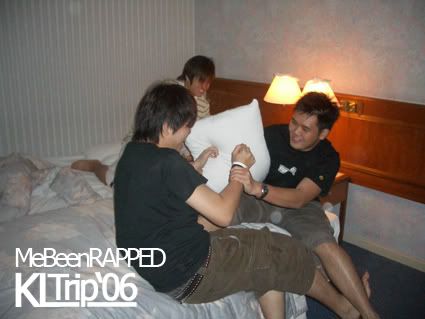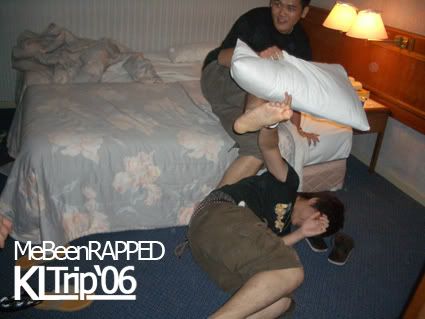 ANd thanks for Zhi wei's help lor.. its our turn NOW~!!! hhahahaha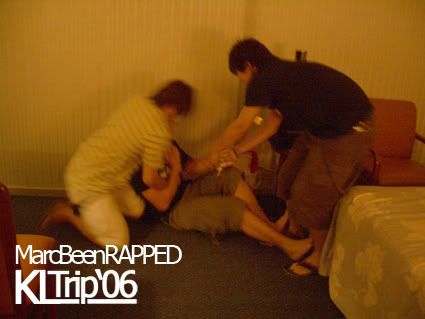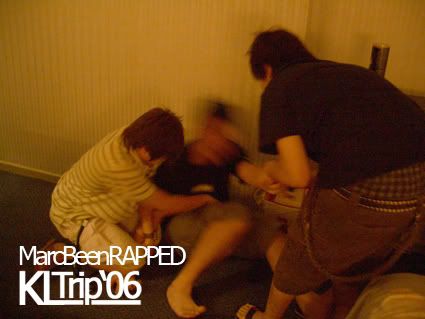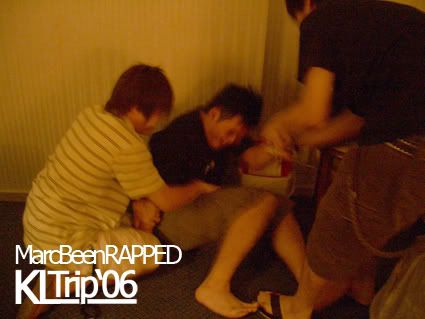 After all the "rapping" here and there, make me more hungry le haha. although its a buffet but nothing much to eat too. had nasi lemak (again), roti prata, fried mee and toasted bread and orange jucie.. haha ate alot cos dun wanna spend the money later on food since we have free breakfast haha..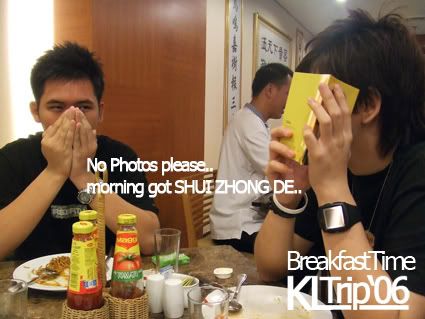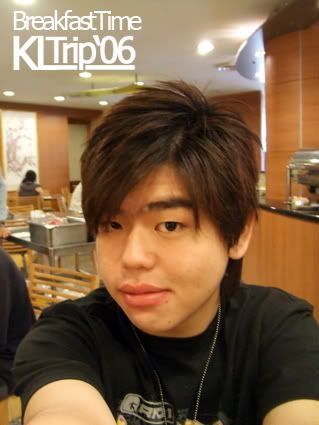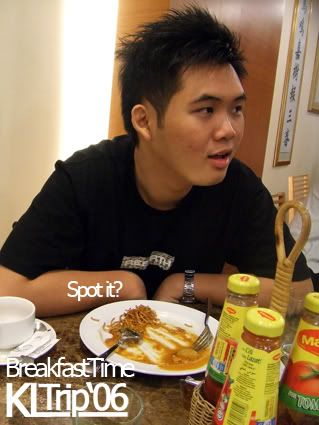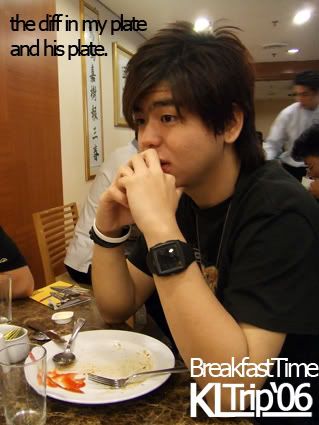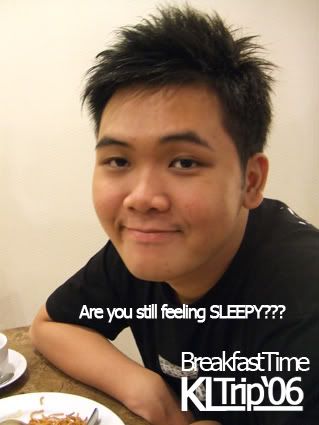 After breakfast we headed to Times Square by walking there since we noe the way now.. haha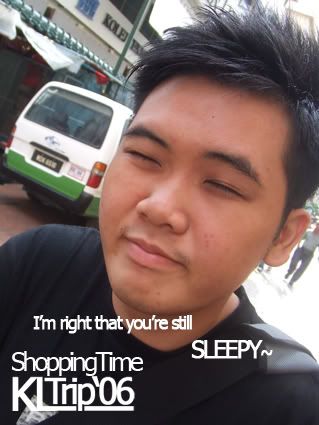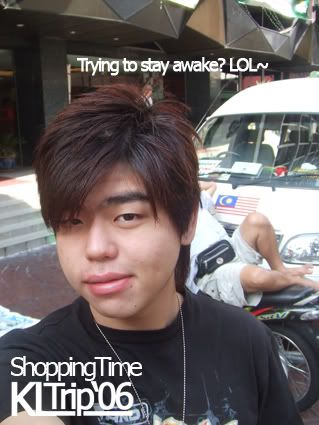 Pics taken along our journey to Berjaya Time Square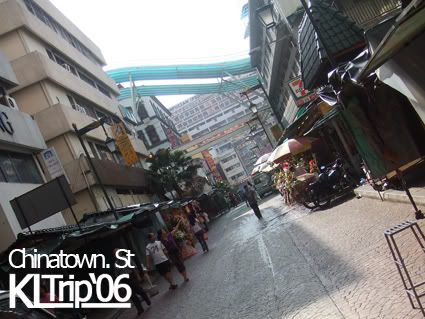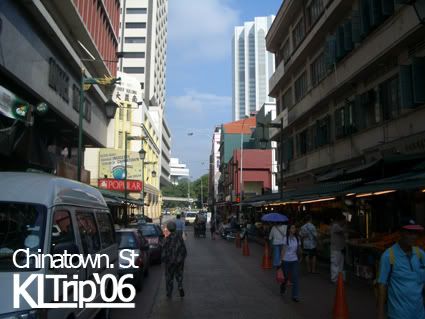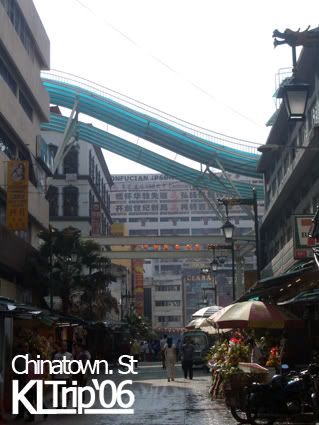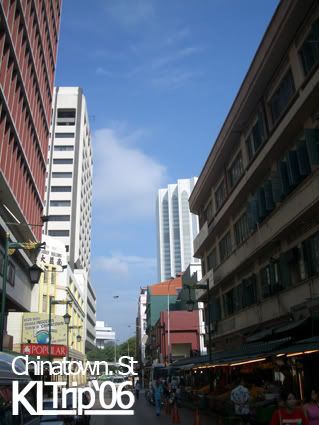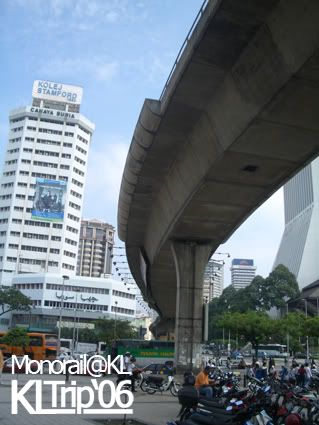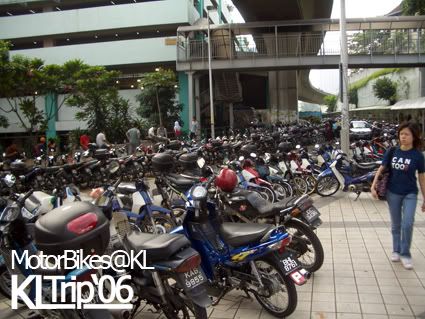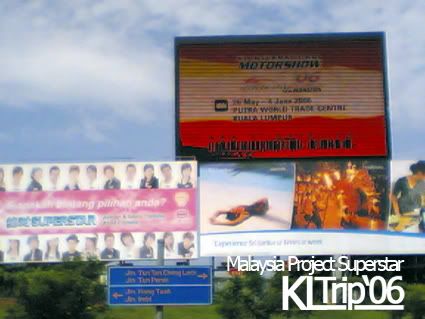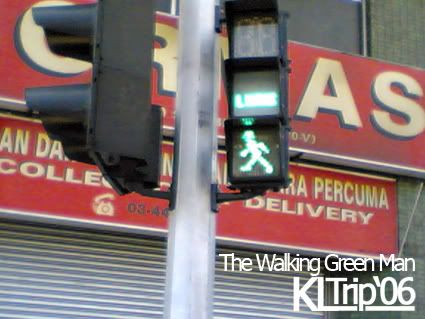 Finally we reached Times Square… walked around and both diana and i bought a pair of diamond earings for our mum as mother's day gift. then continue up and i saw this BIG lolipop and told dia about it.. she immediately bought one.. haha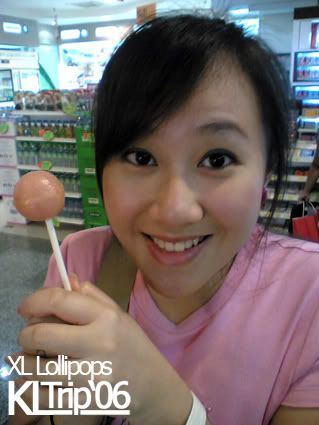 then went on up to the and had Kenny Roger for Lunch.. order the family meal which comes with 1 whole chicken, 4 muffins, 1 cheese with maccorni, 1 potato salad, 1 whipped potao and 1 fruit salad. total up 60Rm which is 30 sin dollar .. once again CHEAP~!

after lunch, we proceeded to the indoor theme park. me and zw din go in as i dun dare to take that roller coaster.. too scary le la.. so dia and marc went in while we waited outside.. while waiting me and zw went to walk around and he bought a gameboy catridge for his brother. after about 30+mins, they came out without playing the roller coaster as its too scary le..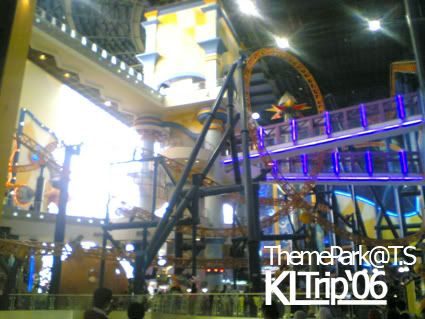 so we continue with our shopping and diana went for her medicure and pedicure haha.. cheap cheap only… so me, zhi wei and marc rot there lo.. hahha…

around 6+ we headed to the bau ku tet stall for dinner.. not bad la, its more on the herbal bau ku tet whereby the one we had in singapore are more to the spicy ones with lots of pepper. the stall was visited by alot of artist like stephanie sun, jay chow, energy, sammi cheng and more.. i suppose S.H.E too ba.. hahaha

took a cab back to chinatown and bought my mum's bag and dia bought her LV bag too.. continue to shop there and bought a addidas jacket some satay fish for relatives and a coin pouch for my mum. Finally marc got his shoes.. headed back to the hotel and we actually wanted to go to the nearby starbucks for coffee but its closed le.. as its 11pm… so headed back to the hotel for tibits and drinks lo.. haha aound 12+ we head back to our room and zzzzzzzzzzzzzzzzzzzzzz……….

Saturday 13th May 2006
We din manage to have our breakfast at the hotel cafe as we're too tired. so we continue to sleep and wakes up at 11am. bath and packed our stuff anfd checked out from the hotel. as we've bought so much stuff.. we need extra bags to bring our stuff back. diana bought one gucci bag and i bought one addidas bag.. haha..

then we took a cab to KLCC and had our lunch there. me, marc and zhi wei ate the malay kind of chicken rice which is nice and diana ate the malay rice and we ordered a plate of penang fried kway teow to share. after lunch we went to look for gifts for our relatives and friends. Bought a coin pouch for my aunt and while shopping, we felt the ground vibrating… it was kind of big vibration.. then zhi wei say quick lets go.. don't look safe here.. so its something like those MOVIE scenario, we're like rushing to the exit of the building.. hahaha.. then we took a cab back to the Pasakrayat Bus Terminal and we reached there rather early, we continue to shop at those stalls around the area.. bought another 2 more coin pouch for my aunt haha.. the last min before borading the bus we're still shopping LOL~!! spent all my money there.. which is about 450RM.. but we bought alot of stuff.. haha..
Boarded the us at 4pm and had curry chicken rice on board… the bus we took back to singapore was Transtar First Class coach. which consist of 16 seaters only.. but seriously, i prefer the premium one haha.. here's our seating arrangment.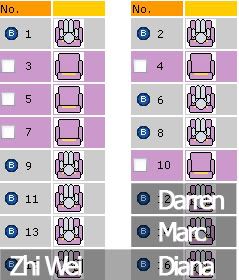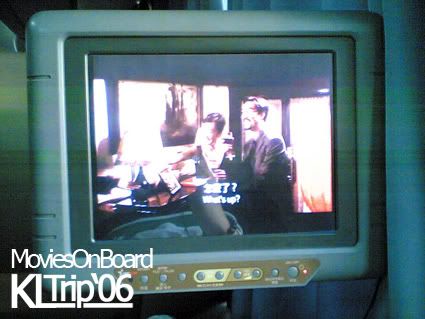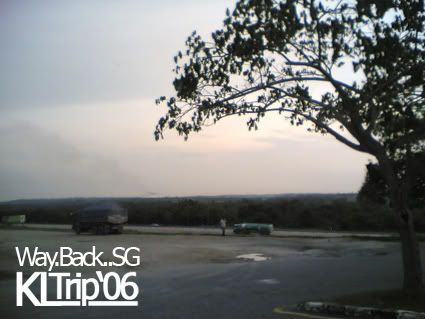 haha. reached back singapore golden mile at 9pm. the 4 of us shared a cab back home..

Finally the 3 days 2 nights KL trip ended.. really enjoyed ourselves alot. and lets plan for our next trip again real SOON~ hahaha…


Now more pics to come… the stuff i bought from KL.. here it goes…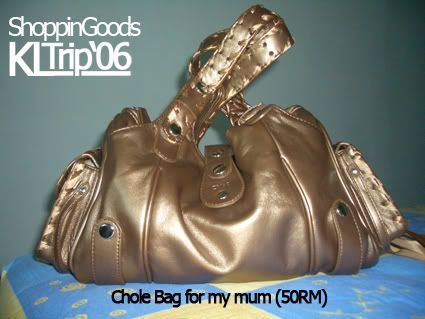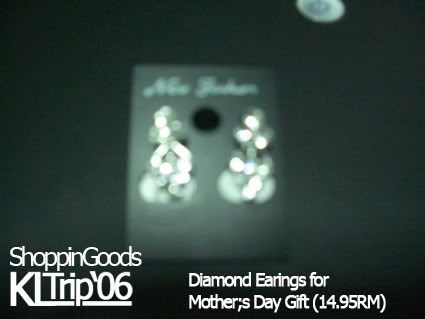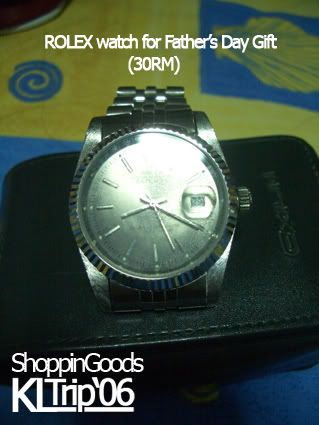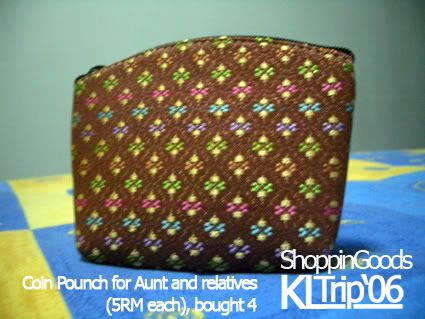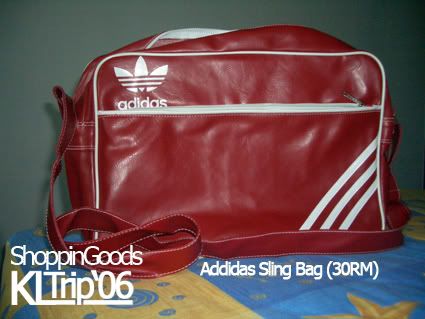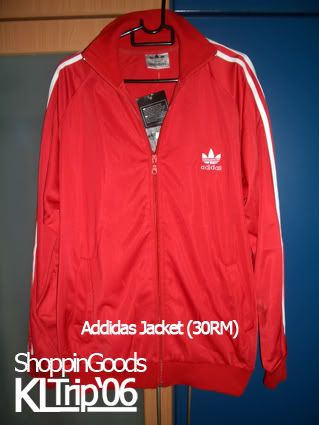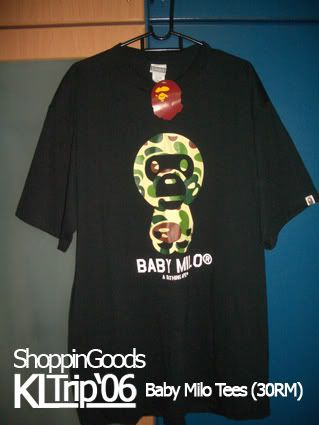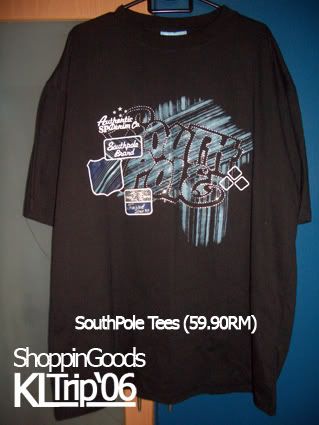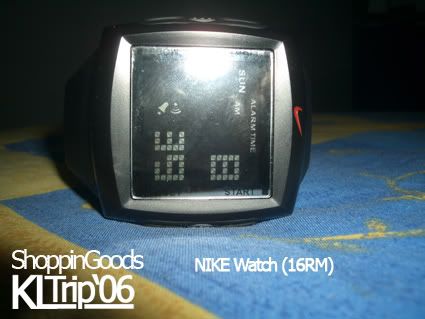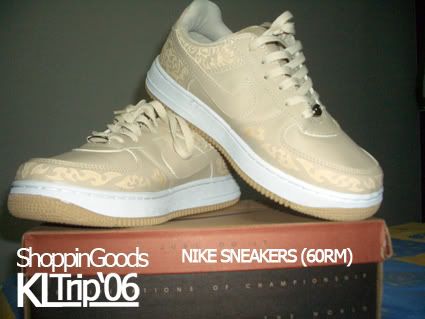 * looks like this is my longest entries le ba.. hahah.. should e longer than the previous S.H.E sg trip hahaha.. xD