We had just past the mid-year mark of 2020 and we are now in the second half of the year, with festivities, such as Mid-Autumn Festival and Christmas coming up soon. Although we are all still facing the crisis of this pandemic, that does not dampen the mood for us to get together and celebrate the occasion with families and loved ones. So, if you are looking for something special this year, check out these NEW mooncakes flavours that you can enjoy at home this Mid-Autumn Festival!
Hai Tien Lo
This Mid-Autumn, Hai Tien Lo (海天楼) is pleased to introduce a luxurious ensemble of eleven exquisite handcrafted baked and snowskin mooncakes, available from 1 August to 1 October 2020 (Snowskin from 15 August). Three creative snowskin mooncake flavours debut this year – Raspberry Chocolate, Matcha Black Sesame and Soursop Lychee. Back by popular demand are our Hazelnut Yuzu and best-selling Mao Shan Wang Durian Snowskin as well as the baked Signature White Lotus Paste with both Double and Single Yolk. For a delicious health-minded alternative, enjoy our low-sugar flavours of Jade Paste with Melon Seeds and White Lotus Paste with Macadamia Nuts.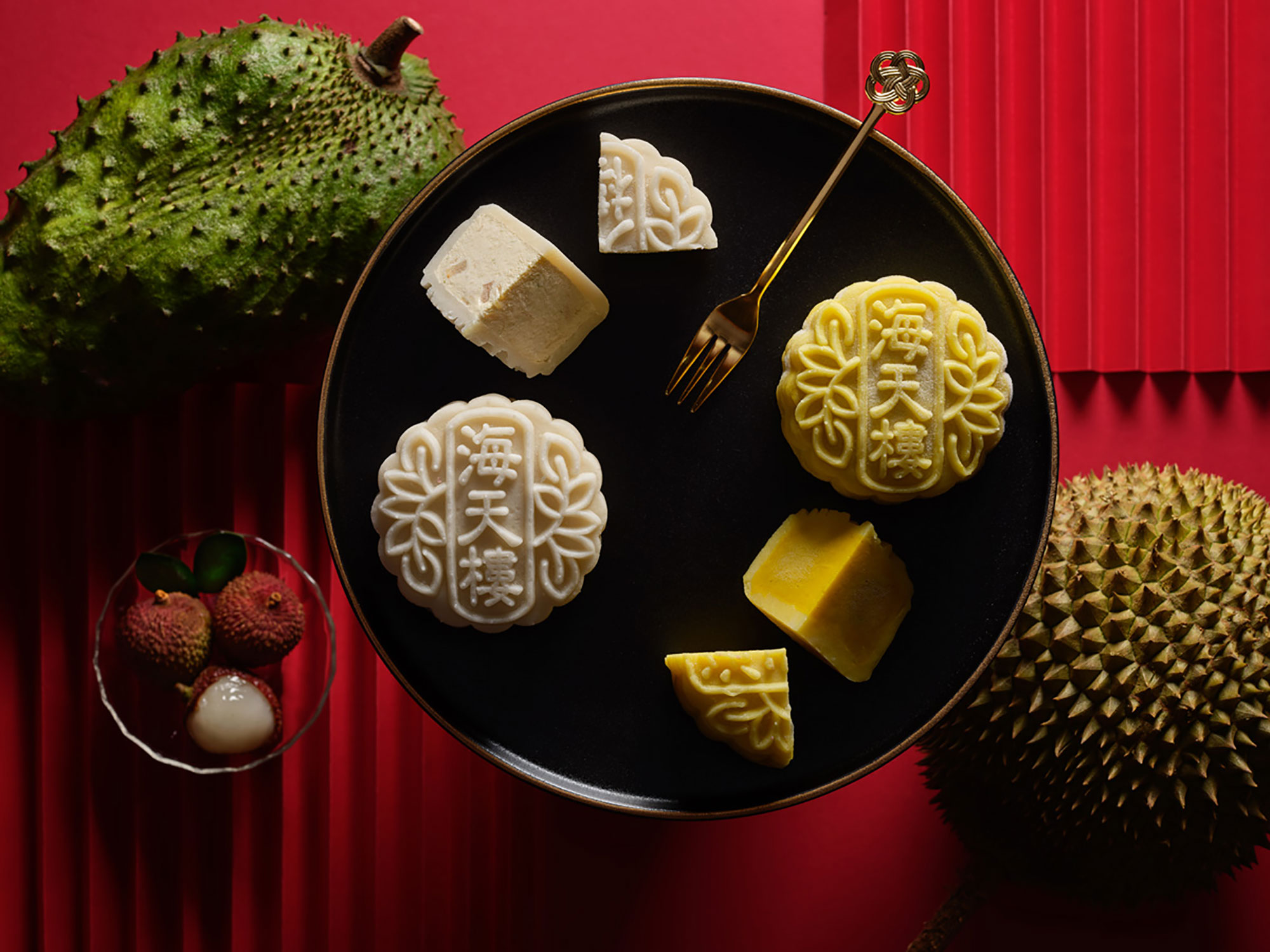 All mooncakes are presented in a majestic satin-covered crimson box adorned with intricate florals and a wooden lattice centrepiece. Perfect for Mid-Autumn festival gifting to business associates and loved ones, the elegant box is strikingly coloured red, symbolising overflowing luck and happiness in Chinese culture
Guests placing advanced orders from now to 31 July 2020 will enjoy super early bird savings of 25% when they key in discount code MOONCAKE25 on the e-shop, ppsinshop.com.
Xin Cuisine 
Together with the award-winning Xin Cuisine Chinese Restaurant, Holiday Inn Singapore Atrium celebrates Mid-autumn this year with two new snowskin flavours – White Lotus Seed Paste with Grand Marnier Praline Mooncake and Green Tea Paste with Jackfruit Praline Mooncake.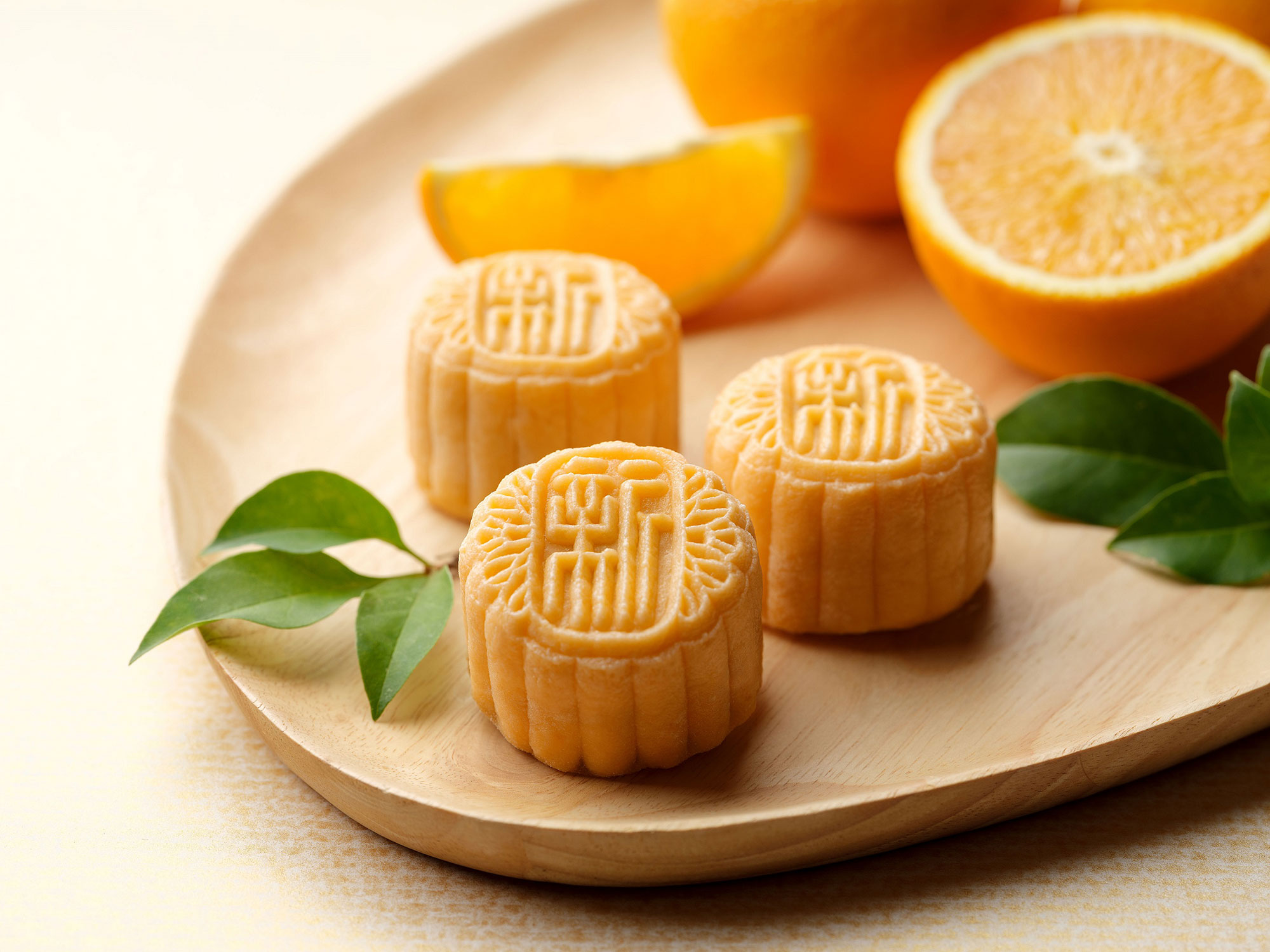 Helmed by Dim Sum Chef Cheung Kin Nam who leads the production of both baked and snowskin mooncakes in-house, the new creations are recommended for the curious palate, especially for foodies who love the distinct and musky smell of jackfruit and the orange-flavored liqueur taste of Grand Marnier respectively.
Best-sellers such as perennial favourite Low Sugar White Lotus Seed Paste with Double Yolk Mooncake, as well as the Peranakan Durian Snowskin Mooncake encased within a bluish-purple snowskin cap, will also return this year.
BUY 1 BOX AND GET THE 2ND BOX FREE!
In celebration of Singapore's 55th birthday, a 1-for-1 early bird offer is available for orders placed through the eShop from now till 9 August 2020. While stocks last! Mooncakes are available for order till 29 September 2020.
Grand Shanghai
This year, award-wining Grand Shanghai Restaurant offers an ensemble of exquisite mooncakes that intertwines flavour and texture to perfection to celebrate the Mid-Autumn Festival. Available from 21 July, each piece is meticulously handcrafted using only the finest ingredients with no added preservatives or artificial flavouring. Encased in a luxurious box reminiscent of the restaurant's iconic 1930s Shanghainese extravagance and splendour, these delicate mooncakes are perfect for family gatherings or gifting.
Stealing the limelight this year will be the limited-edition Bird's Nest with Almond Paste Snow Skin Mooncakes ($68 per set of six). Made with premium bird's nest and silky almond paste, boost your immune system while indulging in this luxurious sweet treat. With the various health benefits of bird's nest and almond, there is no need to feel guilty for overindulging.
Fans of snow skin mooncakes are in for a treat as Grand Shanghai has specially curated two snow skin flavoured mooncakes to whet appetites. Treat yourself to snow skin flavours such as Taro Paste with Ginkgo Nuts ($58 per set of six) and Green Bean Paste with Pandan and Custard ($58 per set of six). These new flavours will offer dessert connoisseurs a refreshing and enticing distraction from the norm.
Available only at Grand Shanghai Restaurant, the mooncakes can be ordered from 21 July 2020 to 1 October 2020 by calling +65 6836 6866 or emailing restaurant@grandshanghai.com.sg. For more information, visit https://www.grandshanghai.com.sg/Mooncakes
Golden Peony
Make an impression this mid–autumn and get everyone feeling nostalgic with a gift of mooncakes from the Conrad Centennial Singapore. Created using exquisite ingredients, these lunar delights exemplifies Golden Peony's elegant craftsmanship.
Aside from the all-time crowd-pleasers such as the Green Tea, Royal Hazelnut Crunch, you will have a tough time saying no to the new Sea Salt Gula Melaka and Purple Sweet Potato with Pumpkin flavours.
Available in a deep crimson red with a rich myriads of auspicious influences including dancing phoenixes and butterflies set amongst a floral Chinoiserie pattern, the mooncake boxes are interlocked with a golden floral motif latch. Priced from S$82.00 Nett as a customisable set of any four traditional baked mooncakes or eight snowskin mooncakes. Enjoy 35% when you order by 28 August, and 30% when you order by 1 Oct. For more info, visit http://www.connoisseur.sg/tradition-redefined-mid-autumn-festival/