Dragonboat Festival, also know as the Duan Wu Festival 端午节 is just around the corner. Other than the usual rice dumpling that you can get to eat anytime of the year, here are some interesting rice dumplings that you can only get during this festive period.
Make me Feel Like I'm the ONIGIRI in the World
Commemorate the traditional Duan Wu Festival (端午节) with mouthwatering rice dumplings from tcc – the connoisseur concerto. Available for the month of May, delight in a playful collection of rice dumpling, including a new flavour inspired by one of Singapore's most popular local favourite.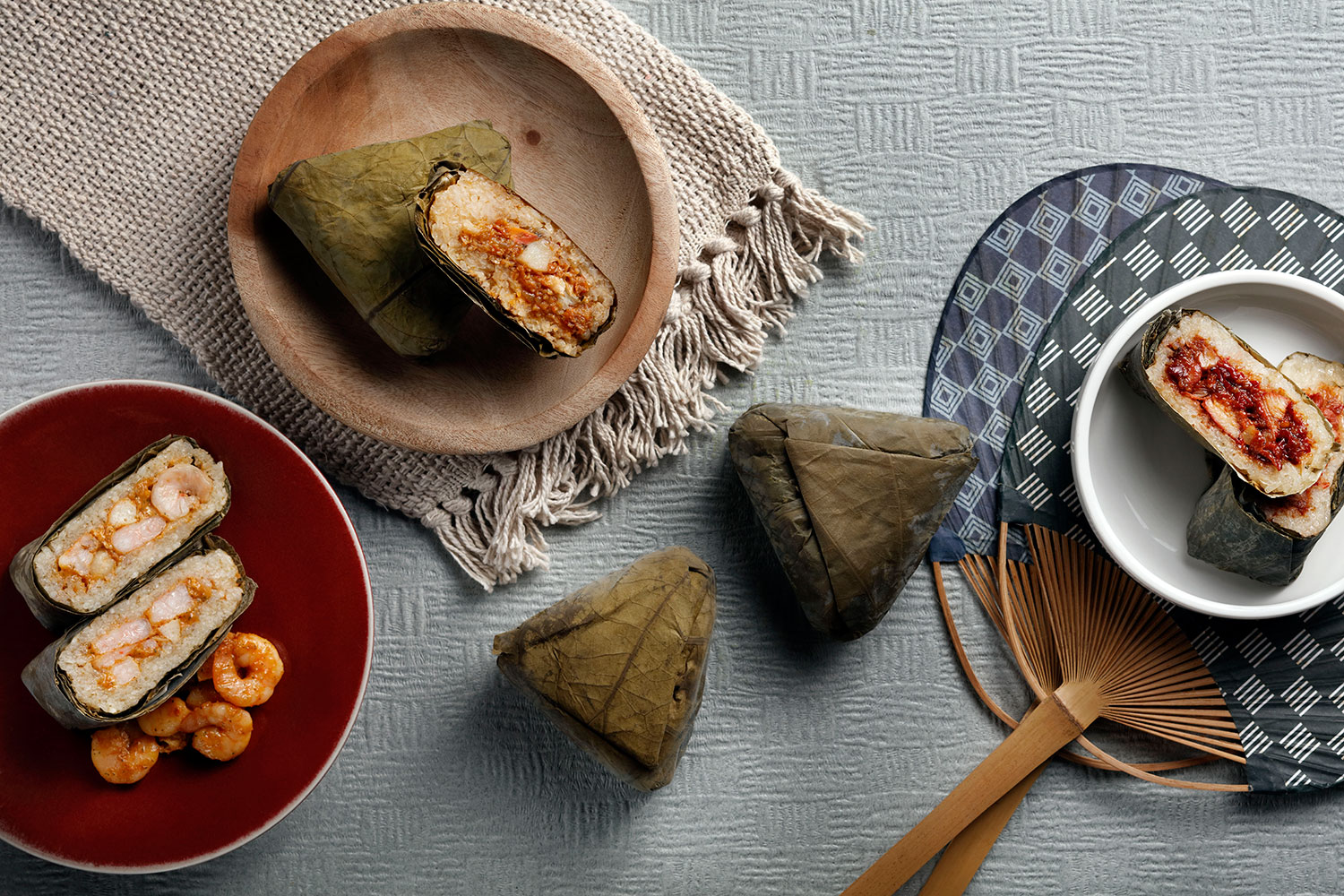 In the shape of an onigiri, tcc is delighted to introduce three tempting dumplings including two back-by-popular demand flavours – Sambal Hotate ($7.90), Spicy Chic ($6.50) and the new Laksa Prawn ($7.90) rice dumpling, inspired by one of the nation quintessential dishes. The Laksa Prawn offers the perfect blend of fresh spices and herbs while not leaving an overpowering taste on the palate.
Trinity Gift Set comprising of all the three flavours is available at $15.00. Customers can also get their choice of dumpling at a discounted rate of $3.80 with any purchase of a main course.
Onigiri is available for dine-in or takeaway at any tcc art boutique cafes from 1 May to 31 May 2017. For promotion updates, visit www.theconnoisseurconcerto.com
Hai Tien Lo's Premium Rice Dumplings Gift Set
In upholding the timeless tradition of enjoying rice dumplings with family or loved ones, the Premium Rice Dumplings Gift Set, consisting of three delectable flavours (Traditional Cantonese Jumbo Rice Dumpling, The NEW Classic Pork Dumpling with Preserved Vegetables and Fragrant Glutinous Rice Dumpling with Multi-Grain Rice) exquisitely packaged with a bottle of Hai Tien Lo's Signature Homemade XO Chilli Sauce, will make it the perfect gift to commemorate this significant Chinese festival.
Available from 1 to 30 May 2017, guests may enjoy these delectable rice dumplings while dining at Hai Tien Lo, or purchase as takeaways from the restaurant. Alternatively, orders can be placed by emailing celebrate.sin@panpacific.com or calling 6826 8240, or via online orders at pacificmarketplace.sg from 1 May 2017 onwards. Collection of Rice Dumplings is at Hai Tien Lo. Guests can enjoy complimentary delivery to one location in Singapore with orders of SGD500 and above. For all other orders, a delivery charge of SGD50 per location applies.
Golden Peony's London Duck X.O. Sauce Rice Dumpling
Golden Peony introduces 3 new creations of Rice Dumplings this Dragon Boat Festival. The London Duck X.O Sauce Rice Dumpling contains succulent roast duck meat, chunks of melt-in-your-mouth braised pork belly and mushrooms, wrapped in soft glutinous rice complimented by Golden Peony's signature homemade X.O. sauce. Also making its debut this year are two other new flavours – a healthy Wholesome Vegetarian Multigrain Rice Dumpling filled with mushrooms including decadent black truffle, and a sweet Golden Pumpkin Rice Dumpling.
Available from 10 – 30 May and you may purchase them directly from Golden Peony at Conrad Centennial Singapore, or visit www.connoisseur.sg/ricedumplings to place your order.