Sponsored Review
Some times ago, i received a parcel that comes like this…
SOMEONE decided to DATE me out!
muahaha~
So i fixed on a date and went over to Nando's outlet at Bugis to meet my date

and let me introduce you my date for the night~
Nando's New Cataplana Dishes!
hahaha~ and when i tweeted about this, some thought im attached and got a girlfriend liao~ but sad to say, sorry to disappoint you, i'm still single

But i brought another buddy of mine for to try out Nando's new dishes

The one i ordered was Cataplana Originale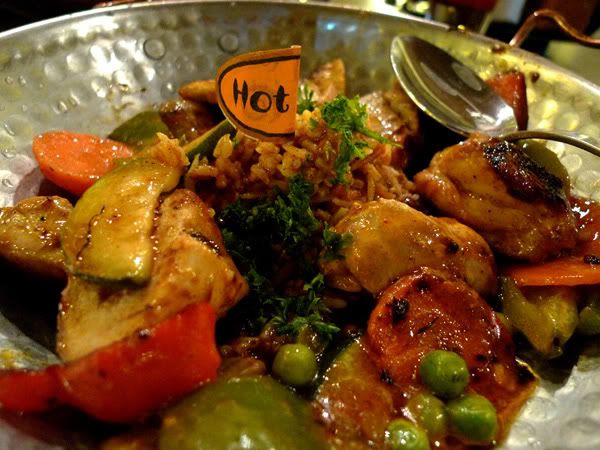 The mouth-watering dish of succulent chicken thighs with fresh grilled vegetables makes for a truely well-balaned meal. Oh~ and how can i not go for the Spicy Hot one right?
My buddy ordered the Cataplana Porto with generous servings of mushrooms and olives thrown into the mix which is absolutely irresistible for all mushrooms lover!
We also ordered 2 side dishes to go with it.. my favourite corn and potato

No fear if you're worried about dry throats. Nando's beautiful designer drinks are welcoming a new brainchild to their midst – the pretty in pink Rosa Fresca! created specially to complement the Cataplana recipes and eas the spice with its refreshingly soothing taste.
After our meal, we are craving for their peri peri chicken, so we decided to order half to share

Here's some great news for all Nando's lover!
For every 5 Nando's chicken meals consumed, Nando's will be giving away a free cantaplana of the customer's choice! Offer is valid till 31 July 2012.
So prepare to fall in love today with the Cataplana Porto for $19.90 each and the refreshing Rosa Fresca at $4.90 at all Nando's outlets as listed below

Tampines Mall
#01-46, Tampines Mall, 4 Tampines Central 5, Singapore 529510
Opening Hours : 10am – 10pm
Tel : 6789 5052
112 Katong
#01-14/15, 112 Katong, 112 East Coast Road, Singapore 428802
Opening Hours : Sun-Thurs : 10am – 1am | Fri-Sat : 10am – 3am
Bugis Junction
#01-85/87, Bugis Junction, 200 Victoria Street, Singapore 18021
Opening Hours : 10am – 10pm
Tel : 6338 6555
Plaza Singapura
#04-10/11, Plaza SIngapura, 68 Orchard Road, Singapore 238839
Opening Hours : 10am – 10pm
Tel : 6337 2555
Tanglin Mall
#01-14/15, Tanglin Mall, 163 Tanglin Road, Singapore 247933
Opening Hours : 10am – 10pm
Tel : 6235 3555
Fall In Love Portuguese-Style with Nando's New Catplana Dishes  Today!